Walt Disney Studios has released the Aladdin Diamond Edition releasing for the first time on Blu-Ray with never seen before bonus material. It's the perfect opportunity to share this wonderful classic featuring the unparalleled talent of Robin Williams as the Genie.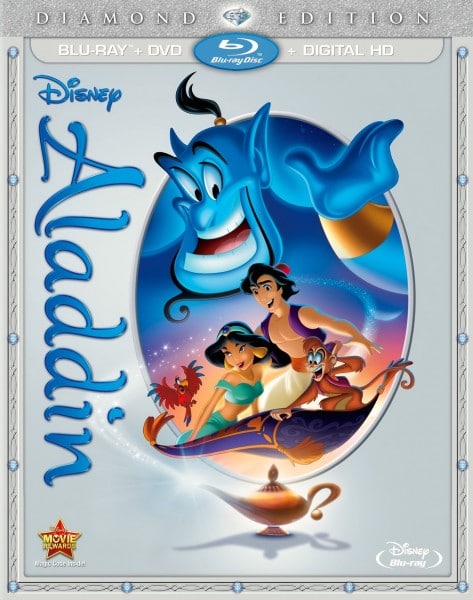 ALADDIN: DIAMOND EDITION
Available on Digital HD & Blu-ray Combo Pack 
Climb aboard for a magical carpet ride with nonstop laughs, action-packed adventure and Academy Award®–winning music that will make your heart soar(1992: Best Music, Original Song, "A Whole New World," OriginalScore). Now for the first time ever, a whole new world of Walt Disney Animation Studios' Aladdin is revealed in a whole new way on Blu-ray and Digital HD—with never-before-seen bonus! With the help of a hysterically funny, shape-shifting, 10,000-year-old Genie,street-smart commoner Aladdin and clever, confident Princess Jasmine join forces against the evil sorcerer Jafar to put an end to his plans to take over the kingdom!
Our Aladdin Diamond Edition Review
Watching Aladdin with my boys for the first time was a fun family experience. Not only did they giggle hysterically at the antics of the genie they also asked lots of questions about where the movie took place, why there were camels, and why did he live in a desert. I loved seeing the movie through their eyes! While they weren't as mesmerized at Jasmine as I was as a child they loved all of the magic of Aladdin.  I've been singing "A Whole New World" every day since!
Grab your family a copy of [easyazon_link identifier="B00WR534TK" locale="US" tag="famfooandtr00-20″]Aladdin: Diamond Edition (Blu-ray/DVD/Digital HD)[/easyazon_link]
*Note this post contains affiliate links.