With Fall harvest in full swing the countryside near my home is buzzing with farmers completing the end of their growing season. It's a time of year to reflect on the amazing bounty available to me grown within miles of my home. But one glimpse in my fridge and cupboards and you will see we rely on a lot more than just local products to keep our family fuelled.  Where possible, we choose organic and we are excited to celebrate some of our favourite organic food producers with information for you and a fantastic giveaway!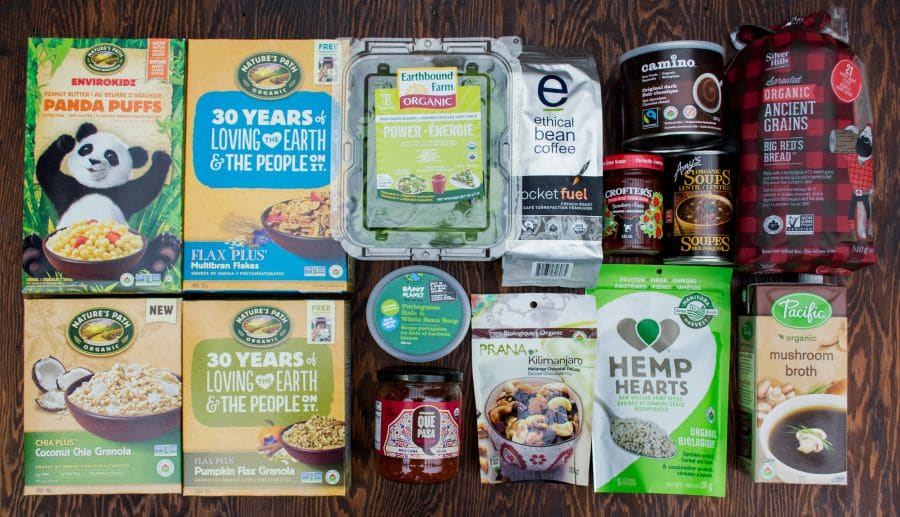 Nature's Path & Friends #OrganicWeek Gift Box ($100 value):
Nature's Path delicious granolas including Pumpkin Flax Granola and Coconut Chia Granola, as well as tasty and healthful Flax Plus Flakes Cereal.
EnviroKidz children's cereal that moms and kids love, Peanut  Butter Panda Puffs Cereal.
Que Pasa Mexican Foods premium organic salsa.
Amy's Kitchen Lentil Vegetable Soup – Full of vegetables, including green beans, tomatoes, and spinach in a flavourful lentil base. This soup is prepared with the same careful attention you use at home and is vegan, gluten free, and dairy free.
Camino Simply Dark Hot Chocolate – Created for the dairy conscious, Camino's simply dark hot chocolate is incredibly rich and delicious, and is literally made with dark chocolate as an ingredient for an extra indulgent taste.
Crofter's Organic Jam – Native to North America, Crofter's blueberries are wild harvested in nearby Quebec. These intensely colored lowbush berries are far more petite and flavor-packed than the cultivated highbush variety common to the produce section at your neighborhood grocery.
Earthbound Farm Organic – Free product voucher good for any Earthbound Farm product
Ethical Bean Coffee – Every cup of Ethical Bean Coffee has been crafted with one simple objective in mind: To make the best Fairtrade certified Organic coffee on the planet. Period. Because as far as we're concerned, doing something good should be rewarded with something that tastes spectacular.
Happy Planet Fresh Soups – Free product voucher redeemable for any Happy Planet Fresh Soup including yummy new single serve organicPortuguese Kale & White Bean.  Happy Planet Fresh Soups draw inspiration from cuisines from around the world and are made in small kettle batches in BC & Ontario. They have tons of delicious organic, dairy free and vegan options to choose from!
Manitoba Harvest Organic Hemp Hearts – Organic Hemp Hearts taste great, are easy to use and nutritious too! Packed with 10 grams of protein and 10 grams of omegas per 30 gram serving, they're great in salads, cereal, yogurt and baking. Organic Hemp Hearts are paleo-friendly, vegan and Non-GMO.
PRANA Kilimanjaro Organic Deluxe Chocolate Trail Mix – Delicious vegan chocolate chunks, crunchy nuts and dried fruits to give you a snack that is perfect for all occasions. With chocolate chunks as the #1 ingredient on the list, this mix is guaranteed to satisfy your sweet tooth while also offering a savoury taste with ingredients like walnuts, salted almonds and cashews, Sultana raisins and naturally sweetened cranberries.
Pacific Foods Organic Mushroom Broth – Savory mushrooms, garlic and sea salt combine to make a fragrant, rich broth worthy of your favorite soups, risottos, pasta and or any dish of your desire.
Silver Hills Bakery – Free product voucher good for any Silver Hills product including new Big Red's Bread – big in taste and packed with 21 ancient grains and seeds.
Enter to win your very own #OrganicWeek gift box!
Open to residents of Canada. Contest ends October 9, 2015.