At this time of year I am always in awe of the fresh and beautiful vegetables and fruit available. The variety, the flavours and vibrant colours are amazing. From local Ontario produce to mangoes and limes from Mexico I love that we can combine all of the flavours together to produce amazing salads. Pair your favourite ingredients with some tropical inspiration and you have a meal you will want to make all year. I made this meal for lunch when a friend was visiting and we ate every last piece. So delicious!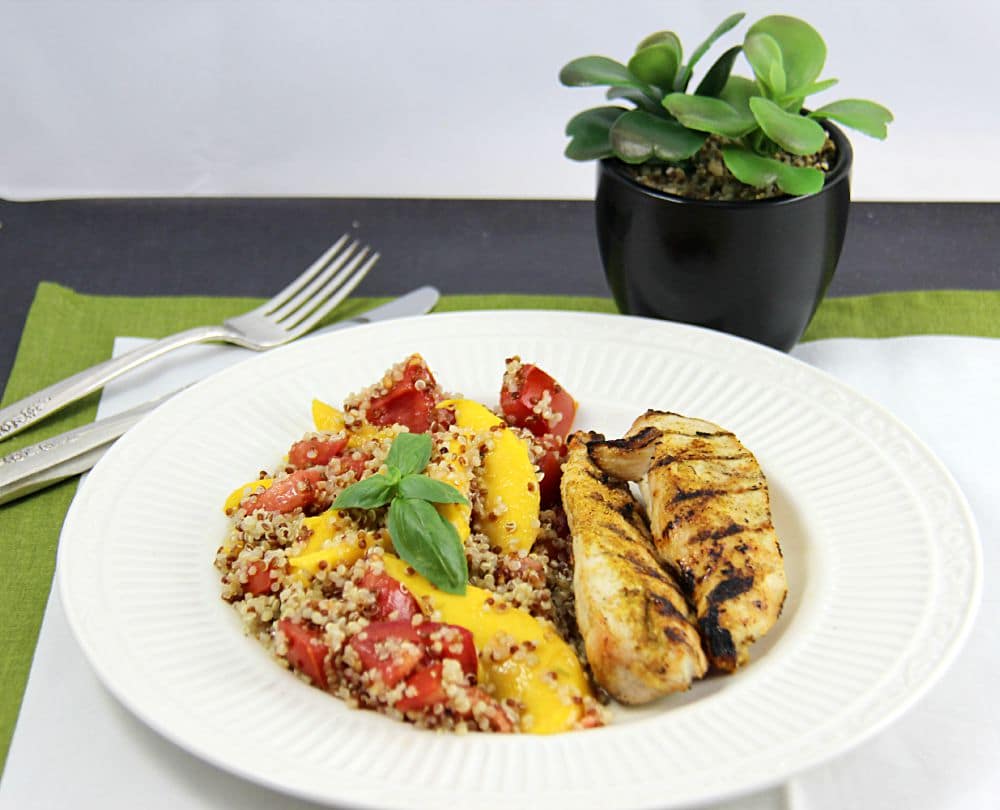 Grilled Chicken with Tomato Mango and Quinoa Salad
Modified from: RicardoCuisine.com
Serves two generous portions.
Ingredients:
1/2 cup quinoa rinsed and drained
2 large chicken breasts
1 tsp ground coriander
1/2 tsp curry powder
1/8 tsp dry mustard
2 medium tomatoes cubed
2 yellow mango sliced
Salt & Pepper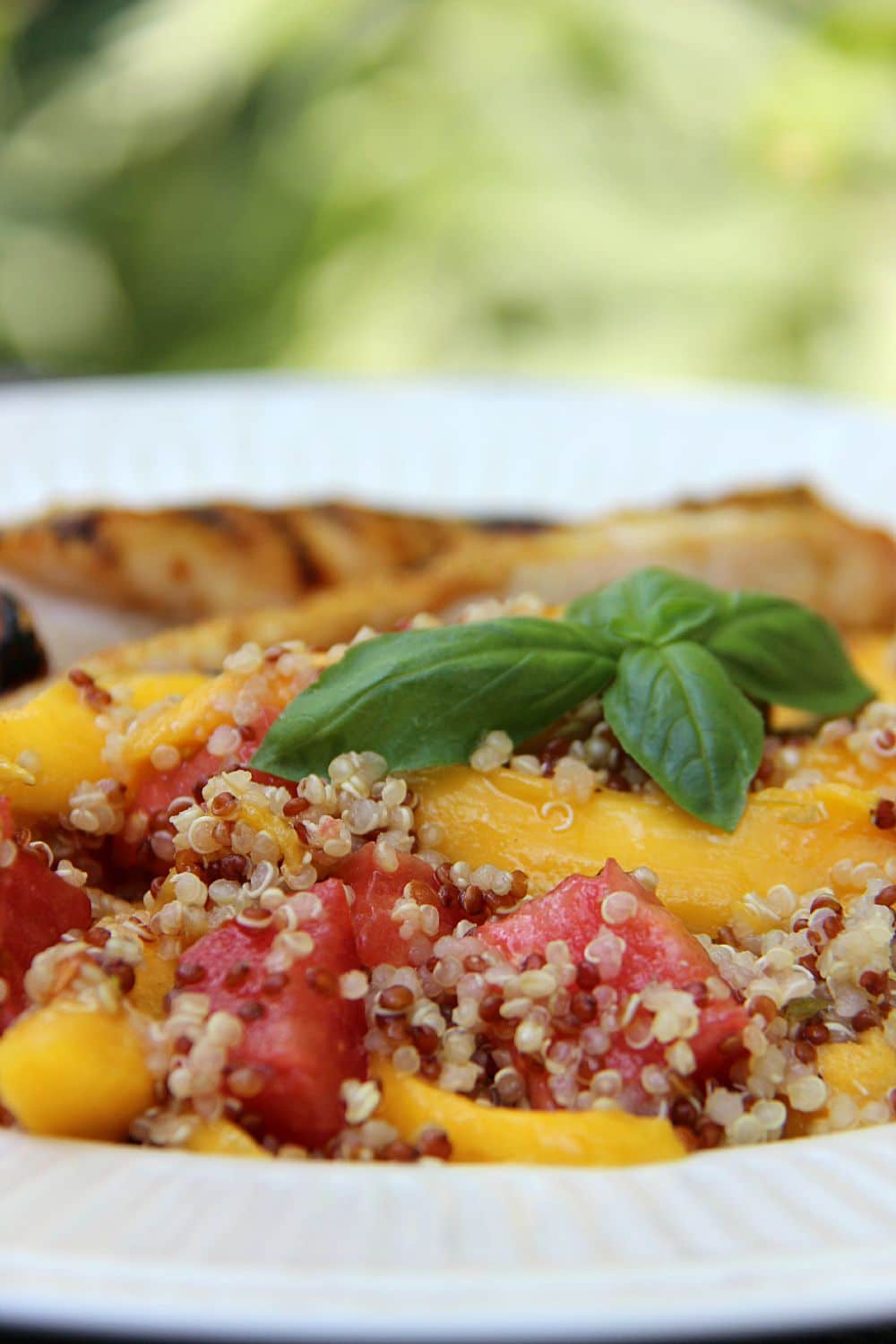 Dressing:
4 tbsp lemon juice
2 tbsp olive oil
salt and pepper
Zest of half a lime
Directions:
Place quinoa and 1 cup of water into a small saucepan and bring to a boil. Cover and simmer for 10-12 minutes then remove from heat and allow to cool.
In a small bowl whisk together dressing ingredients, pour over cooled quinoa.  Add tomatoes and mango then place in fridge to cool further.
Cut chicken breasts into chicken strips.
In a separate bowl mix together coriander, curry powder and dry mustard. Rub into chicken strips.
Preheat BBQ and grill chicken for approximately 3 minutes a side or until cooked through.
Plate salad and chicken.
Enjoy!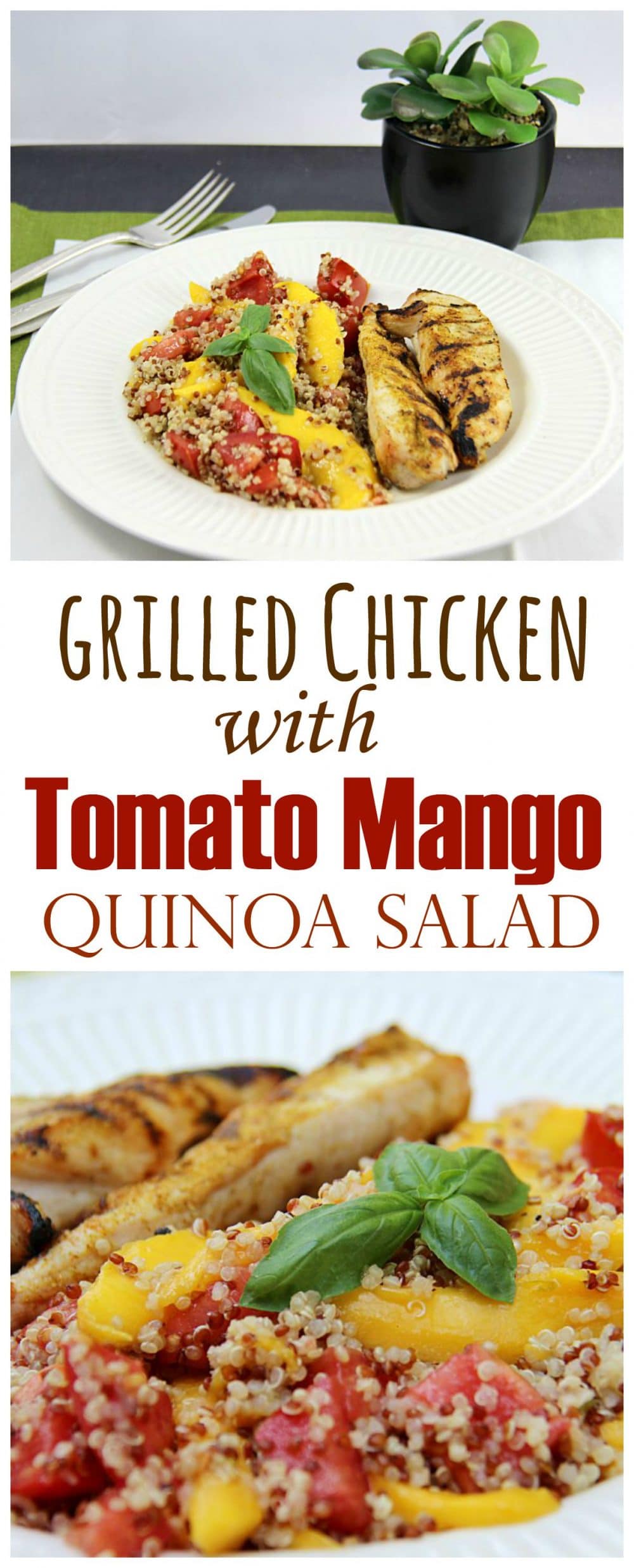 A truly delicious salad packed with nutrients and all the tastes of fresh fruit. The perfect side dish to so many main courses. Looking for more chicken dishes. Check out the amazing selection at Ricardo Cuisine there are so many to choose from you could plan delicious meals for weeks.
Follow Ricardo Cuisine on Facebook, Twitter and Instagram.
Disclosure: This post was made in connection with Ricardo Cuisine. As always all opinions are my own.