Whether you work outside the home or are a stay at home mom, here are some favorite leisure activities for moms that you can enjoy. Even limited time will give you a chance to relax and unwind after a long day. It is vital for moms to have downtime to recharge their batteries and be able to be just them and not "mom" for a moment. These activities are great options to help clear your mind and give you renewed energy to tackle your next "mom moment" in life.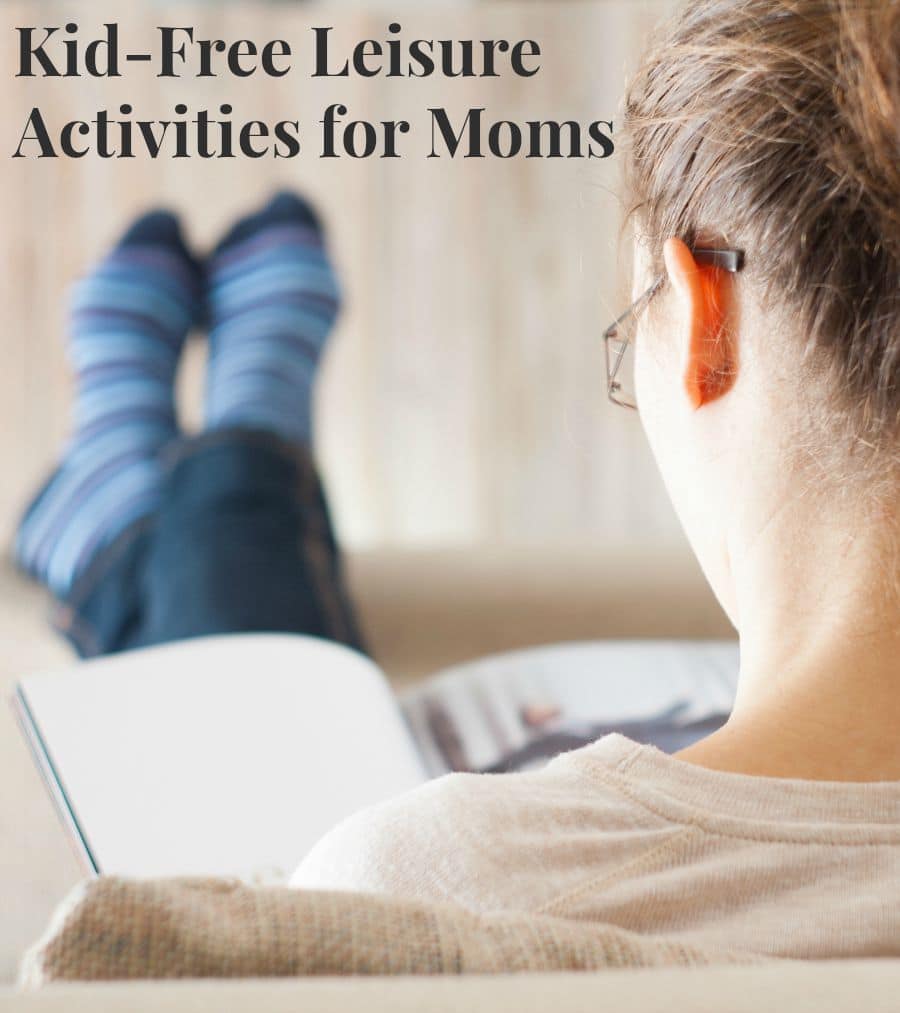 Kid-Free Leisure Activities for Moms
Reading: So many moms love their escape into a great book at the end of the day, that is likely the most commonly referenced leisure activity for moms. Whether it is a traditional paperback book, or a downloaded eBook on your eReader, reading is a great way to unwind and relax. Romance, Sci-Fi, Fantasy, Mystery & Suspense genres are all excellent, but that motivational or devotional guide may be the favorite for true relaxation for some. 
Online Gaming: There is something so satisfactory about logging on and completing a few levels of a match game, card game or even a first person shooter. Moms can enjoy relaxing with an online game just as much as their kids enjoy the video game consoles that dominate entrainment areas. Online gaming can be done from computers, tablets and even smart phones in a way that is discreet, fun and easy to take anywhere for convenience. Check out online casino Netbet for some fantastic games.
Exercise: Jogging, running and even Zumba top the charts for most women looking for a great healthy distraction from daily life. A few hours a week heading out to burn some calories and build strength may be one of the top leisure activities for moms to indulge in.
Crafting: Whether you knit, crochet, paint or create fun holiday inspired crafts this is a top leisure activity for moms. A crafting room or corner of your house allows you to let your mind concentrate on something fun for a few hours. Creating family scrapbooks, beautiful scarves and hats or even sewing yourself a new dress are all a wonderful way to spend your leisure time.
Writing: Many moms love keeping a daily journal. This can help them to track progress in their kids lives, their own life or even have a place to record memories. It can be in a simple journal, or a blog form. Other moms enjoy writing fiction, nonfiction helps, devotional guides or even tutorials on things they are knowledgeable about. Writing as a hobby or even a potential career an be a wonderful way to unwind, speak your mind and have fun.
Go To Movies: Have you ever taken yourself on a movie date? Many moms find the practice of going by themselves to a chick flick matinée to be a wonderful way to unwind and have fun.
Cooking: This is another highly popular item on the list of leisure activities for moms. For some women, getting in the kitchen and creating a new menu item is just the way to relax after a long day at work. Looking for a fantastic meal to experiment with? Check out some of our favourite dessert recipes to experiment with.
These favorite leisure activities for moms are perfect for any personality. No matter what your favorite activity is, this list has some fun new ideas for you to try!