Nutritious and filling snacks are always priority #1 in our house. With two busy boys, upcoming after school sports and one equally busy mom there are many times in the day when we need a snack to hold us over, boost our energy and add some extra nutrients to our diet. As longtime lovers of Nature's Path products we were super excited to try out the new Qia Superfood Bars.
Packed with all natural ingredients, the right about sweet and the power packed superfoods and grains these bars are not only delicious but nutritious too!
They come in five amazing flavours:
Dark Chocolate Cranberry Almond – Rich dark chocolate chunks (Fair Trade, of course) and crunchy almonds with a burst of tart, juicy cranberries – finally, a snack bar that delivers superfoods for lasting energy.
Roasted Peanut Dark Chocolate – With roasted peanut-y goodness and rich Fair Trade dark chocolate chunks, this snack bar puts a superfood twist on a classic flavour with chia and hemp for lasting energy.
Mocha Cocoa Hazelnut – A superfood energy fix with decadent dark chocolate covered cocoa nibs, rich hazelnuts, and Fair Trade coffee. Unique flavours paired with powerful nutrition in the perfect snack bar for lasting energy.
Blueberry Cashew Pumpkin Seed – Creamy and crunchy, this superfood snack bar features protein-packed nuts and seeds with antioxidant blueberries for a refreshing sweet-yet-tart flavour.
Nuts & Seeds & Sea Salt – A snack bar full of protein-packed nuts and seeds for lasting energy with a hint of sea salt and just a touch of natural sweetness – this must be how superheroes fuel their days.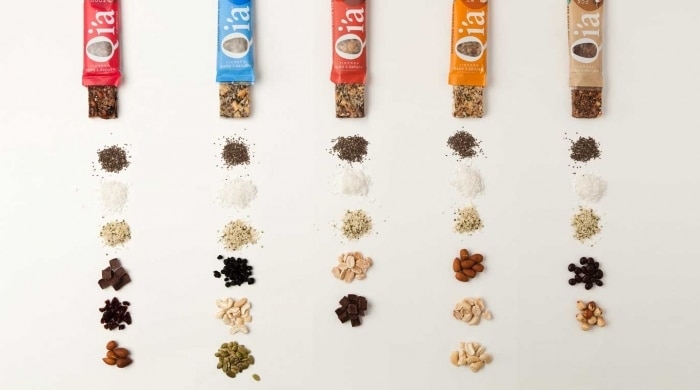 GIVEAWAY: #OnMyPath #Qia Prize Pack (valued at $100)
We are giveaway a fantastic prize pack featuring the Qia Superfood Bars and Un-Junk Your Diet by Desiree Neilsen, BSc, RD
Beach? Yoga? Park? Where does your path lead? Well, we've got a variety of delicious new Nature's Path Qi'a Superfood Snack Bars to energize you wherever life takes you.
Copy of Desiree Nielsen's latest book, [easyazon_link identifier="1628737719″ locale="US" tag="famfooandtr00-20″]Unjunk Your Diet[/easyazon_link]! Learn about whole food nutrition and harness the superpower of organic plant foods to feel crazy good for the rest of your life. No deprivation, no guilt, no garbage.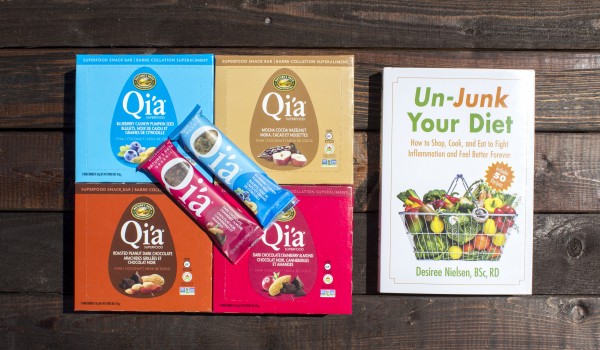 Contest is open to residents of Canada and the U.S. 18+ and ends on September 10, 2015 at 11:59pm.
Check out this awesome video by Nature's Path on why we are all farmers. Good food for thought!