I think like so many moms, I spend a good deal of my time carefully considering the choices I make for my daughter. It took me 4 months to choose which elementary school was right for her (the one at the end of our street – haha!). I started researching safe sunscreen in March. I read countless reviews on summer camps and discussed the options at length with 'the mommies' before registering. It's easy to fill up your time focusing on the little ones around you. Having said that, I'm starting to see the value in finding the time to focus a bit on myself as well. This isn't a new concept for many women but, for me, it's a shift that's creating a very positive impact on how I feel about myself as a woman and busy mom.
When I first looked up Mastey hair products, I did so because I realized that I was using only organic, 'safe' shampoo and body products for my daughter and yet the majority of my own were from the drug store aisles. It's an easy thing to overlook when you're busy but I started thinking why am I short-changing myself? If it's not good enough for my 6 year-old why is it good enough for me? I was initially attracted to Mastey's promise of paraben & phthalates free products as well as no animal testing. In the past I've tried 'cleaner' products for my hair and have always found them to fall short of my expectations – but Mastey has truly changed that.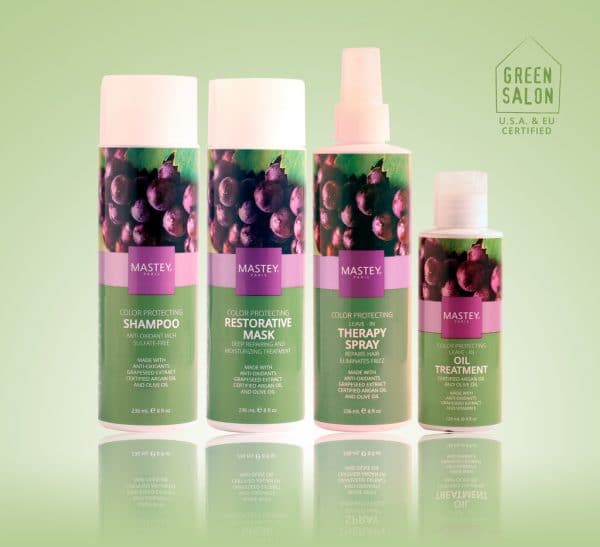 I began with Mastey's color protecting system (even though I don't color my hair!) I have an insider tip for natural blonds: if you want your hair to look great all year long and not go brassy or dull use products for color-treated hair. Again, maybe not revolutionary but this little trick works wonders for me. I could see that Mastey's products were going to be different from my first shower. The shampoo is rich but don't over lather. The conditioner was moisturizing but not heavy. The smell of all the products are heaven. Not only did I feel a difference when I started using the color protecting system – people started to notice! It's amazing how good it feels to feel like you look good – especially when others notice.
My hair is shiny and has bounce and the halo of frizz had all but disappeared. With the addition of a small amount of the treatment oil in my hair after my shower I have reduced the number of products I use from 5 to 3 every day and my hair has literally never looked better. I'm now a dedicated Mastey Hair Care devotee. This is one decision that's really just for me – and that feels great.
100%  Vegan– With natural ingredients comes natural beauty that is good for your hair! Using plant-based moisturizers means you will have softer and more natural feeling hair, with absolutely no animal based products!
No PPD!– This means less irritation or allergic reactions thanks to our formula that leaves out the "bad guy" known for causing skin and allergy irritations. More information on the negative effects of PPD is here: http://masteyhaircolor.com/no-ppd/
 No Ammonia– Ammonia can damage hair, period. As pioneers in this market, we formulated hair care without ammonia back in 1982. You can trust us to have your hair's best interest at heart! More information on why Ammonia is bad is here: http://masteyhaircolor.com/no-ammonia/
 Rich in Antioxidants– Not only do we leave out the bad ingredients, but we add good for you grape seed extract to our line of hair color and products! This means longer lasting color and luscious, touchable locks that you will love!
Formulated with Argan Oil & Olive Oil  to protect your hair from styling heat and the environment — let's your hair be soft and shiny without any greasy feeling.
Follow Mastey on social media for more product updates – Facebook, Twitter, and YouTube.