With Earth Day right around the corner we are celebrating with our friends at Envirokidz by sharing two fantastic recipes and one amazing giveaway. As the winner of this giveaway you can celebrate the earth with your family and friends and enjoy fantastic treats – Chocolate Garden Cups and Koala Crisp™ Mini Cupcakes.
Chocolate Garden Cups
Serves: 2
Adorable and fun to make with the family, these Chocolate Garden cups are perfect for kids parties or an afterschool snack. Topped with yummy organic Choco Chimps cereal, the deliciously simple, eggless chocolate pudding is light, easy to make, and not too sweet.
Ingredients
Easy Chocolate Milk Pudding:
1 ¾ cup chocolate milk, room temperature
2 tbsp. cocoa powder
2 tbsp. corn starch
1 tbsp. maple syrup or sweeten to taste
Garden Cups:
1/2 cup Choco Chimps Cereal, crushed
Sprig of mint
Directions
Combine cocoa powder and corn starch in a small pot.
Gradually stir in milk and whisk until smooth. Stir in maple syrup.
Stirring constantly, bring to slow boil. Whisk for 1 minute until pudding thickens.
Remove from heat and pour into small mason jars or jam jars, leaving space for topping.
Chill for 1 hour until cooled and thickened.
Top with crushed Choco Chimps Cereal and garnish with sprig of mint and popsicle stick.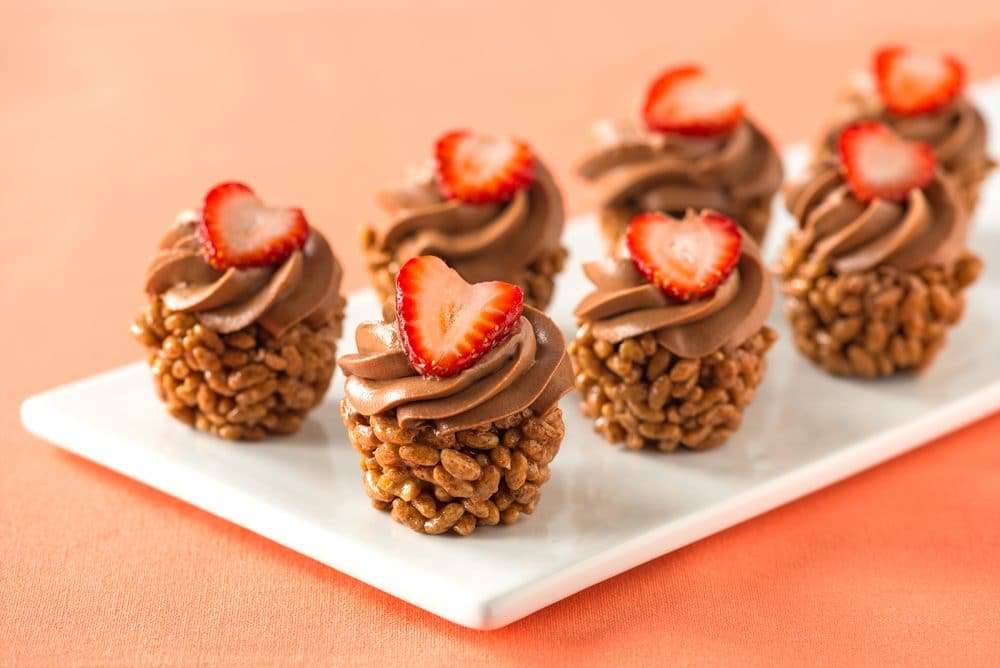 Koala Crisp™ Mini Cupcakes
Makes: 18 mini cupcakes
Ingredients:
2 tbsp butter
2 tbsp honey
2 tbsp brown rice syrup
1 tsp vanilla
2 cups EnviroKidz Koala Crisp™ cereal
Icing:
3 oz cream cheese, softened
1 tbsp butter, softened
3/4 cup icing sugar
4 tsp cocoa powder
4 strawberries, sliced
Directions:
Grease a mini-muffin pan; set aside. In saucepan set over medium heat, bring butter, honey and brown rice syrup to boil. Boil for about 1 minute or until mixture is well combined and slightly thickened. Remove from heat. Stir in vanilla and cereal.
Divide evenly and press into 18 mini-muffin cups. Cool completely. Remove from pan.
Icing: Meanwhile, in a bowl, beat cream cheese and butter together until well combined. Gradually beat in icing sugar and cocoa until smooth.
Transfer icing to a piping bag fitted with a star tip. Pipe a swirl of icing onto each cupcake. Garnish with a strawberry slice.
Check out more fantastic Envirokidz recipes
Enter to win an awesome Earth themed gift pack!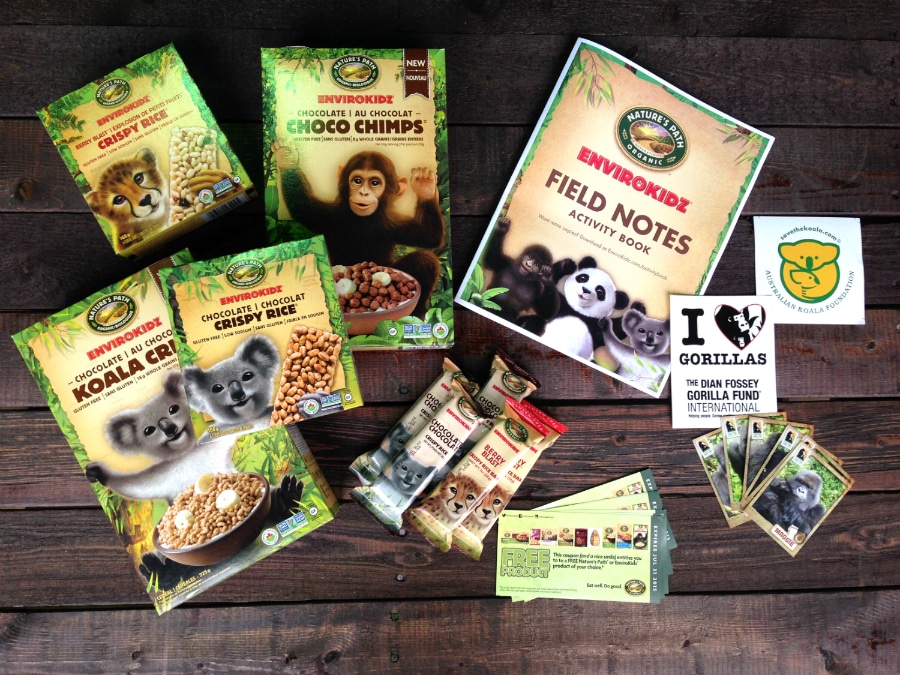 The pack includes:
10 free product vouchers, valued at $50 – all for mom or to share with party guests!
Party Treats
All the EnviroKidz products needed to create the yummy party recipes above
EnviroKidz snack bars for the party or for goodie bags
Download-and-print party invites
Party Banner
Party swag including animal stickers from our 1% for the Planet nonprofit partners such as The Australian Koala Foundation and Dian Fossey Gorilla Fund
Activity books full of fun, educational games and quizzes featuring your favourite EnviroKidz Animals. Koalas, Chimps and Pandas, oh my!
**Contest is open to Canadian and US residents only. US or Canadian shipping address must be provided.
Follow Envirokidz on Facebook, Twitter, and Pinterest for more fantastic recipes, giveaways and organic food info.