I'm taking the 4-week Activia® Challenge and am so excited to take part – I hope you'll join me! During the month of April, I'm teaming up with Chatelaine's Tasters and Testers and eating 2 Activia® yogurts per day for 4 weeks.  Activia® yogurt comes in so many delicious flavours and varieties there is something for everyone! I'll be enjoying them all.
This winter has been the coldest I can remember in years. It is time that I pressed the reset button and made some different choices. I am excited about so many aspects of the Activia® Challenge but I'm most excited about seeing how eating 2 Activia® yogurts per day for 4 weeks will make me feel.  Since Activia® is a probiotic yogurt and a great source of calcium, vitamin D and B2 and B12, I know that by increasing those vitamins in my diet it will impact how I feel. Plus, I will definitely be getting my daily recommend dairy intake. With spring around the corner I am committed to not just eating Activia® yogurt but getting outside more, getting rid of heavy winter clothes and taking some much needed time for myself. Exercise, a healthy diet and lots of fresh air are the perfect ways to ensure that I am feeling healthy from within.
Are you ready to join? Sign up at Activia Challenge and earn points for participating.  You can earn points by completing the personality test "Which type of Challenger are you" and by completing their daily calendar while benefiting from tummy tips, coupons and more. The best part is that you can win weekly prizes like an iPad and a grand prize a Fairmount luxury retreat!
You will love the "Which type of Challenger are you" the questions are fun and you can compare your results with friends.  I got that I am a Connector – what do you think? Does that sound right?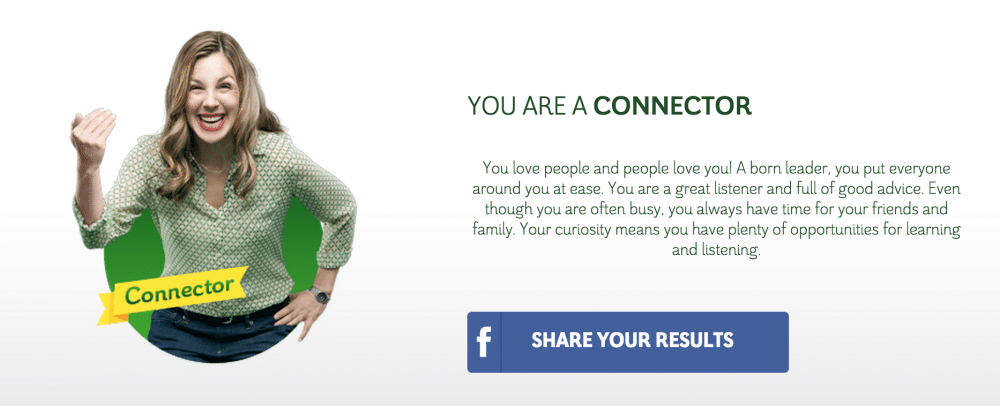 Follow me at Chatelaine.com and on my Instagram, Twitter and Facebook to see which flavours of Activia® Regular, Fat Free, source of fibers and Greek I'm eating and how my Activia® Challenge is going. Be sure to use #ActiviaChallenge to join in the conversation too! Looking forward to sharing my experience with the Activia® Challenge and hearing about yours.