After a frigid Winter we are so ready for warm weather and sunshine and that means a March Break Vacation! While our family is soaking up the sun in Florida we know that lots of our fellow Canadians are heading to destinations all over the Caribbean, Southern U.S. and various places around the globe for a chance to escape the snow. While vacation is a time in the sun don't let a sunburn ruin your trip. Here are some tips and facts from Coppertone® on sun safety:
Not All Sun Exposure is Created Equal
While sun protection is essential year-round, it is especially important when skin is exposed after long periods spent under cover. Skin that has received limited sun exposure typically produces less melanin, a pigment that absorbs the sun's ultraviolet (UV) rays before they cause damage. When vulnerable skin is subjected to intense periods of concentrated sun exposure – such as during a winter beach vacation – there is a higher risk of sunburn and, consequently, potential longer-term effects like premature aging and skin cancer.
Families planning to hit the ski slopes during March Break also have special sun protection concerns. Snow reflects approximately 90% of UV rays, which almost doubles their potential damaging impact on skin. UV radiation also increases by as much as 30 percent for every 1,000 metres of altitude. In those conditions, unprotected skin is especially vulnerable to sun damage.
"Sun protection should be a primary concern for people planning a winter break, whether their plans include sand or snow," said Dr. Beatrice Wang, Assistant Professor in the Division of Dermatology at McGill University. "All skin cancers, including melanoma, the most dangerous form of skin cancer, is thought to be associated with sunburns.  Beginning precautions early in childhood can prevent the cumulative UV damage that can lead to skin cancer development."
Spending time in the sun increases the risk of skin cancer and early skin aging. To decrease this risk, regularly use a sunscreen with a Broad Spectrum SPF value of 15 or higher and follow other sun protection measures, including limiting time in the sun (especially from 10:00 a.m. to 2:00 p.m.) and wearing hats, sunglasses and  long-sleeved shirts and pants.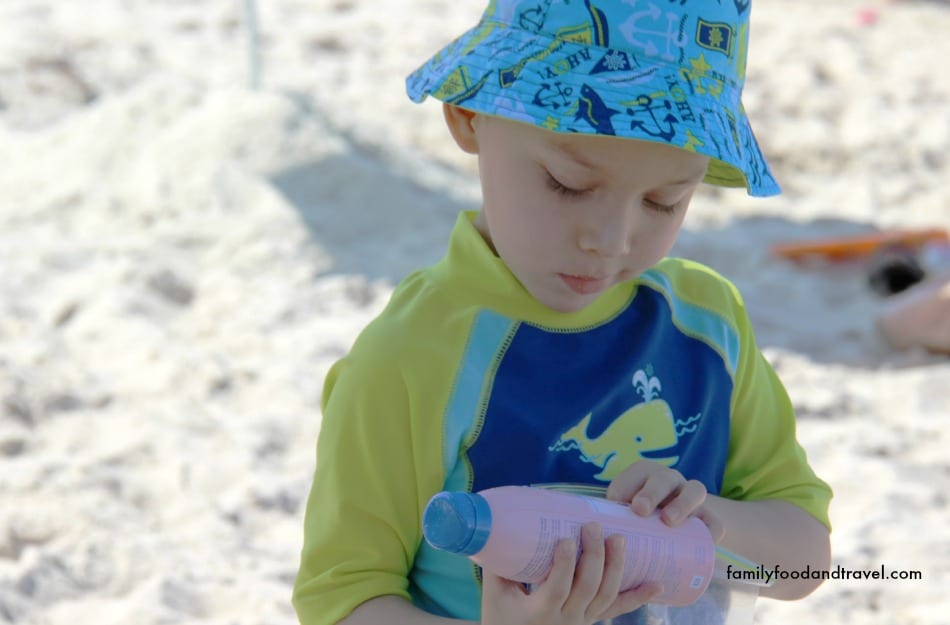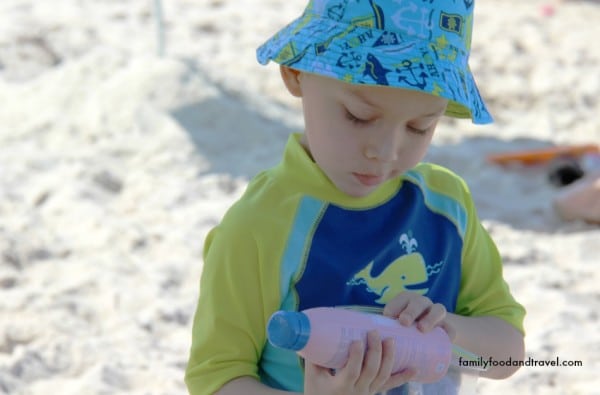 Top Tips for Skin Protection Under the Winter Sun
1 – Pack the suitcase with a broad-spectrum sunscreen of SPF 30 or higher: According to Dr. Wang, most people underestimate the amount of sunscreen required for a week under the sun. In order to deliver the sun protection factor (SPF) listed on the bottle, sunscreen must be applied generously (dermatologists typically recommend applying sunscreen "liberally" at least every two hours, which can mean a palm-sized amount for each adult arm and leg, at least a palm-sized amount for a child over 6 years of age[1]'s body, and a quarter-sized dollop for a skier's face), and reapplied at least every two hours – even more frequently if swimming or sweating.
2- Bring sunscreens that are appropriate for every activity: Spray-, lotion- and even mousse-format sunscreens each have particular benefits. Packing a variety of sunscreen formats will ensure that appropriate sun protection is available for almost every vacation activity, from a convenient spray-on formula to be applied during an intense beach volleyball match to thick lotion for a lazy day on the lounge chair.
3 – Don't forget physical blocks like hats, sunglasses, goggles and UV protective clothing.
With lots of great  New Coppertone® Sunscreens are March Break Vacation Essentials Coppertone has every member of your family covered. I love how easy the sprays and mousse sunscreens are to put on my kids and I usually just use the same for me.  This time, I packed the Coppertone Sensitive Skin for me and can't wait to try it out.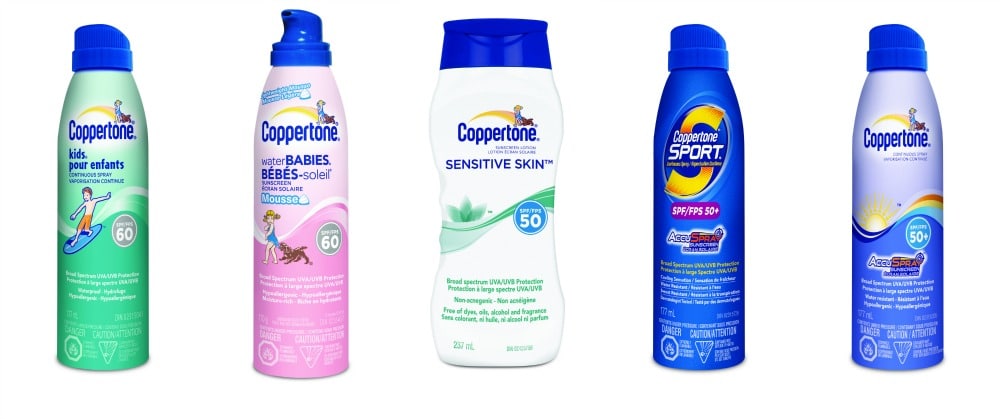 Coppertone® Sunscreen Lotion Sensitive Skin™ SPF 50, the brand's first lotion developed specifically for sensitive skin. The product's formula provides effective broad-spectrum (UVA-UVB) protection via a combination of active ingredients, including 14.5% zinc oxide (suggested retail price: $10.99 for the 237 mL format).
Coppertone Sport® Continuous Spray AccuSpray™ Sunscreen SPF 30 or SPF 50+ an easy-to apply spray-on sunscreen that offers a broad-spectrum UVA/UVB protection for up to 80 minutes, even during swimming and exercise. It provides an immediate cooling effect as alcohol evaporates from the skin (suggested retail price: $11.99).
Coppertone® wet'n clear™ Sunscreen Continuous Spray SPF 50 and Coppertone® Kids® wet'n clear™ Sunscreen Continuous Spray SPF 50 , which were specifically developed to adhere when applied to wet skin. These broad spectrum UVA/UVB protection formulas spray on clear and won't whiten on wet skin, so there's no need to towel dry (suggested retail price: $11.99).
Coppertone® WaterBabies® Sunscreen Lotion SPF 60, are non-stinging and gentle on babies delicate skin, and provide broad spectrum UVA/UVB protection, and Coppertone® WaterBabies® Sunscreen MousseSPF 60 (suggested retail price: $11.99).
Coppertone® products are available in the Suncare sections of most drugstores, food and mass retail outlets across Canada.
Disclosure: I received product in exchange for sharing this information. As always, all opinions are my own.