When you have children, going out to a restaurant for dinner can sometimes be a challenging task, especially when you visit places that don't really cater to kids. Luckily, here in Vancouver, we have lots of restaurants that make bringing children a great experience and you can leave with no tears, no scenes and happy kids.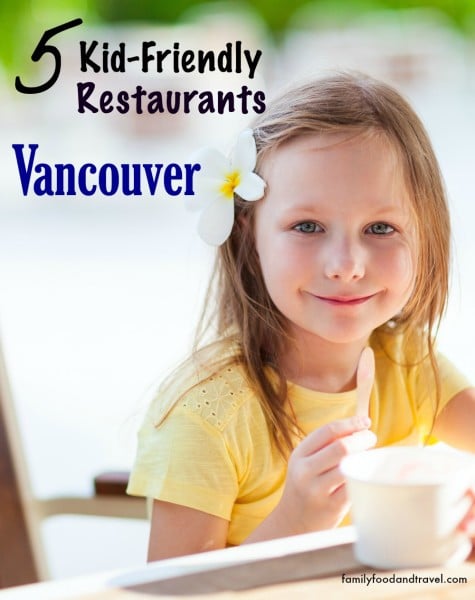 5 Kid-Friendly Vancouver Restaurants
Celebrating five years out in Maple Ridge, Big Feast Bistro was first built with family and community in mind. They have a Little Feast Menu which serve some of the kids
favorites with the twist. Each meal comes with an organic juice box, fresh fruit and a baked cookie. There is even a playroom for the littles to have fun in.
Joe Fortes Seafood and Chop House
Although Joe Fortes may seem like a great place for date night, they are actually very kid-friendly as well. With a special kids menu and brunch menu, they also offer crayons and paper for coloring plus they have highchairs and booster seats for your convenience.
Nando's has always been one of my favorite places to eat. It is healthy food that is really delicious. And now they have a special section on their menu just for little Nandinos. Bonus, they also having crayons and special Nando's activity pages to keep the kids busy while they wait for their food.
Pirate Packs at White Spot are a classic that we all grew up with. So of course, our children love it too. With the pirate ships, anchor shaped chicken strip and gold coins, it's a favorite dinner spot for families everywhere.
Rocky Mountain Flat Bread Company 
Every kid loves pizza and the Rocky Mountain Flat Bread Company is renowned for it's delicious flat bread pies! Your children can actually watch the pizza being made or have fun in the play area while they wait. Sounds like a pretty perfect place for your next family meal.
Salma Dinani is a freelance writer, producer and host. She has a passion for writing, social media and can't pass up a good bargain. Salma is also a mother of two, who is on a quest to find some balance in life and she blogs all about her journey at www.TheWriteBalance.ca