When I heard the premise of the new Netflix Original I knew it had potential to be good. But it was even better than I could have expected! I haven't laughed this hard in a long time. Unbreakable Kimmy Schmidt is a must watch. Whether it is Kimmy's naiveté or the ridiculously funny things she says I am sure you will be laughing along with her.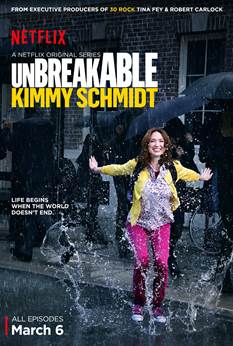 Unbreakable Kimmy Schmidt – Available on Netflix – Friday, March 6, 2015
From creators Tina Fey and Robert Carlock, this half-hour single-camera comedy series stars Ellie Kemper as Kimmy, who escapes a doomsday cult and decides to reclaim her life and start over in New York City. Armed with just a backpack, light-up sneakers, and a couple of way-past-due library books, Kimmy's ready to take on a world she didn't even think existed anymore. Wide-eyed but resilient, nothing is going to stand in her way. The 13-episode series, produced by Universal Television, also stars Jane Krakowski, Tituss Burgess, Carol Kane and more. Fey and Carlock serve as executive producers, along with David Miner and Jeff Richmond.
Check out the trailer:
My Unbreakable Kimmy Schmidt Review: 
The first few episodes create a lot of backstory setting you up to understand the characters, realize their personalities and flaws. While the first two episodes are funny, by episode three I was laughing hysterically. Here's why you will love it:
It's quirky and funny
The storyline is new and refreshing
The acting is superb
It's been a long time since I've laughed this hard!
Jane Krakowski is genius
 All 13 episodes are available all at the same time = binge watching
You will instantly fall in love with Kimmy Schimdt and her naiveté
What have I learned from watching?  You can take anything for 10 seconds. And that's a great thing to remember.
Disclosure: I am a member of the Netflix Stream Team and receive benefits in exchange for posting.  As always, all opinions are my own.