Boxing Day is my favourite shopping event of the year! There is something truly fantastic about spending your Christmas money/cashing in your gift cards for items you love at a fraction of the cost before Christmas.  And the crowd and the excitement – it's contagious!  I've scored some pretty amazing deals Boxing Day Shopping on electronics, cameras and seasonal items over the years.
Prior to Boxing Day I develop a strategy by reading over the flyers ahead of time.  I check out what's on sale, what the best deals are and confirm what time the stores open.  When the Target Canada Boxing Day flyer arrived in my inbox I set out to make a plan.
Target has made it easy for you to make a Boxing Day game plan with their downloadable store maps and updated store hours.

Right away I was struck by the awesome deals in the Target Boxing Day flyer.  From gift cards with purchase to deep discounts there are savings on everything from electronics, to toys and housewares. The deals at Target are amazing. If you are in the market for a new TV this is the year to get it.  Check out these prices!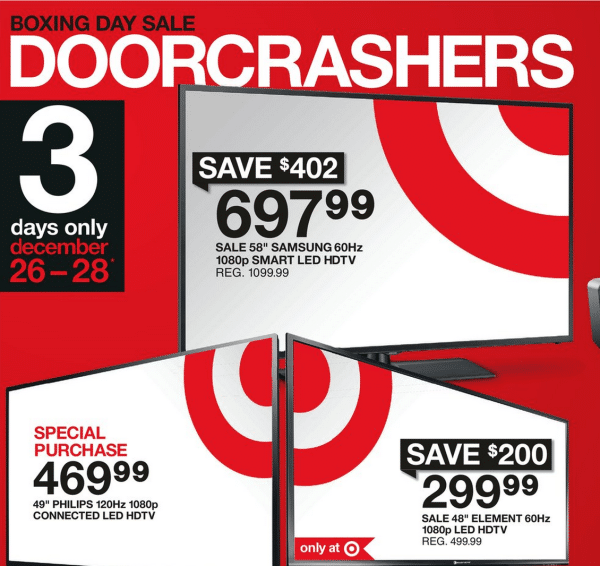 I cannot even imagine how awesome a 58″ Samsung would look in our Rec Room and at $400+ off that is really an unbelievable discount. Already have a TV, then maybe this PS4 with gift card is the bundle for you?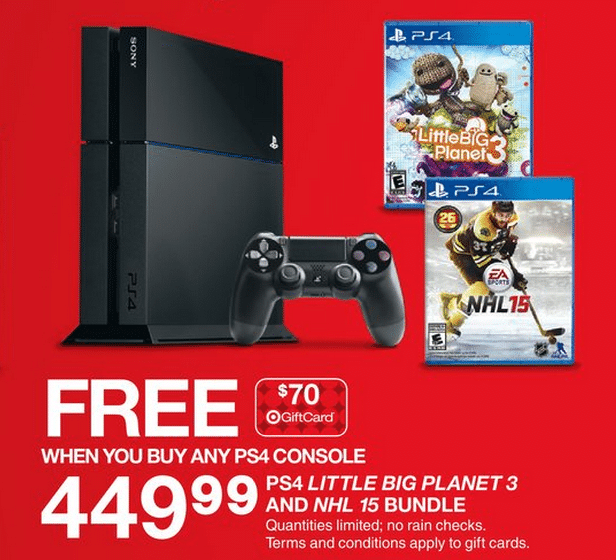 Love a purchase that puts money back in your hands!
If you aren't searching for electronics there are so many other phenomenal deals.  From 50% off sleepwear, sweaters and outwear to 50% off select Pyrex and Corningware. I will definitely be stocking up on these storage boxes.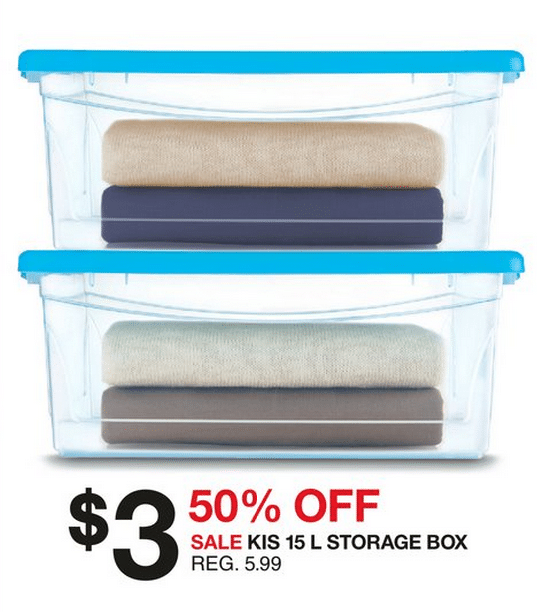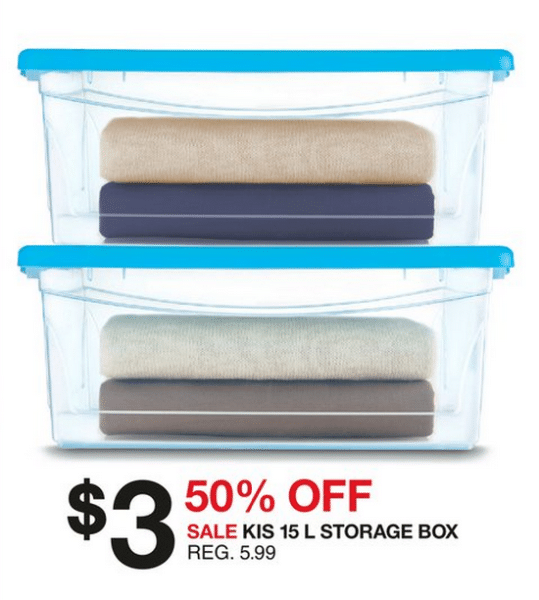 If you have a foodie in your life there are amazing details on cookware, KitchenAid small appliances and a half price Tassimo!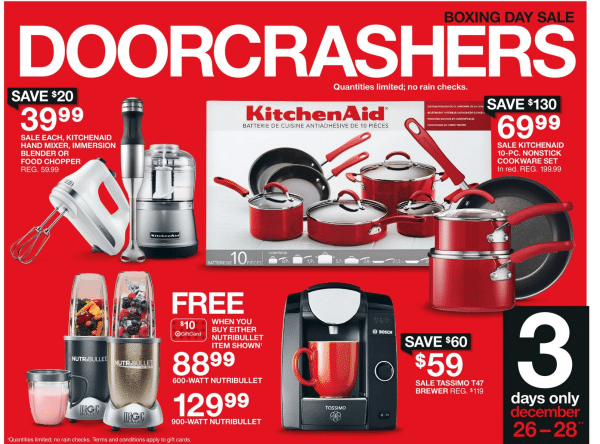 After I've bagged a ton of deals I will be heading to the movie section to load up on these fantastically priced titles. Plus check out the doorcrashers – Anchorman is only $1.99!
Whatever you are looking for this Boxing Day Target Canada has phenomenal deals, the doors open early and with your Target Red Card you save an additional 5% off your purchase. Don't forget to follow Target Canada on Twitter and Facebook for more deals.
If you're looking for me on December 26th – I'll be at Target.  Happy Shopping!