Buying great quality toys is really important to me because I think that play is such a vital part of my children's learning. While I highly value all that they are doing in school each day I also believe that they learn each and every day through their interactions with adults, each other and their toys.  One of the first items I bought for my boys this Holiday is some of the Playmobil Dinosaur series from my favourite online retailer Mastermind Toys.  I love that Mastermind Toys is a Canadian company that  opened in 1984 in North Toronto.  Love buying from a company that specializes in just educational toys.
In addition to the Playmobil dinosaurs we will also have some classic items from Mastermind Toys under our tree.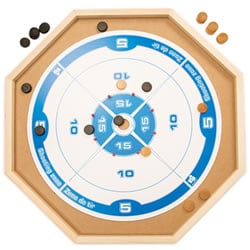 As a child one of my favourite activies was to play Crokinole with my grandma.  We would lay on our bellies and play for hours until our fingers were sore.  I love Crokinole because it is such a fun, interactive game that can be played with kids of any age.  I highly recommend this fantastic wooden board game but be aware it is large!
The Crokinole 2 in 1 Wooden Board game is a Canadian-made game that features a Crokinole board on one side and a checkers board on the other side. For ages 6 and up, the object of the classic game if Crokinole is to gain points by getting the wooden disks into the highest scoring area on the board. You can flip, shoot, snap the disks into place. This version is fantastic because you get Crokinole and Checkers all in one game board!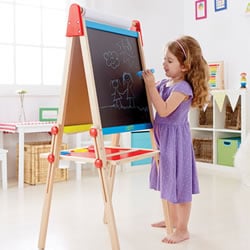 Art Easel with Chalkboard and Magnetic Whiteboard
I don't know if there is anything that kids love more than art. This art easel with a chalk board and magnetic white board has everything a budding artist could want. With room for 2 artists at a time, the easel is easy to adjust the height and has a drip- catching art supplies tray to keep everything the kids need for their masterpiece close at hand. Love that this is double sided so both my boys can enjoy it at the same time and with two boys who need fine motor practice this is going to be fun and exactly what they need to practice. I can't wait to write a message from Santa on the board for Christmas morning!
The art easel includes 1 adjustable wooden easel, 3 "no-spill" paint cups, 1 drip-catching supplies tray, and 1 roll of paper. Art supplies and magnets sold separately and adult assembly is required.
$100 Mastermind Toys Gift Card Giveaway
Do you have toys on your shopping list? If so then this is the giveaway for you!
Enter to win a $100 Mastermind Toys gift card open to residents of Canada.  Contest ends December 20, 2014.