There is something about a beautiful set table that makes any meal special. It could be a simple spaghetti and meatballs kind of night but add in fine dishes and suddenly the meal feel like a special occasion. We have two sets of Denby dishes in our home, Azure for everyday and Fire and Chili for special occasions.  I love the durability of Denby dinnerware and the beautiful colours, patterns and shapes.  It feels like everyday I'm using the "good dishes" and that makes me very happy.
That is what Denby Heritage wants to bring to your table. Denby, established in 1809, has been making pottery in the English countryside for over two hundred years. They have proudly taken the lead by setting standards for others to live up to.
Denby prides themselves on making high quality tableware which are both practical for everyday use and exceptionally beautiful. I recently received a few items to help take our kitchen to an elegant level. The Monsoon Antalya Kitchen Mug is perfect for tea in the morning or coffee after dinner. The Monsoon Antalya Storage Jar is perfect for storing tea bags or sugar. The Monsoon Antalya Pitcher matches the set. It holds 44 oz.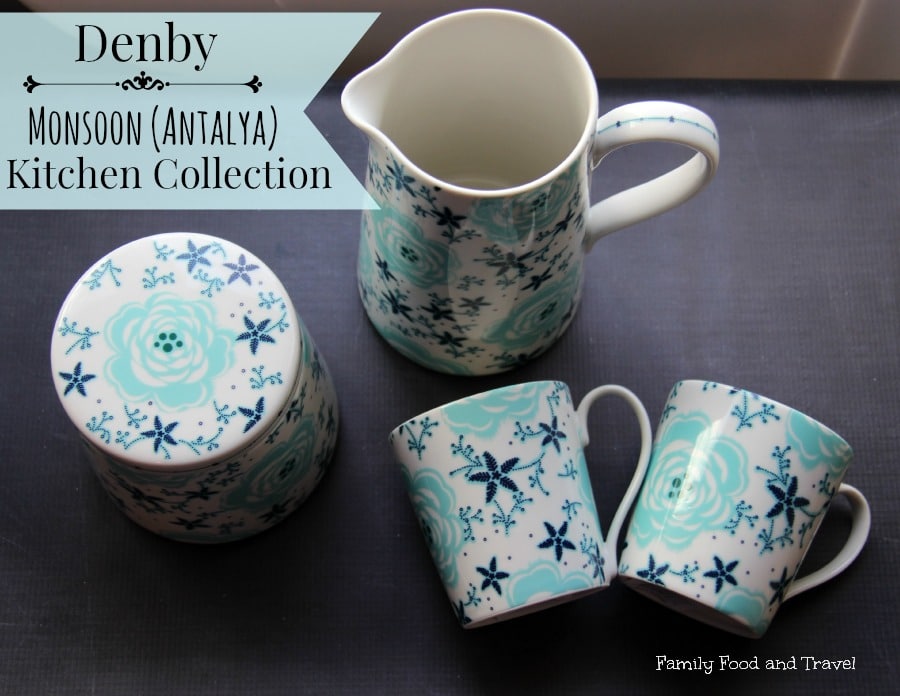 Each night the pitcher is put on the table for water at dinnertime and I've used the mugs almost daily.  The storage jar is currently holding sugar for coffee and tea and all of them look great with my everyday Denby dishes.  If you are looking for some beautiful pieces for your kitchen the Denby Monsoon Kitchen Collection is the perfect gift for yourself or someone on your Holiday list.
If you are looking for something with different tones check out the Denby Monsoon Kitchen Collection in Cordoba a striking combination of mustard yellow and deep navy. No matter your style, preference or pattern the Denby Monsoon Kitchen Collection adds personality, style and colour to your kitchen.  Mix and match with patterns and designs to create a look that is unique, beautiful and functional.
*This post contains affiliate links