Spiderman…
Spiderman…
Does whatever a spider can…
Just the mention of Spiderman makes me think of shooting webs and crawling up buildings with agility and poise.  Growing up, everyone wanted to be spiderman.  And, I can safely say that generations later that is still true.
If you have Spidey fans in your house than you must check out these fabulous toys that encourage pretend play for your little Spiderman.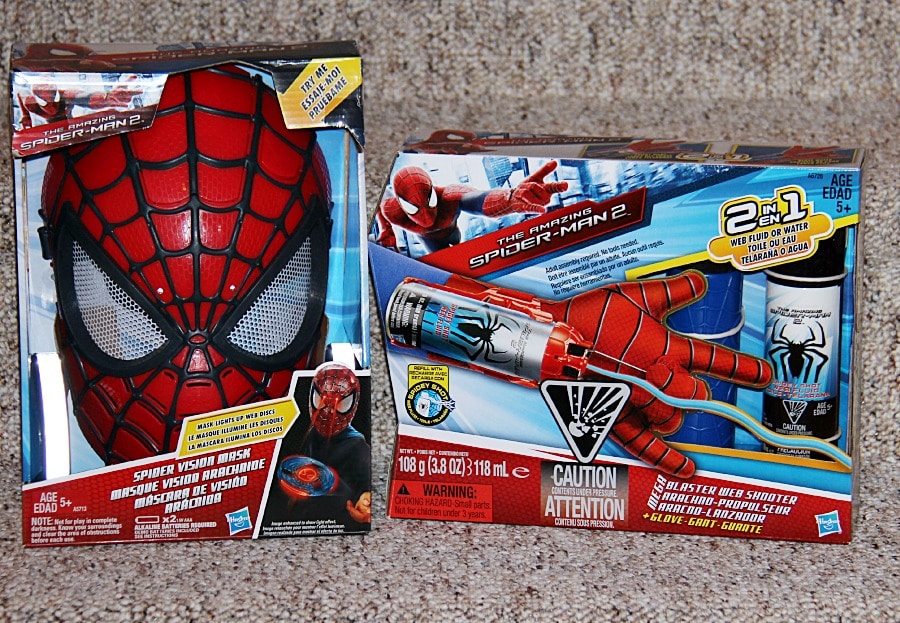 My Spiderman fans loved these two items from Hasbro – their favourite by far was the Web Shooter with Glove.  Any opportunity to actually shoot webs is beyond exciting! Both toys are listed as being suitable for kids 5 and up but my 4 year olds managed just fine.  I would have loved to get a picture of them in costume ready to fight evil but they told me I would take away their power!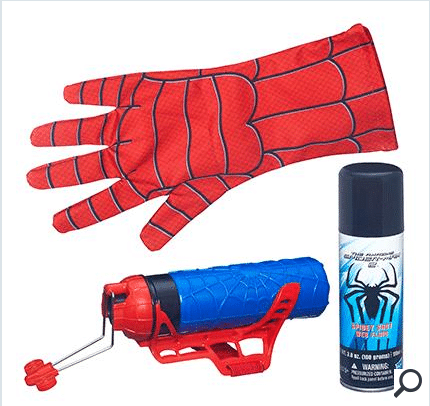 Imagine Spider-Man adventures at a whole new level with this incredible Mega Blaster Web Shooter set! This realistic-looking glove looks like it came from Spider-Man's costume, and when you pull it on you'll feel just like your web-slinging hero. But you'll feel even more like him when you attach the Mega Blaster Web Shooter to it! Load the shooter with the water cartridge or the included can of Spidey Shot Web Fluid. Then you can blast a web or water at the bad guys, using your 2 middle fingers, just like your favourite web-crawling hero. Evil doesn't stand a chance when you've got your Mega Blaster Web Shooter and Glove!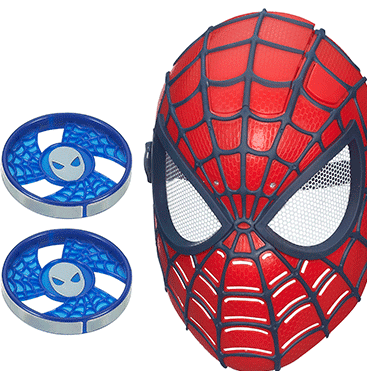 Become a spider striker just like your wall-crawling hero with this incredibly realistic Spider Vision Mask! The mask looks like it was cut from Spider-Man's costume, and you'll feel just like your web-slinging hero when you put it on. Then, when you press the button, the mask will light up your Spider Vision discs as you fling them at the foe! Fight crime in the shadows with your Spider Vision Mask!
Disclosure: I received these products to facilitate my review.  All opinions are my own.