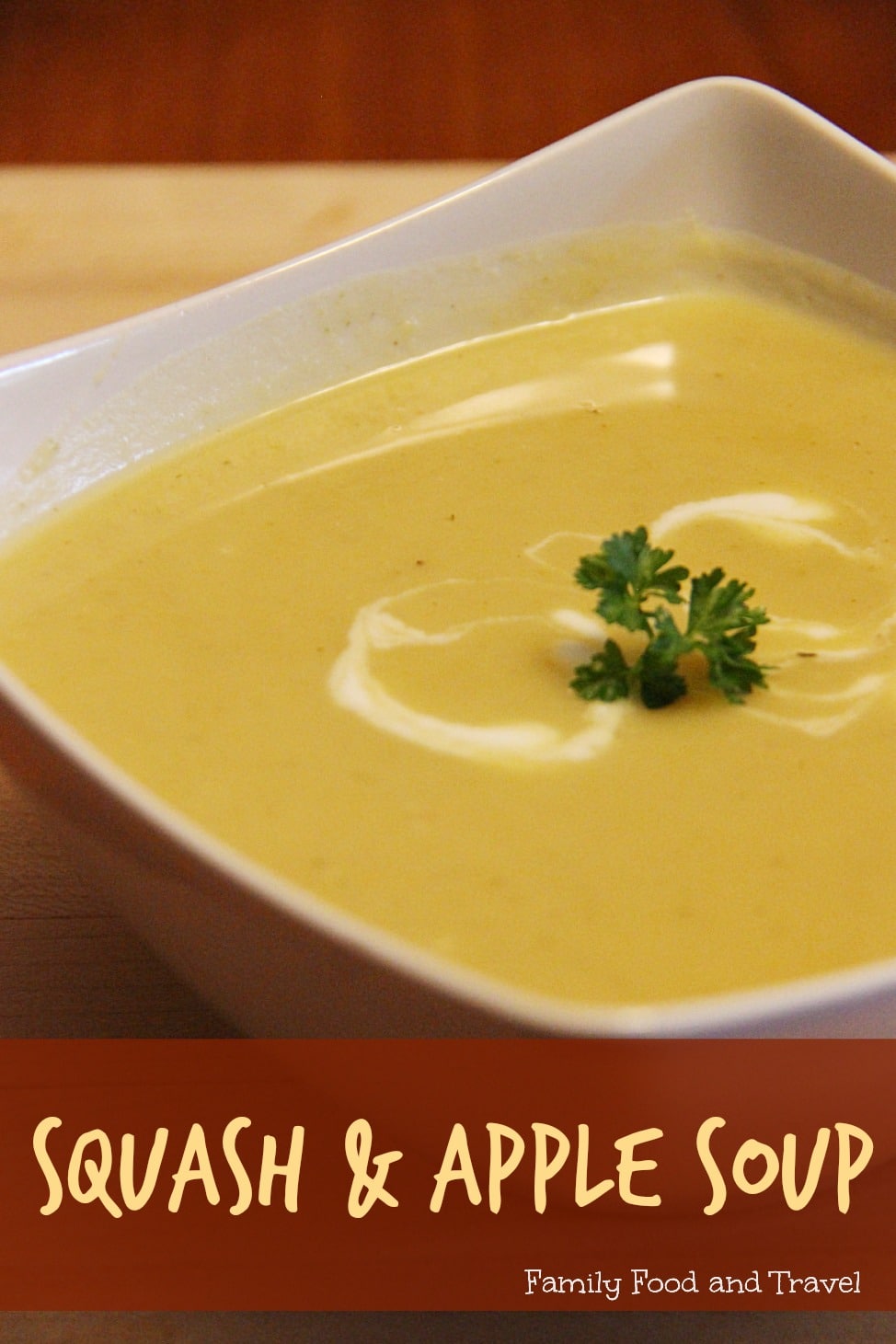 Squash and Apple Soup
Ingredients:
1 tablespoon butter
1 medium onion, diced
1 acorn squash, seeded
1 delicata squash (sweet potato squash), seeded
4-5 tart apples, peeled, cored, and chopped
2 teaspoons coarse salt
1 teaspoon curry powder
1/2 teaspoon ground coriander
1/2 teaspoon ground ginger
1/4 teaspoon freshly ground black pepper
2 cups homemade or store-bought low-sodium chicken or vegetable stock
2 1/2 cups water, plus more if needed
dash Tabasco
1 tsp sugar
1 tsp lemon juice
Sour cream, for garnish (optional)
Preheat oven to 350F.
Place halved squash peel side down in oven and bake for 45 minutes, let cool, then scoop out insides – should total about 2 cups.
Melt butter in a large saucepan over medium heat. Add onion; cook, stirring occasionally, until it begins to soften, about 4 minutes. Add apples and squash, and cook, stirring occasionally, until soft, about 5 minutes.
Add salt, curry powder, coriander, ginger, black pepper, stock, and the water (just enough to cover). Bring to a boil. Reduce to a simmer, and cook until vegetables are very soft, about 30 minutes.
Puree in batches in a food processor or blender until smooth, and return to saucepan. Add Tabasco, sugar and lemon juice.  Heat over low, thinning with more water if necessary. To serve, ladle into shallow bowls; garnish if desired.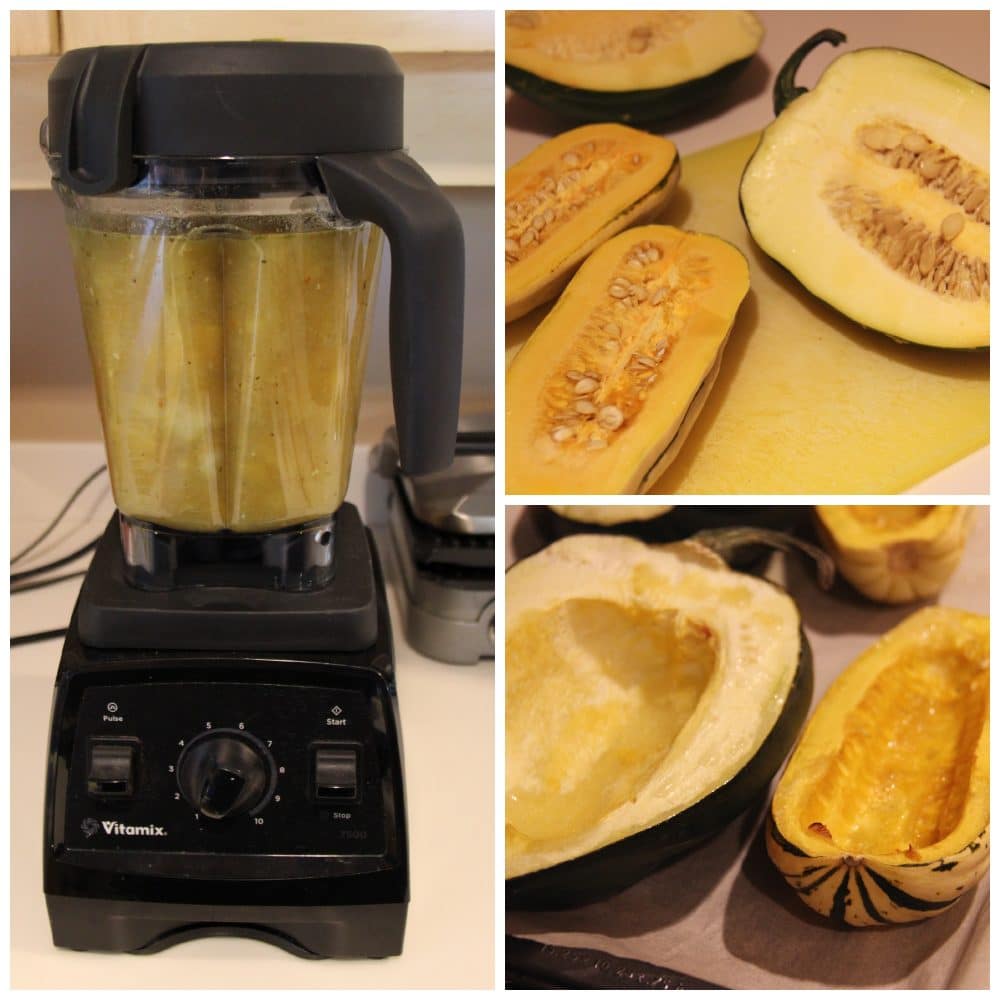 I used both Acorn and Delicata Squash for this recipe so that they would balance out the sweetness of each other and it was a great way to use up squash in your house.  As a CSA farm share member we have a lot of squash at our house right now!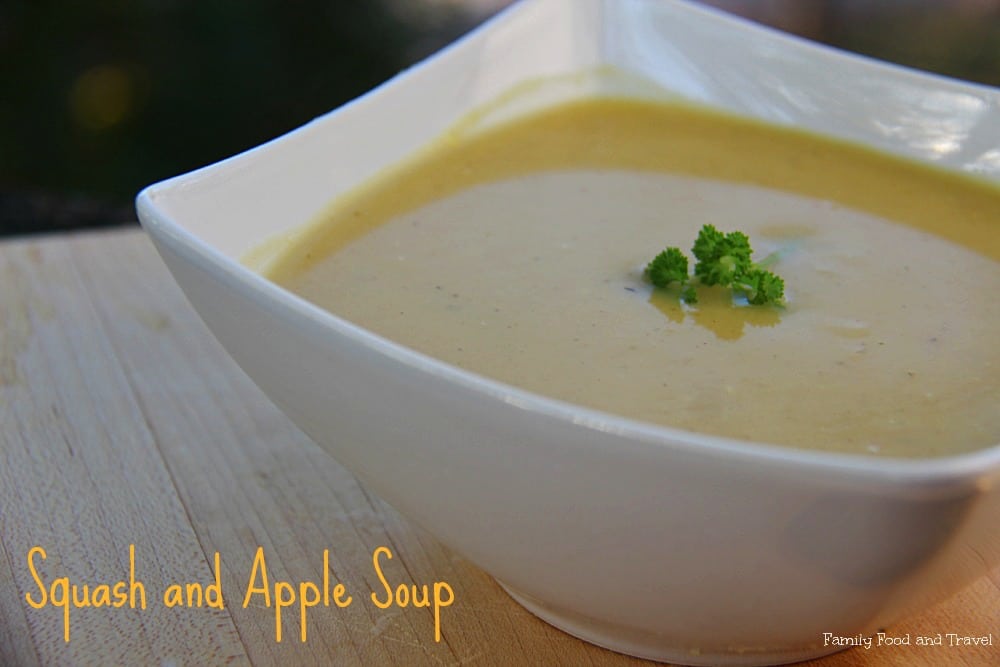 Looking for more fantastic Squash recipes? Try these favourites:
Savory Buttercup Squash Soup With Sage
Curried Butternut Squash Soup with Kale 
Butternut Squash and Apple Soup with Cheddar Cheese Scones