Ribs used to scare me, I thought that you needed a smoker or something really special to make ribs taste delicious.  If you are like me, these are the ribs for you! Our Brown Sugar BBQ Baked Ribs recipe is easy to make, simple ingredients and a remarkably delicious sauce that will make you want to lick the plate.
Our baked ribs recipe is easy to make, cooks well and results in the best bbq join worthy dish without firing up the barbeque!
Serve with some coleslaw, fresh corn on the cob and baked beans and you are ready for a meal everyone will be asking for seconds of.
Why oven baked ribs over BBQ ribs?
We love that these ribs cook low and slow in the oven sealing in the juices and flavors.
While we don't love turning our ovens on in the summer we can assure you this rib recipe is definitely worth it.
Plus, unlike BBQ ribs you don't have to worry about flare-ups and anything that will burn or scorch the ribs. Once you've tried this recipe for baked ribs you might have a tough time going back to BBQ ribs.
Succulent, fall-off-the-bone ribs that are perfect for summertime dining al fresco. Serve them with a fresh cob of corn and a summer salad for a well-rounded nutrient-packed meal.
You will love that our Brown Sugar Oven Baked Ribs are much cheaper than restaurant ribs and just as delicious!
Brown Sugar Oven Baked Ribs
The perfect recipe for any time of year but they seem to taste the best enjoying them outside in the fresh air even licking off the sauce from your fingers! Feeding little ones? Just cut the tender meat from the baked ribs and enjoy a delicious meal. You will find Brown Sugar Oven Baked Ribs are fall off the bones tender and juicy with delicious homemade BBQ sauce.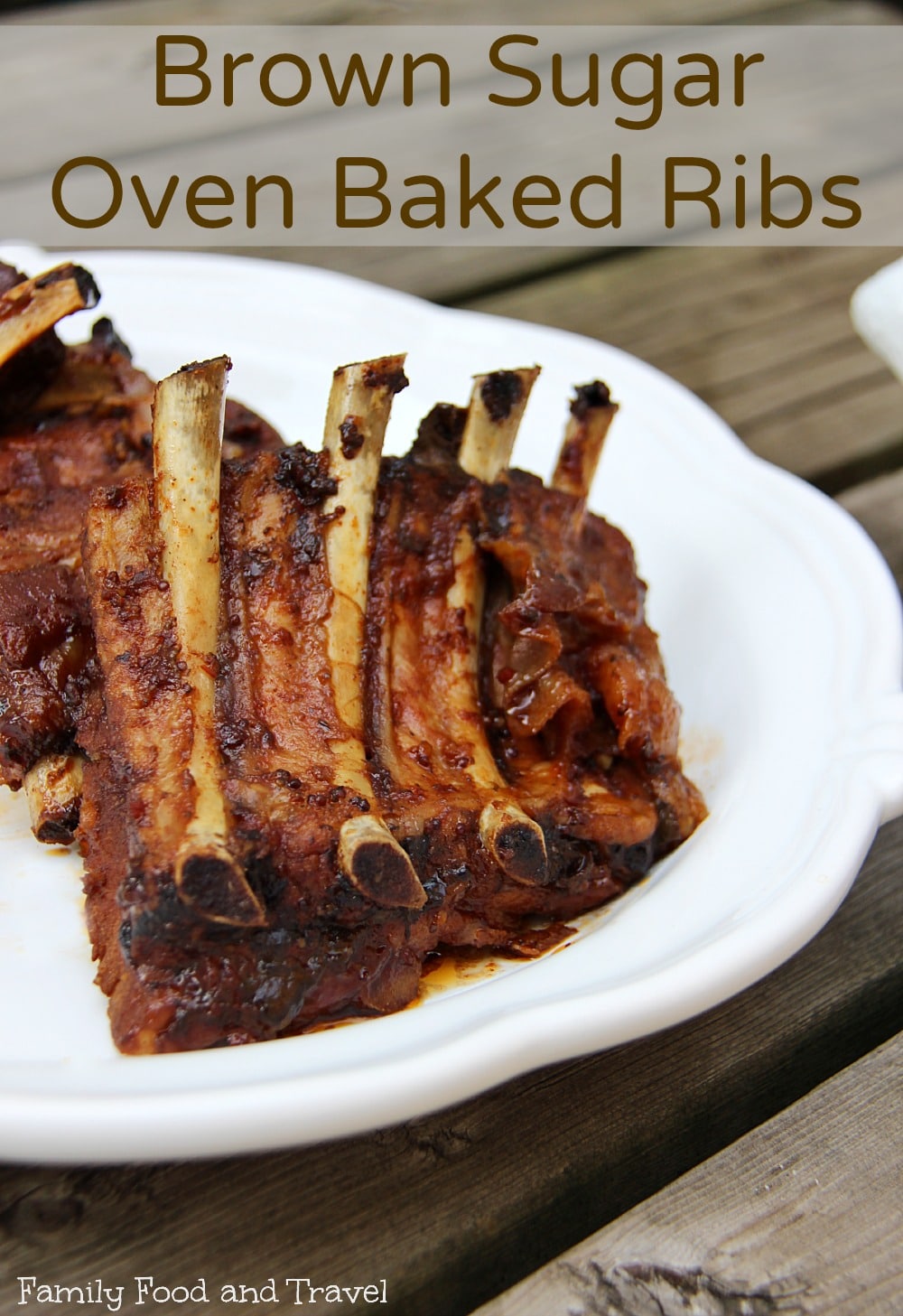 Making your own baked ribs at home ensures that everyone in the family gets to enjoy a delicious meal – and with ribs being a crowd pleasure make sure you make lots because there will be demands for seconds.
Just looking at these ribs makes me want to make them tonight for dinner!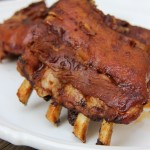 Brown Sugar BBQ Ribs (Oven Baked)
Easy to make, simple ingredients and a remarkably delicious sauce that will make you want to lick the plate combine that with fall off the bone ribs and you have a perfect BBQ dish.
Ingredients
2

racks of pork ribs

baby back or regular

1

small can of garlic pizza sauce

1

cup

mango juice

1

cup

brown sugar

1/2

cup

cider vinegar

1/4

cup

grainy dijon mustard

1/4

cup

Worcestershire Sauce

1/4

cup

soya sauce

2

tbsp

chili powder

4

tbsp

Club House garlic plus
Instructions
Preheat oven to 300F

Mix together all ingredients in a bowl.

Spray baking dish with cooking spray.

Place ribs in baking dish and coat with sauce.

Cover with aluminium foil and bake for 2 hours.

Take ribs out, turn them, baste with sauce.

Turn up oven to 400F and bake covered 1 hour.
Why brown sugar?
We've tried molasses in our ribs recipe but found that the molasses made our sauce really think.
Adding brown sugar allowed for the sweetness of the sauce without it being overpowering.
Love a sweeter BBQ sauce? Add another tbsp of brown sugar.
Don't have mango juice on hand? Try pineapple or orange juice.
The key to this baked ribs recipe is flavor, slow cooking and ingredients you have on hand.
We always find that your favorite recipes are ones you can make again and again because you have the ingredients on hand, they are easy and most important – they taste great.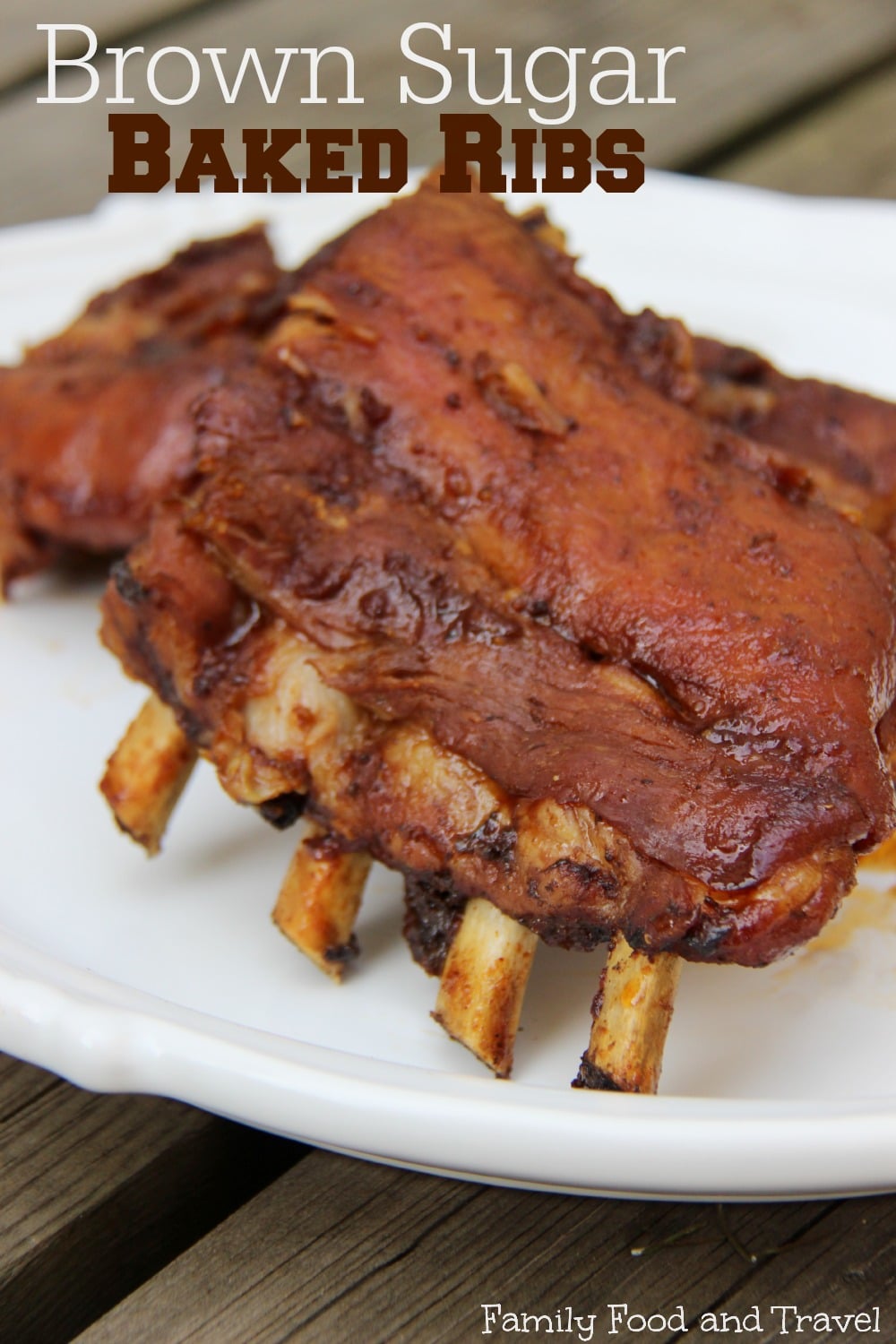 Our Brown Sugar Baked Ribs go perfectly with Roasted Potatoes with Poblano Peppers (Papas con Rajas) or Bacon Smashed Potatoes or try the great beans and coleslaw recipes above. Whatever you choose, we know your whole family will love them.

Have a variation of this recipe you'd like to share?
Comment below or send us a message – we'd love to try them too.
We hope you'll agree that this recipe makes the best oven baked ribs you've ever had.