While some might find the idea of organizing your blog life simple, for most of us it requires some thought, strategies and tools. Making the decision to blog and take your blog seriously is a process.  For some we begin to blog to have a voice, to tell our story or to document a specific age and stage in our lives.  For others it might be that we read a number of blogs and want to explore the blogging world from our perspective.  For me it was a combination of both, a desire to write and a desire to create a blog similar to the ones I read.  At first I began thinking I would document our travels, food and our family (hence the name) but from that first post on April 12, 2012 my blogging journey began.
Little did I know that many blogs do not make it through their first year I'm hoping that my blogging tips for organization will help you not only feel great about your blog, but thrive, grow and flourish.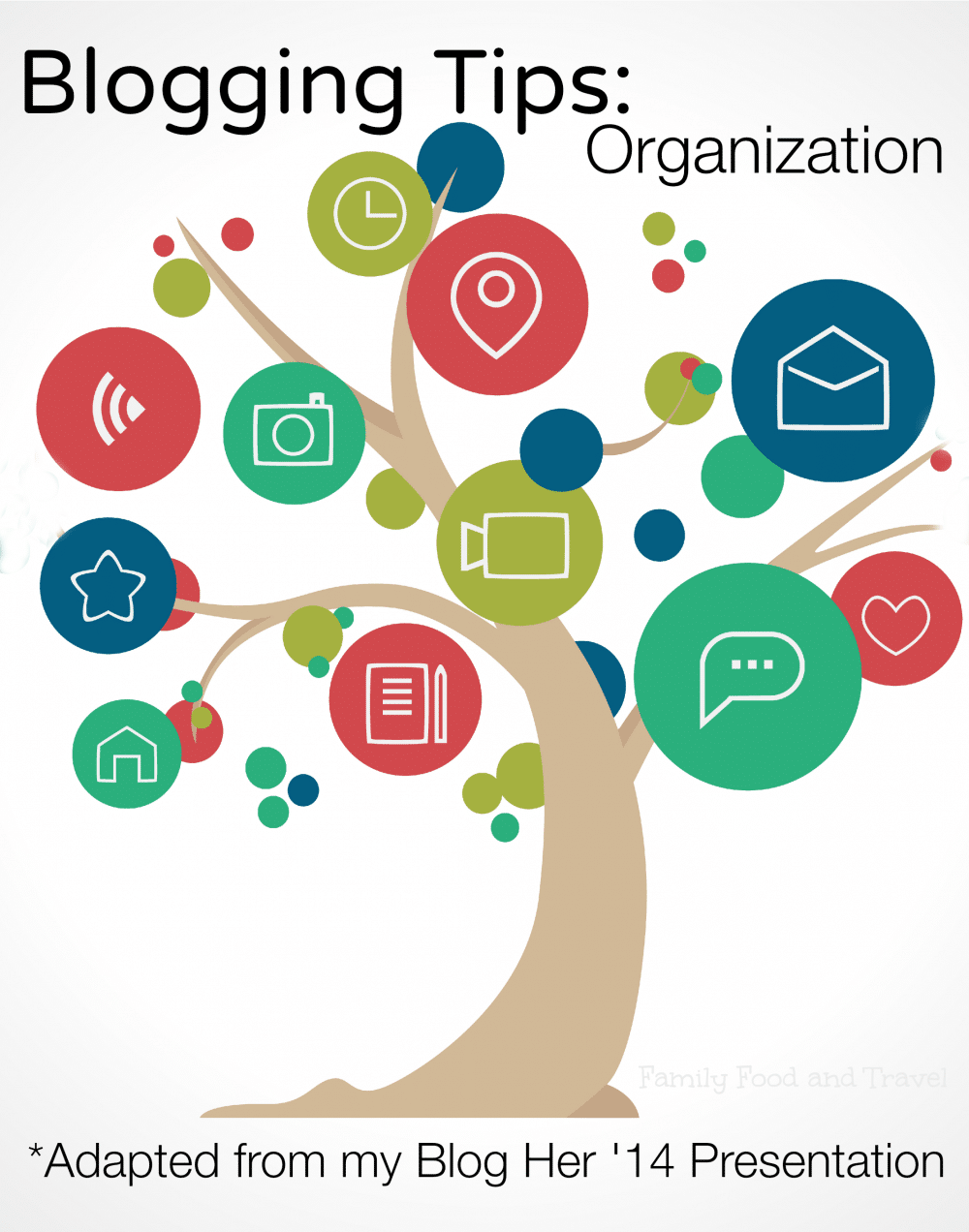 Set Goals:
What do you want out of your blog?  What are your monthly, weekly and yearly goals?  Brainstorm, write them down, make a vision board, or whatever it is that you finding inspiring and affirming.  Make sure that you set YOUR own goals, not someone else's.  If you don't care about PageViews don't focus on them.  Work on what is the centre of your blog, your passion and your career as a blogger.  Stay true to yourself and know that if you aren't, it will be the hardest job you've ever done.  Far too many nights I've sat staring at a product or post that does not inspire me trying to make it work.  Set goals that are true to your blog and work to achieve them.  Check in with your goals and re-adjust/modify as needed.
Track Your Stats:
You will be amazed at how quickly they change and you will want to watch them grow.  If I forget to track a month I feel like I've lost a lot of vital information.  Knowing why people come to your blog and why your social media numbers grew is helpful to push forward and continue that momentum.
I've created a simple Google Doc Spreadsheet where you can track your blogging numbers.  To make it your own, go to File and then Make a Copy and name it something that is easy to find (i.e. Family Food and Travel # Tracking). 
Track Your Income and Expenses:
When I first started blogging I was clueless to the fact that you make money blogging.  I thought I was really ahead of the game when I added Google Adsense, then realized with my 100 Pageviews that wasn't going to earn any money.  I began to attend conferences, network and understand what it is to market your brand and your reach.  I wish that I had started an income and expense tracking system at the beginning because it is critical during tax time!  And, again is wonderful to look back at month to month and year to year to gage growth.  Even if monetizing your blog isn't your first priority you will still have income and expenses you will need to track.  My best advice is to use a Google Doc like these ones from Simply Stacie (Income and Expenses), they are what I use and love them.
Learn From Bloggers Who Have Been There:
I asked a variety of bloggers to tell me their tips for organizing their first year and I've included some of my favourites.
"Don't give posts cute names. Use descriptive keywords not just for SEO but so you can easily find share and categorize the post." – Notimeforflashcards.com
"Use a calendar to plan. Start posting content related to big holidays and seasons 6 weeks ahead of time to capitalize on pageviews." – growingbookbybook.com
"Start with the Why? Ask yourself why do you want to blog? What do you want out of it? What purpose should it serve? Then make your decisions based on that answer. (Your why may change over time, but I believe in always knowing the Why and letting it lead you)" – lemonlimeadventures.com
"After a few months of blogging, look back and see which topics you are passionate about. Ensure you have them listed as categories in your nav bar and focus on these. Look around for similar bloggers and interact, create a network of like-minded bloggers and support them openly on social media accounts. Share their content and yours to reflect to your readers that you are knowledgeable on the subject." – soberjulie.com
"Create a schedule of when you will work on your blog including when to do certain tasks (i.e. when to write, when to promote, when to research new ideas) Make time for writing especially where you just write without worrying too much about spelling/grammar, images, format and so on. The more you write, the easier it will flow. You don't have to publish everything you write." –  biannualblogathonbash.com
"Be realistic about how much time you have to devote to blogging and therefore, what kind of schedule you can keep. And if your kids are going to be any part of your blog (either just in the pictures or having their stories told), lay out ahead of time what you and they are comfortable with – using nicknames? initials? And remember not to write anything you wouldn't want them to read or to know you have written" mbamamamusings.ca
"Look at your post organization as if it were a card catalog: create general categories and move toward more specific, up to only 3 levels deep [ ex: reading-> comprehension->questioning] for best SEO and use tags just as such: as tag words and try to keep them at about 150 total. . . also make SURE you have your city/ state/ general location somewhere in your bio along w/ your contact info. AND A MUST = having your social media platforms front and center on your blog so folks can find you elsewhere" teachmama.com
Calendar, Planner Lists
Create a content calendar that works for you.  Whether it be a paper calendar, Google Calendar, or a list on a sticky note keep track of dates, details and deadlines.  We've all missed a deadline before and it feels awful!  Keep track of deadlines and create a system that works for you at the beginning that can grow as you get more involved with a variety of deadlines.
Resources:
Love this Pinterest Board it rounds up some fantastic printables
Some recommendations from Babble for printables
Blog Planners for purchase:  Ultimate Blog Planner, Blog Action Planner, (*note: I have not used any of these nor to I profit from their sale)
How to make vision boards from Pinterest