It has only been the last couple of years that I have really taken notice to the idea of "Hollywood North" or Canada as a film and TV centre.  This month, Netflix is showcasing movies and TV that are set in Canada, filmed in Canada or created in Canada. This month, in honour of Canada Day Netflix is celebrating Canadian film and TV.
I've featured some great programs for kids big and little, which one is your favourite?
For your Older Kids: 
Are You Afraid of the Dark?
Johnny Test
Black Hole High
Alpha and Omega
Goosebumps
Erky Perky
Eliot Kid
Diary of a Wimpy Kid: Dog Days
 For Your Younger Kids: 
Caillou
Franny's Feet
The Busy World of Richard Scarry
Super Why!
Animal Mechanicals
Monster Math Squad
Team Umizoomi
Thomas and the Magic Railroad
 And if you want to go all out with food and/or crafts, check out these Canada inspired ideas: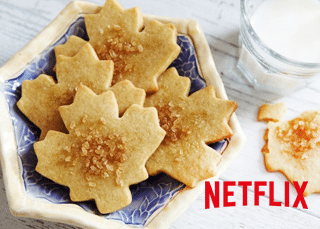 What could be more Canadian than a maple-flavored cookie in the shape of a maple leaf? These are the perfect snack to take with you on your summer adventures!
This cool t-shirt lets your family create the Canadian flag with their own handprint as the maple leaf. It's a great craft to get the whole family involved!
I hope your family has a wonderful month enjoying all that Canada has to offer including fantastic films on Netflix.