It is hard to believe that after months of planning I will be leaving Tuesday on a plane to California to attend my first ever Blog Her Conference, BlogHer 14.  I am excited, I am nervous and I have created a Google Doc to keep track of my itinerary!
Since I began blogging I have watched a number of my favorite bloggers write about Blog Her and I knew that this was a conference I wanted to attend.  When it was announced that BlogHer 14 was the 10th Anniversary and being held in Silicon Valley I knew this was a conference I needed to attend.  California is a State I've always wanted to visit.  I blame this on my obsession with Beverley Hills 90210 in the 90's.  A fantastic conference, a dream travel destination = perfect opportunity.
When the call for proposals came out for the conference I decided to submit a proposal about surviving your first year of blogging.  I thought it was a long shot, I figured that lots and lots of bloggers would submit a proposal but then I got an email that they wanted me to speak!! To say I was thrilled is an understatement!  So, now I am heading to a fantastic conference, a dream destination and an opportunity to speak = it doesn't get better than that, does it?
What about when you get listed by alphabetical order and end up next to one of your favorite celebrities? Check me out on the speaker page listed about Kerry Washington!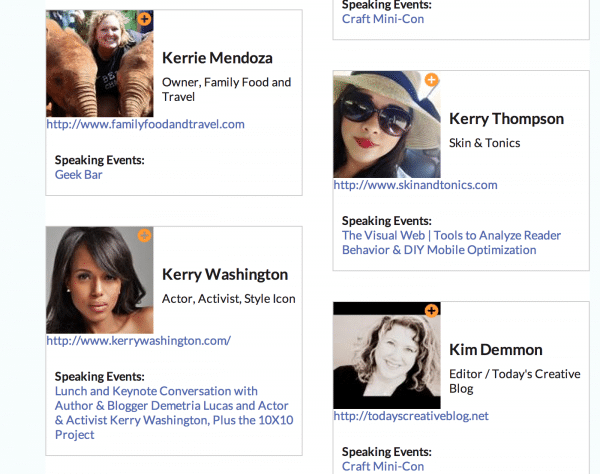 Then to top it all off one of my favorite people in the world, occasional blog contributor, and best friend agrees to come with you.  The stars have aligned, this is going to be the trip and experience of a lifetime. Follow along with my adventures as Family Food and Travel takes on San Francisco, San Jose, and Napa, and if you are going to BlogHer – pop by my speaking session July 25, 2014 – 10:45 am – 12:00 pm.
I loved my time in California so much! Check out why I think you need to go on an Alcatraz Cruise.