Sometimes life doesn't quite go as planned and when you are a parent that is pretty much your motto.  Your once romantic relationship with your spouse is now filled with dirty diapers, spit up, soccer practices and potty training – long gone are the days of courting and romance.  If you feel like your relationship has undergone a significant change you will absolutely relate to the spicy hijinks of Sony Picture's Sex Tape starring Cameron Diaz and Jason Segel. Just the combination of Diaz and Segel it's sure to be a movie full of belly laughs and the idea of making a sex tape and it becoming public is enough to horrify me for life, but these two make it look scary and hilarious!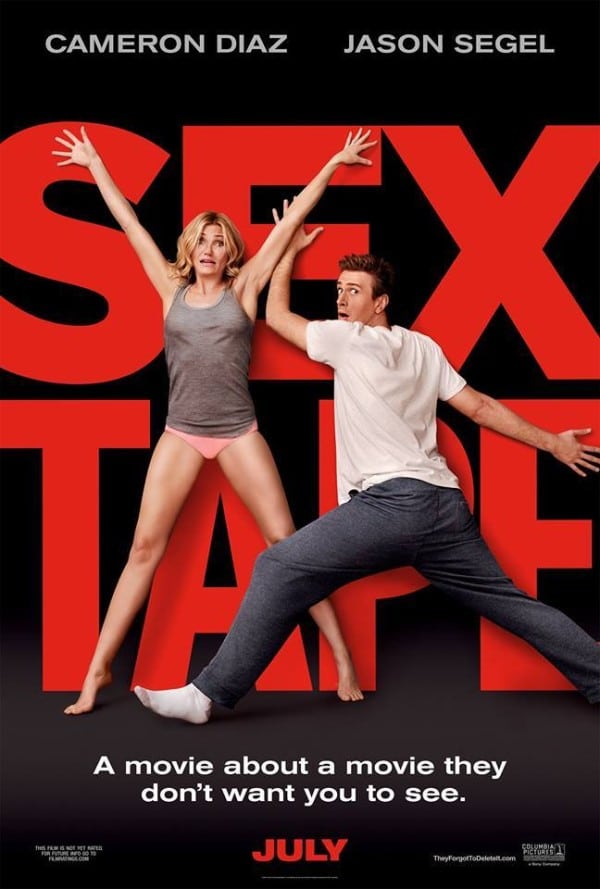 From Sony Pictures:
When Jay (Jason Segel) and Annie (Cameron Diaz) first got together, their romantic connection was intense – and though they're still very much in love, ten years and two kids have cooled the passion. To kick things up a notch, they decide – why not? – to make a video of themselves trying out every position in THE JOY OF SEX in one marathon three-hour session. It seems like a great idea – until they discover that their most private video is no longer private. With their reputations on the line, they know they're just one click away from being laid bare to the world… but in their race to reclaim their video, they'll find that it will expose even more than they bargained for.
DIRECTED BY:
Jake Kasdan
SCREENPLAY BY:
Kate Angelo and Jason Segel & Nicholas Stoller
STORY BY:
Kate Angelo
PRODUCED BY:
Todd Black, Jason Blumenthal, Steve Tisch
EXECUTIVE PRODUCERS:
David Householter, Jason Segel, Jake Kasdan, David Bloomfield, Ben Waisbren
CAST:
Cameron Diaz, Jason Segel, Rob Corddry, Ellie Kemper, Rob Lowe
Thankfully I have never had anything like this happen and I pray that it never does! A good reminder to keep your private activities private!
Check out the trailer and I'm sure you'll see why I will be heading to see the movie with my friends – nothing like a great comedy!
Check out Sony Pictures Canada's Facebook Page for more info – Sex Tape opens in theatres July 18, 2014
Disclosure: I am part of the Sony Pictures – Sex Tape Movie program with Mom Central Canada and I receive special perks as part of my affiliation with this group. The opinions on this blog are my own.