One of my favorite craft supplies is a simple white paper plate. You can pick up a good sized package at Dollar Tree and they are so versatile!  They can be  turned into any number of fun and colorful craft projects. Pick up a pack, here are 20 ideas to get you and your little one started.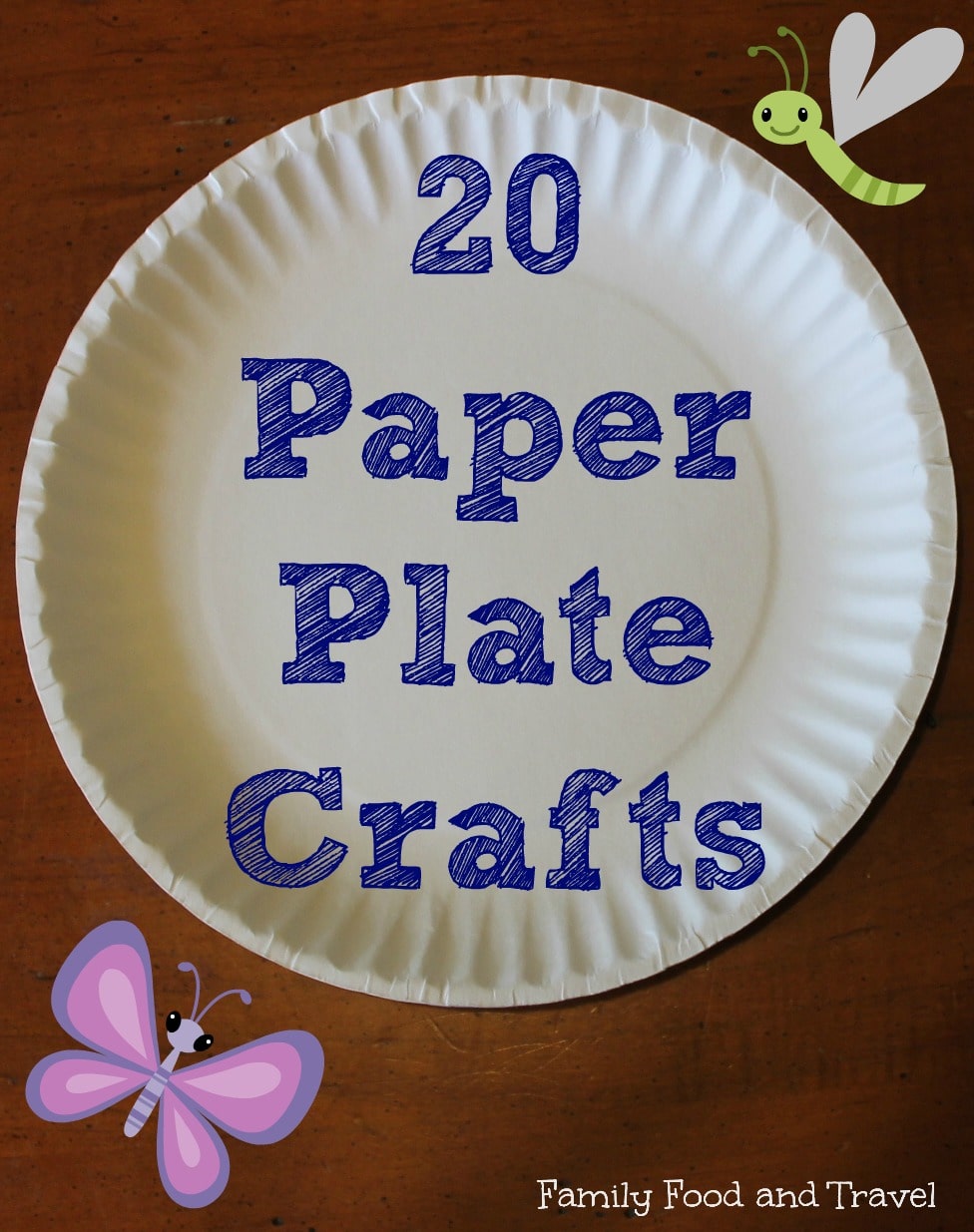 Sun- Perfect for spring and summer themes.  Color or paint your plate with a bright sunny yellow. Glue yellow triangles cut from construction paper around the back of your plate, peeking out for rays.  Add googly eyes and a smile for a happy sun.
Taco- Fun for a food or unit study on Mexico.  Fold paper plate in half, color tan or yellow. Stuff with crumpled brown construction paper for meat, green strips for lettuce, small red pompom tomatoes, and yellow yarn bits for cheese.
Clam- Great to go along with ocean themed books and studies. Simply fold your plate in half. Color the inside pink, glue on a white pompom for your pearl. Leave as is or to create a more cartoon like clam add googly eyes on top.
Sunflower- Cut petals on the outside perimeter of your paper plate. Color or paint bright yellow. Make a thick circle of glue in the center and sprinkle coffee grounds, allow to dry.
Pirate- Argh Matey, the round shape of a paper plate is the perfect base for creating a sea loving scallyway!  Cover a small small portion of the top of your plate with paper or color to create a pirate bandana, draw features on your mate-don't forget the eyepatch!
Butterfly- Cut your plate in half- color or paint a set of beautiful wings, add glitter or tissue to dress it up. Glue wings to a toilet paper roll, add a chenille stem antennae.
Lion- Paint or color your plate, cut paper plate from edge to inner ridge every 1/2" – 1 ". Curl edge one around a pencil so ends curl under. Add a mouth,eyes and a nose,
Windsock- Cut out center of plate, paint, color, or decorate with stickers. Staple tissue paper strips or crepe streamers all the way around.  Staple 3 strings spaced evenly apart around your ring, tie up outside and watch it dance in the breeze!
Watermelon- A fun craft for summer this would be a great child made decoration for a  barbeque.  Cut plate in half, color outer edge green, inside red or pink. If you have watermelon seeds you could glue them to the inside for more texture, if not use marker or even black beans.
Shark- Color curved side of plate pink or red, color the opposite side gray, stopping at the  ridges-leave them white.  Cut a zig zag pattern all the way around plate on the white, rippled edge. Fold plate in half with a sharp crease.
Snake– Color plate, start on the outside and work in cutting a spiral, add googly eyes, and a small piece of pipe cleaner for a tongue.
Apple – You can either color the entire plate red, and add a stem and leaf (maybe a worm) or cut into the shape of an apple core. Color red, add seeds, stem and leaf.
Basket- Stack 2 plates together, poke a hole ¾ of the way up through both plates, cut around the rippled edge halfway down. Flip the plates so a space is created between them.  Staple all the way around. Decorate your basket!
Nest – The kids love this one, cut plate in half, color or paint it brown, staple the two halves together to form a pocket, glue shredded brown paper on the inside peeking out, add a couple pompoms with googly eyes and craft foam beaks.
Lamb– Let your child squirt or brush glue all over plate, then place white pompoms or cotton balls on the glue.  Add black construction paper legs and googly eyes and your lamb is ready to go.
Turtle– Cut 2 different shades of green tissue paper into small pieces, glue it all over the back of a paper plate, add 4 legs, 2 eyes, and a tail for a cute little paper turtle friend.
Aquarium– You will need 2 paper plates for this craft, color one blue on the "bowl" side.  Cut fish, plants, and other seal life from colored paper and glue onto your blue background. Glue beans or sand to the bottom for gravel.  Cut out just inside the line of your second plate. Staple cut plate over your blue plate. Hang by a string.
Mask– Decorate your plate with art supplies to create your favorite animal,  Cut large eye holes, and add string. Tie it on and you are ready for some fun dramatic play.
Rainbow– Half a paper plate is all you need to create a beautiful rainbow, paint or color in rainbow hues, add white pompoms or cotton balls to the ends of your rainbows for fluffy clouds.
Guitar– Decorate plate, glue a paint stick to the back, and add a couple rubber bands around plate to strum (this works better with a foam plate or several layers of paper plates for sturdiness)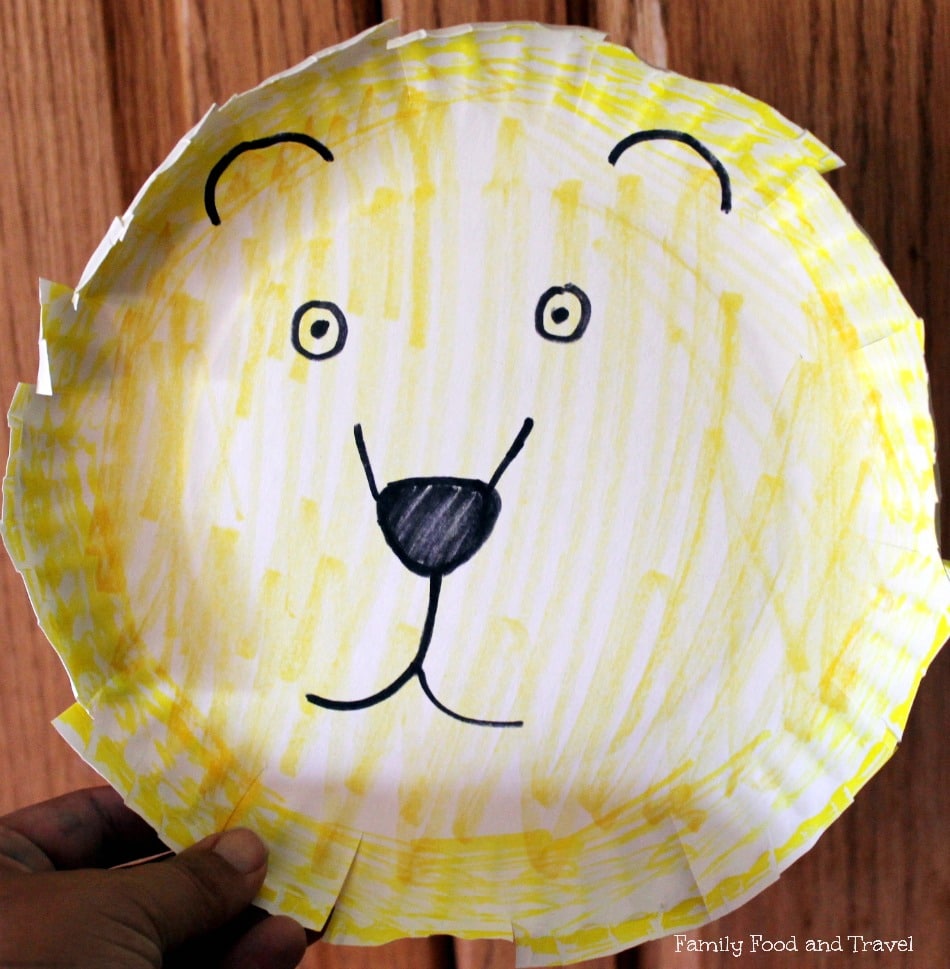 What is your favourite paper plate creation?