When you are a kid, your favourite things are larger than life.  You dream of them, ask your parents about them and covet all merchandise that displays their picture on it.  You read every book, watched every show and coveted every toy.  For my boys, their fascination begins and ends with Thomas the Tank Engine.  That saucy blue engine and it's friends are very much a part of every day in our home.  We have the books, tons of trains, the movies, colouring books, rolling Thomas luggage and Thomas pillows.  We are Thomas fans.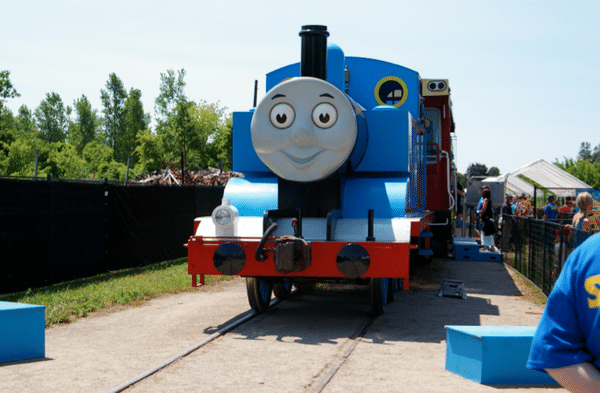 Last year we took our boys to see Thomas the Tank Engine in St. Thomas, ON.  The boys were SO excited that they could barely handle it. The day was magical, memorable and fun.  This year we are heading back to St. Thomas, ON to the Elgin County Railway Museum and Memorial Centre to experience Thomas the Tank Engine hands on.  If you have a Thomas fan in your house, this is a must this July!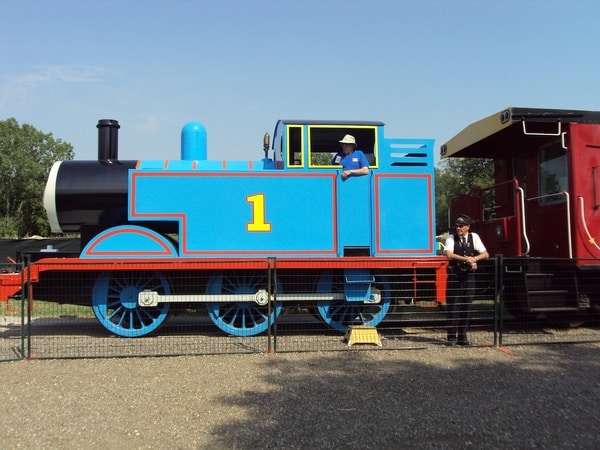 What to Expect at Day Out With Thomas:
Day Out with Thomas: The Thrill of the Ride Tour 2014 is a fun-filled event that offers little engineers and their families the opportunity to take a 25 minute ride on Thomas the Tank Engine, star of the popular Thomas &Friends series. You will not believe how excited the kids are when they see Thomas for the first time!
In addition to the train ride, you get to meet Sir Topham Hatt®, Controller of the Railway and enjoy a day of Thomas & Friends themed activities including arts & crafts, storytelling, live entertainment, inflatable bouncers, bubbles, a cool mist tent, temporary tattoos, hay bale maze, small animal petting form and more. I love that the train ride is only part of the day and your little train fanatics can enjoy so many different activities to keep them interested, engaged and entertained.
This year is even more special because when Thomas arrives in St. Thomas this year for his tour stop, he will not only take his fans for a ride, but also talk to them for the very first time on the tour!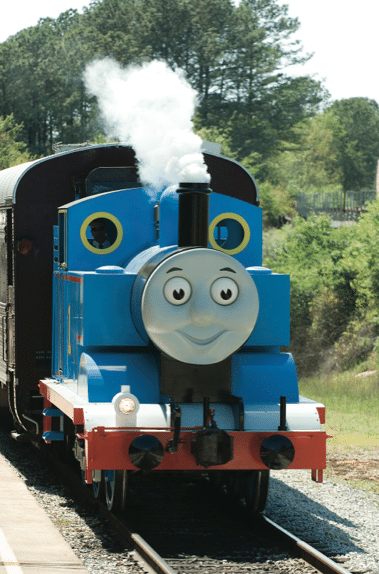 2014 Ontario Event Details
This year, the event, takes place July 18 – 20, and 25-27, 2014,
Hosted by Elgin County Railway Museum at the St. Thomas – Elgin Memorial Centre: 80 Wilson Avenue, St. Thomas, Ontario, N5R 3R2
Time: 8:00 a.m. to 6:00 p.m.
Set train ride times are specified on your ticket but include access to activities on the grounds for the entire day.
Admission is $25 plus tax for ages 2 and up
To buy tickets call Ticketweb toll-free 888.222.6608, or visit www.ticketweb.ca/dowt  or www.ecrm5700.org.
For more information, details and photos check out the Elgin County Railway Museum
When I told my boys that we were going to see Thomas again this summer they were so excited they danced around the house for two days trying to sing the theme song.  They're 2, they're 4, they're 6 there 8….
This post was brought to you by Elgin County Railway Museum via SheBlogs. The opinions expressed herein are those of the author and are not indicative of the opinions or positions of Elgin County Railway Museum.