The Three Day Rule is a mysterious thing.  While some might consider it a dating rule, or three days after birth there are a number of mysterious rules surrounding three days.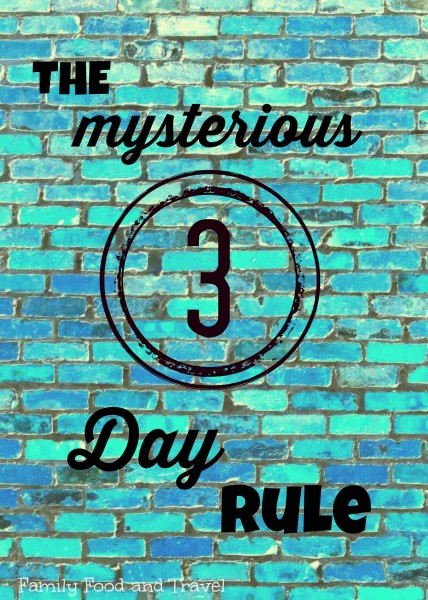 For me, the first time I'd encountered the three day rule was after giving birth to my twins.  I had an emergency c-section so I was confined to bed the first day after they were born.  The second day I got to finally see them and hold them so that day was euphoric.  Then, the third day I spent most of it sitting outside the NICU crying uncontrollably.  I actually called my best friend and said I thought I was having a nervous breakdown.  She said not to worry it was just the third day.  The day of crying she said.  Um, why didn't anyone prepare me?  The worst part was that when I was crying in the NICU one of the older nurses told me I had to leave because my milk would never come in if I cried in front of the babies.  ??  Yes, the three day rule might exist but apparently so do old wives tales about crying and milk production!!
The second big indicator came this week when three days after my gallbladder surgery I started to feel really sick.  Nauseous and hot and flu-like.  Then when I checked in the mirror I notice my main incision sight was red and swollen.  I asked one of my friends who is a nurse and she said it was probably a surgical site infection that usually beings around three days.  She said that the first couple of days you are recovering from anaesthetic and if your body is harbouring infection it could rear it's ugly head on the third day.  Well, for me it did just that with a nasty 100F temp and a 6 hour wait in Emerg.  But, home now on heavy antibiotics and recovering.
The most famous of the three day rule sounds dating and whether or not you wait to call a girl you went on a date with on the third day.  It was famously explained by Barney on How I Met Your Mother.  Here's his explanation:
Other three day rules:
Are there other three day rules?  Any theories on the three day phenomena?