There is something just perfect about a cheesecake.  It's dense, thick cake-like texture combined with a tartness from the cream cheese and a crumbly base result in pure dessert perfection.  While so many people are hesitant to make cheesecake, with a food processor it is remarkably easy and oh so delicious!
With Nutella celebrating it's 50th Birthday this year I thought it was perfect timing to create delicious mini nutella cheesecakes.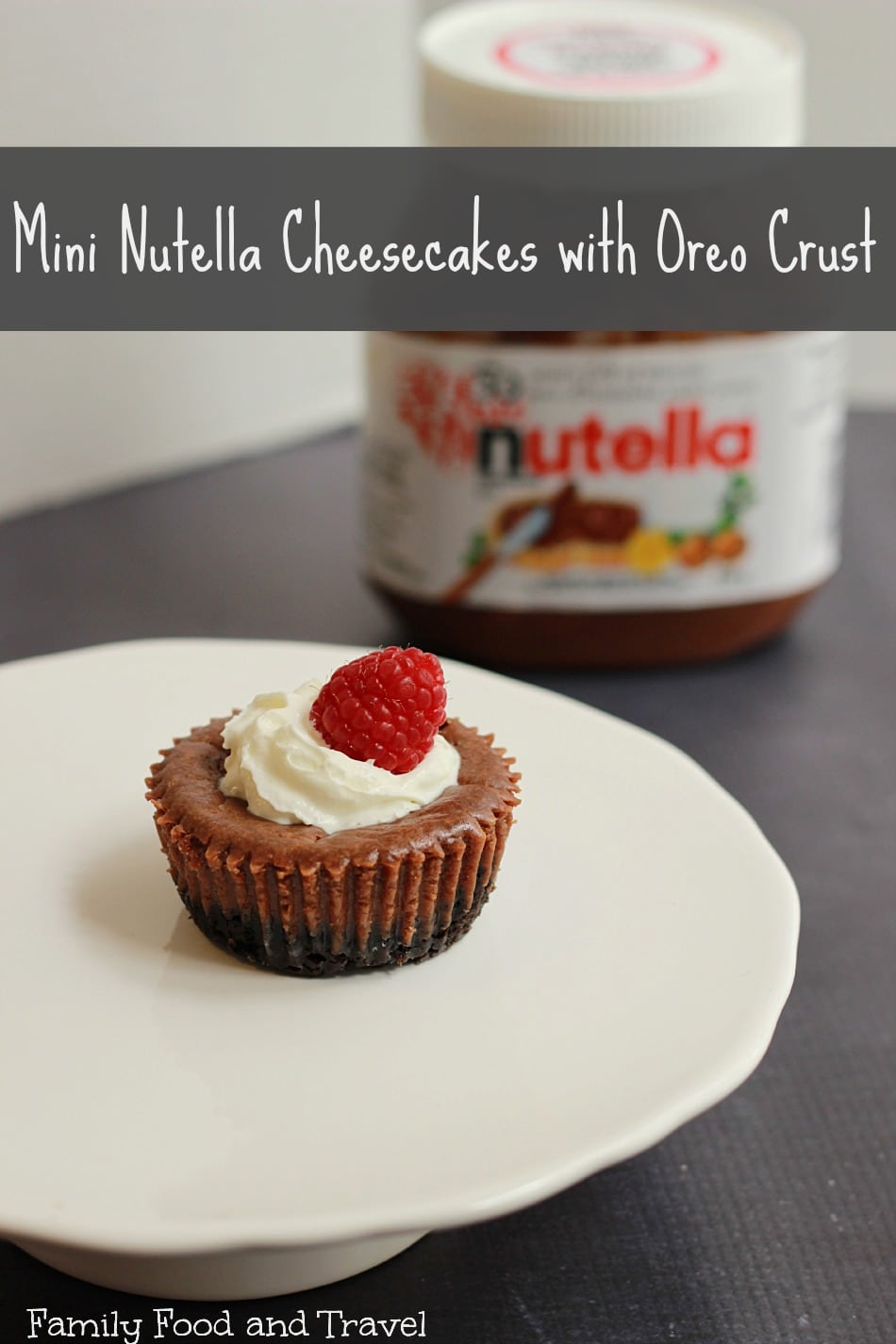 The addition of espresso powder gives the cheesecakes a slight hint of coffee but leaves the Nutella as the primary flavour.  You can enhance the Nutella by adding crushed hazelnuts to the crust, or as a garnish.  One of the best parts of this dessert is that these cheesecakes can be made up to a couple of days in advance.  Just keep chilled and covered in the fridge and top with whipped cream and berries immediately before serving.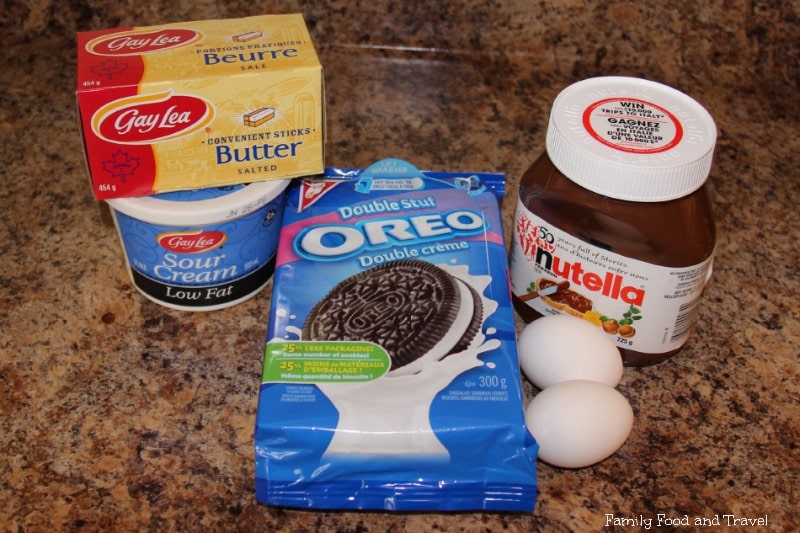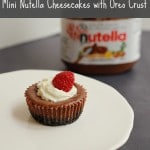 Mini Nutella Cheesecake with Oreo Crust
Delicious morsels of Nutella perfection. These cheesecakes are moist, delicious and perfect for your next party, event or special occasion.
Ingredients
15

Oreo cookies

I used Double Stuff

2

tbsp

of butter

8

oz

of cream cheese

3/4

cup

Nutella

1/2

cup

Gay Lea Sour Cream

2

large eggs

2

tbsp

white sugar

1

tsp

vanilla

1

tsp

espresso powder

I used Williams and Sonoma

Fresh Whipped Cream and Berries for topping.
Instructions
Preheat oven to 350F.

Place metallic muffin liners in a muffin tin.

In a food processor add Oreo cookies and butter and process until ground to fine crumbs.

Place mixture in the bottom of the muffin tins and use a small glass to press down.

Bake for 5 minutes.

Remove from oven and set aside.

In food processor (cleaned from crumb mixture) place cream cheese, Nutella, sour cream, eggs, sugar, vanilla, and espresso powder and blend until fully mixed.

Fill the liners and tap the muffin tin a few times to release any bubbles.

Bake for 20-25 minutes or until top has risen and there are small cracks visible.

Let cool for 5-10 minutes in muffin tin and then transfer to a tray and refrigerate until ready to serve.

Serve topped with fresh whipped cream and berries and a sprinkle of espresso powder.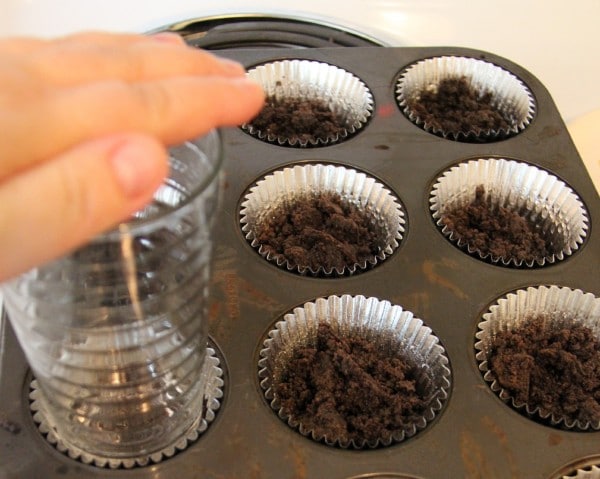 Pressing down the cookie base with a glass is an easy way to make a solid base without losing the shape of the muffin tin.  Just be sure to wipe the bottom of the glass often to ensure the cookie mixture doesn't stick to the cup.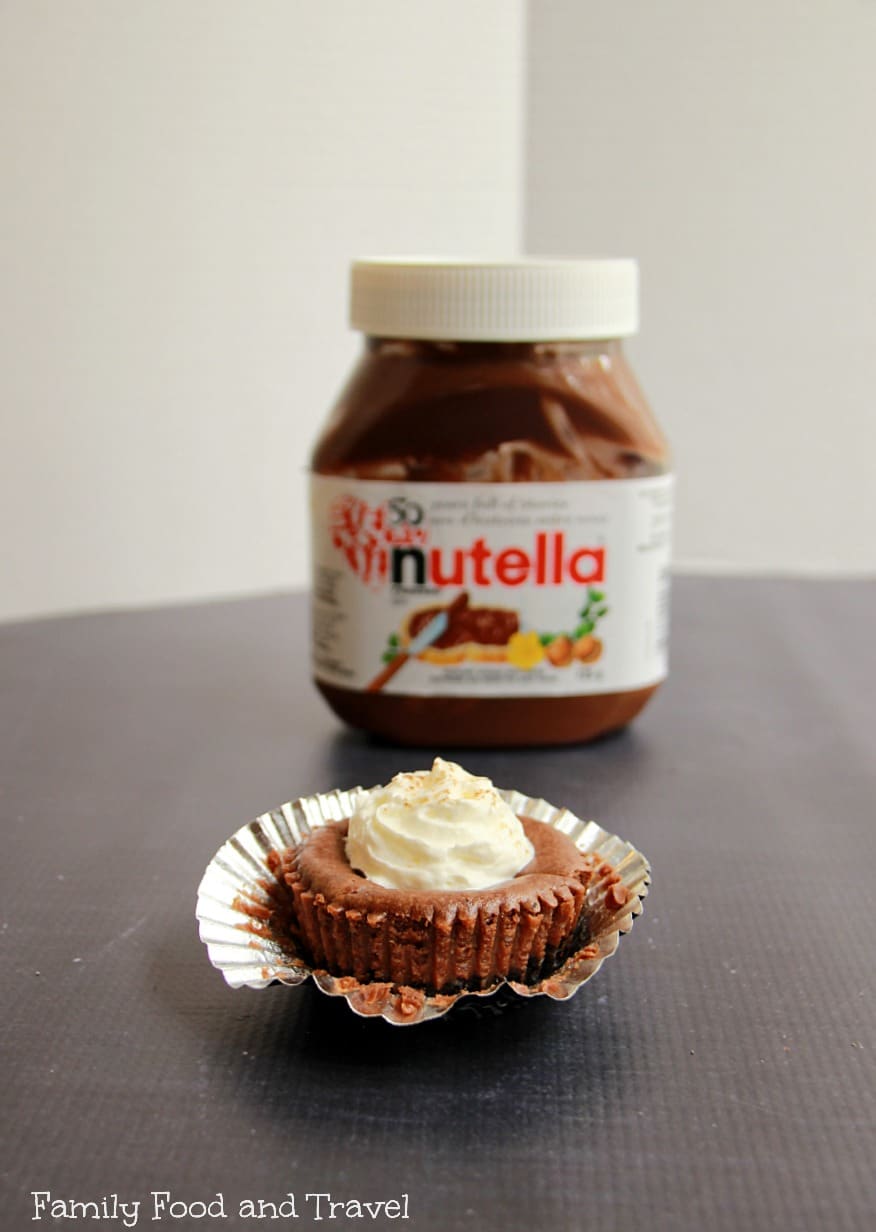 Looking for more cheesecake recipes?  These ones are sure to satisfy your craving.  Smore's Cheesecake Dip, White Chocolate and Raspberry Cheesecake Bars, Raspberry Cheesecake Smoothie [Paleo, Dairy Free, Gluten Free, Refined Sugar Free], Mini Strawberry Cheesecake Bites, Maple Syrup Cheesecake,