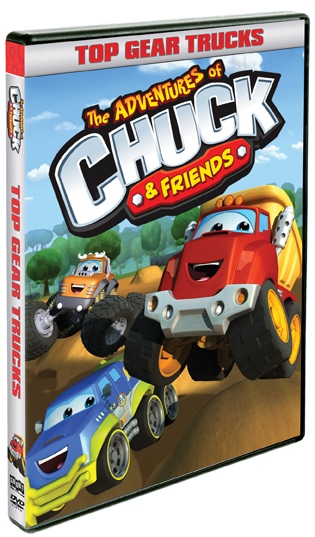 The adventurous and fun-loving Chuck and his best friends — Digger, Handy, Rowdy, Biggs, Boomer and Flip — are at it again with more free-wheelin' escapades! On June 3rd, 2014 Shout! Factory Kids in collaboration with Hasbro Studios will release The Adventures of Chuck & Friends: Top Gear Trucks . The DVD features 10 exciting episodes as well as a bonus all-new sing-along, and has a suggested retail price of $12.99.
Watch Chuck and the gangs adventures, as they try to  uncover the identity of a mysterious "ghost," spend a day helping the town's Mayor, re-create the night Chuck's parents first met and more in these ten awesome adventures guaranteed to put fun into high gear!
The Adventures of Chuck & Friends series is currently airing on The Hub TV Network in the U.S. and on Treehouse in Canada.
Episodes Include:
Digging Deep
Fools for Rules
Fort Chuck
Ghost Stories
Mayor Chuck
Pop Goes The Inner Tube
Runaway Chuck
The Dirt On Chuck
Up All Night
When Haulie Met Porter
Bonus Feature:
A Brand New Sing-Along!
Our Review of The Adventures of Chuck & Friends
From the moment I showed the boys the DVD they were literally jumping with excitement.  As lovers of the Chuck & Friends series they new a new DVD could only mean new episodes and potentially some quiet time for me!
We popped the DVD in and the boys stayed glued to their seats until it was finished laughing, giggling and talking to each other about the antics of Chuck and his friends.
The graphics are great and the episodes are enjoyable to watch (even for adults).  Since the day we got the DVD we have watched it over and over again.  The boys never seem to tire of Chuck!
Overall, we would definitely recommend Top Gear Trucks:  The Adventures of Chuck and Friends for your family.  Great fun!