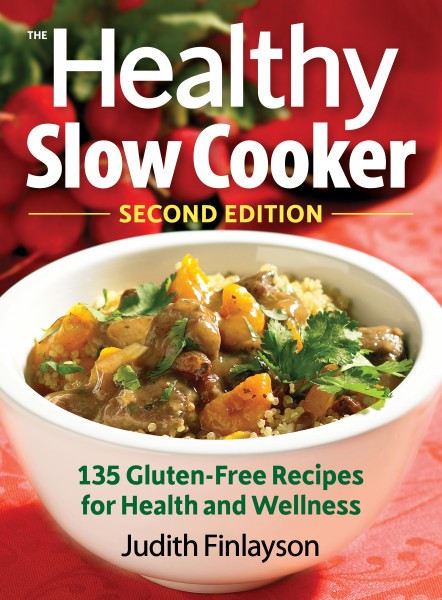 My Healthy Slow Cooker Review:
Judith Finlayson's The Healthy Slow Cooker is an easy to use recipe guide for people looking for easy slow cooker meals while still maintaining a healthy diet and lifestyle. The recipes are easy, delicious and are made from ingredients you have in your home.  We've made a few recipes from the Healthy Slow Cooker but our favourite is the one I have included for you – Mixed Vegetables in Spicy Peanut Sauce – delicious!
Mixed Vegetables in Spicy Peanut Sauce, page 242, Vegetarian Mains

Here's one way to get kids to eat their vegetables, so long as they don't have peanut allergies — cook them in a spicy sauce made from peanut butter and add a garnish of chopped roasted peanuts. All you need to add is some steaming rice or brown rice noodles. Required: Medium to large (31⁄2 to 5 quart) slow cooker

1 tbsp olive oil

2 onions, finely chopped

6 medium carrots, peeled and thinly sliced (about 4 cups)

4 stalks celery, diced (about 2 cups)

2 tbsp minced gingerroot

4 cloves garlic, minced

1⁄2 tsp cracked black peppercorns

1 cup  vegetable stock

3 cups frozen sliced green beans (see Tips)

1⁄2 cup smooth natural peanut butter

2 tbsp gluten-free reduced-sodium soy sauce

2 tbsp freshly squeezed lemon juice

1 tbsp pure maple syrup

2 tsp  Thai red curry paste

4 cups shredded napa cabbage

2 cups bean sprouts

1⁄2 cup finely chopped green onions, white part only

1⁄2 cup chopped dry roasted peanuts

In a large skillet, heat oil over medium heat. Add onions, carrots and celery and cook, stirring, until softened, about 7 minutes. Add ginger, garlic and peppercorns and cook, stirring, for 1 minute. Transfer to slow cooker stoneware. Add vegetable stock and stir well.

Add green beans and stir well. Cover and cook on Low for 6 hours or on High for 3 hours, until vegetables are tender.
Photos and recipe courtesy of The Healthy Slow Cooker, Second Edition by Judith Finlayson © 2014 www.robertrose.ca Reprinted with publisher permission.