While the calendar says Spring the weather hasn't been exactly Spring-like here.  Far too cold and not enough sunshine for my liking!  The perfect way to cure my hope for warmer weather is to cook with ingredients that remind me of summertime. Strawberries are by far my favourite fruit.  Fresh picked strawberries that are warm from the summer sun are like little morsels of heaven for me.  While these strawberry scones are not made with fresh strawberries I used frozen which are the next best thing when fresh and local are not in season.
This recipe is easy, quick and delicious.  I brought these scones to a friends house for a playdate and they were loved by kids and adults alike.  I only took 8 but next time I will definitely make sure to make a double batch!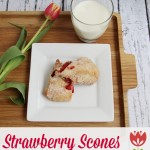 Strawberry Scones
These scones filled with strawberries and topped with sugar are the perfect mid afternoon treat. Serve with a glass of milk or a pot of tea.
Ingredients
1

cup

all purpose flour

1

cup

whole wheat flour

1

tablespoon

baking powder

2

teaspoons

sugar

½

cup

frozen strawberries

1 1/2

cups

heavy whipping cream
Instructions
Preheat oven to 450C.

Measure strawberries and set aside to partially thaw.

In a medium-sized bowl, whisk together the flour, baking powder and 1 tsp sugar.

Pat dry frozen strawberries to remove excess moisture and stir into mixture.

Add cream and stir until the mixture just comes together.

Knead the dough a few times.

Pat the dough into a flat round about one inch thick and cut into eight wedges. Sprinkle with remaining 1 tsp of sugar.

Place wedges on a baking sheet and bake for 12 to 15 minutes, until the tops are golden brown.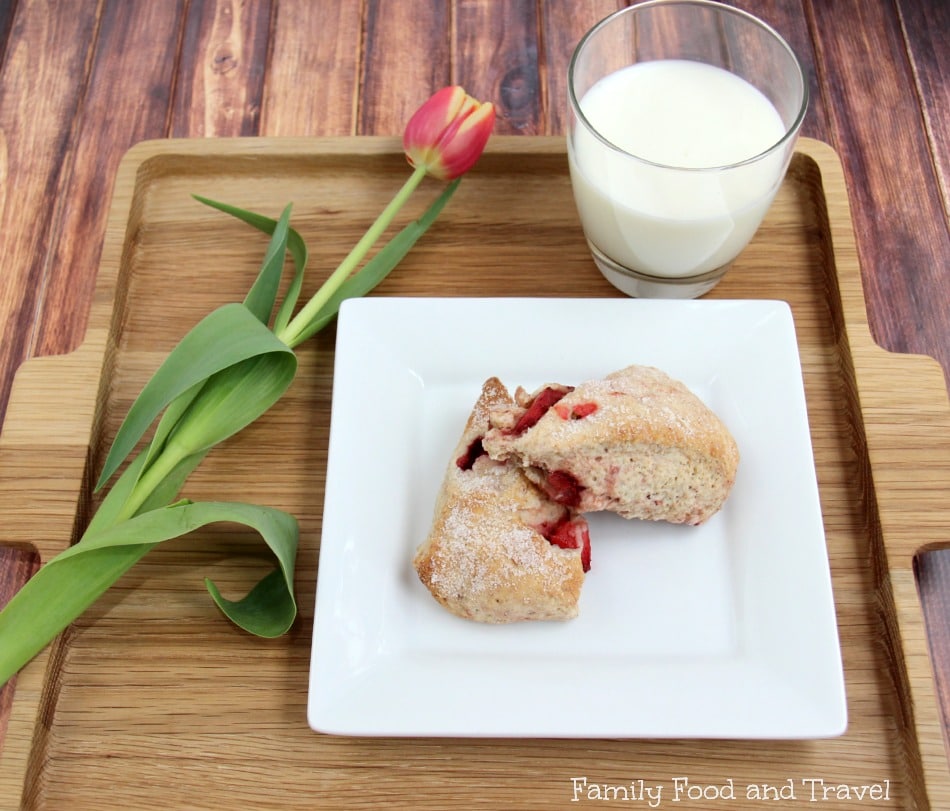 Looking for more Strawberry recipes?  Some of my favourites include:  Old Fashioned Strawberry Milkshake, Strawberry Buttercream Sugar Cookies and Strawberry Rhubarb Pie.
What's your favourite strawberry recipe?