Growing up my Mom always asked for something personal, something for her to enjoy for any special occasions.  Her tag line was always "No vacuums, no toasters, no magic laundry detergent."  Thank goodness mom changed her mind because small appliances are not what they used to be!
This Mother's Day Breville truly has the perfect gifts for your mom (or for your own wish list).  With beautiful styling, excellent functionality each one of these beautiful pieces will change the way you look at your kitchen and your food!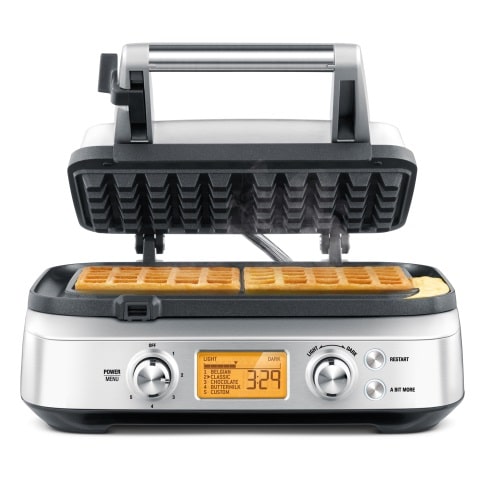 Breville Smart Waffle 2-Slice (BWM620XL) With No Mess Moat and Waffle IQ $249.99
Breville's Smart Waffle allows you to create the perfect waffle without the mess and clean up time that other waffle makers require. It is outfitted with a unique moat that collects and transforms excess batter into snackable waffle fingers = easy clean up and no waste. The waffle maker also boasts excellent cooking and exceptional consistency for every use and every kind of waffle.  The Breville 2-slice square Waffle maker is equipped with an LCD interface, smart crispiness/darkness and the timer allows you to track the progress of your waffles.  The Breville Smart Waffle will transform your meals.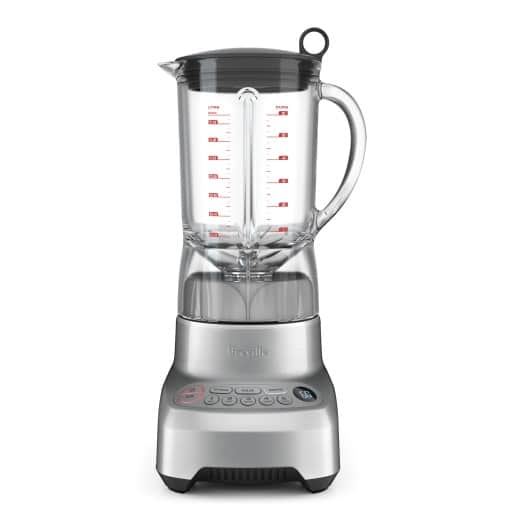 Breville Hemisphere Control Blender (BBL605) $269.99
Whether it's for Margaritas or Smoothies, this blender will bring a smile to mom's face.  Breville's new Hemisphere Control Blender is designed to hand years of use with its permanent hemisphere blade
and bowl system. While it may not be a conventionally designed blender, the four serrated blades in the centre draw ingredients downwards while two smooth wide sweeping blades hug the bottom of the jug
pushing ingredients upwards creating the most velvety soups, creamy smoothies and perfect cocktails. Made with surgical grade stainless steel this blender is the workhorse of your kitchen for years to come.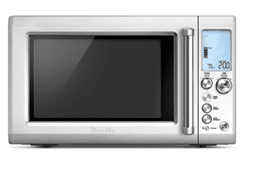 Breville Quick Touch Microwave (BMO734XL) $299.99
Breville's new Quick Touch microwave oven is created to be the cook in your kitchen with all the answers.  It is easy-to-use, knows the right power level and time that best suits your food, ensuring that you don't have to endure rubbery chicken, overcooked lasagna edges, or exploding oatmeal. The Breville Quick Touch microwave includes settings like: Smart Cook, Smart Reheat and Smart Defrost. These settings each include a list of popular foods.
When using, simply scroll through the list, enter the weight and press start.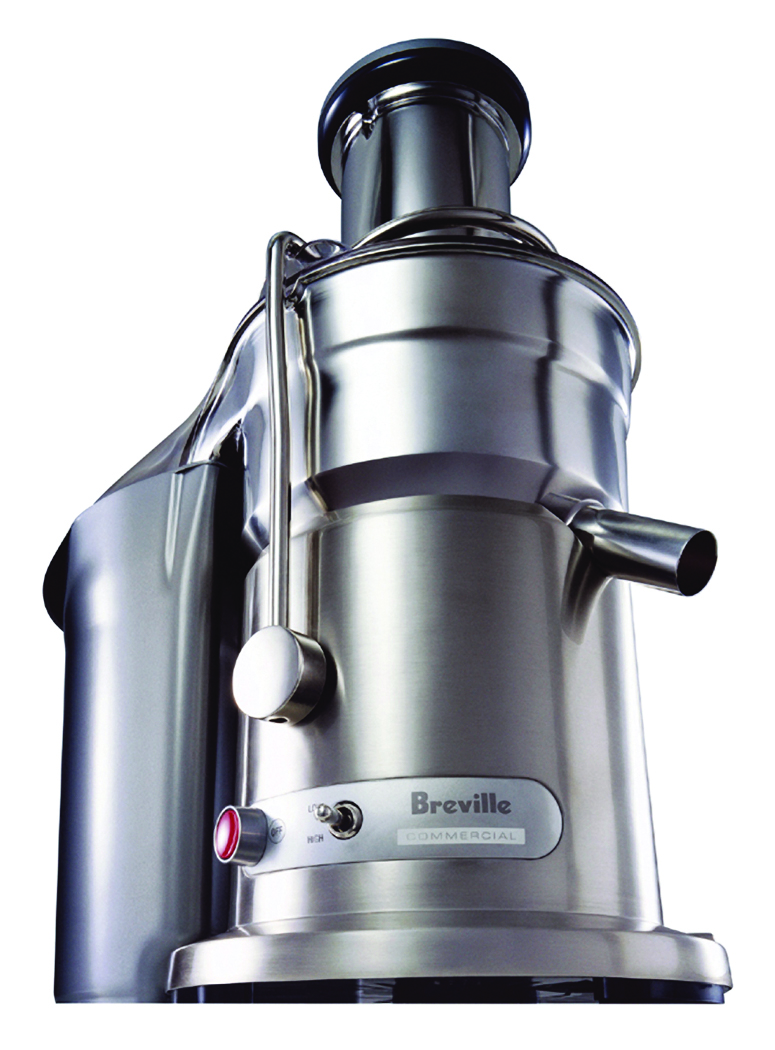 Breville Juice Fountain Elite (800JEXL) $399.99
Juicing is a trend that is definitely here to stay!  Whether you are looking to create your own green smoothie or a personal detoxification blend this juicer is easy to use, fast to process and simple clean-up, This model is designed for commercial performance providing 1000W power up to 13,000 RPM for up to 30% more juice than traditional juicers. Over 40,000 filtering pores ensure smooth and delicious refreshment. Breville's patented Nutri Disc™ stainless steel filter basket and patented juicing system that will extract more nutrients than other juicers and transfers less than 1.8°F of heat to protect enzymes and maximize nutrient absorption. If you are interested in juicing, this is the juicer for you.
Breville Tea Maker (BTM800XL) $299.99
Brewing tea might appear to be much harder than it needs to be, but The Breville One-Touch Tea Maker takes the frustration and guess work out of tea, as each type of tea has an ideal temperature and steeping time. The secret is a fully automated magnetic tea basket that lowers into the water once the water reaches the ideal temperature. It then silently cycles in and out of immersion, gently agitates the leaves to precisely infuse your tea. Once the tea is ready, it brings the basket back up so you never risk over-steeping your tea. To get the right taste every time, select from five pre‐programmed tea settings: green, black, white, oolong and herbal teas. A "custom" button allows users the option to select their own unique temperature and steeping time. Tea connoisseurs can also indicate whether they prefer strong, medium or mild tea. It also has a 'kettle' mode that allows your Tea Maker to function as a variable temperature kettle.  The Breville Tea Maker is an appliance that you didn't know you wanted until you get one and live in awe of it's versatility, easy of use delicious cups of tea it creates.  If your mom loves tea, she absolutely needs this Tea Maker.
Whether you are making a wish list for yourself or picking up something for your mother, Breville has a complete line of perfect Mother's Day gifts.  With something for everyone and a name you can trust you absolutely cannot go wrong.
What more information?  Like Breville on Facebook , Follow Breville on Twitter and Find a Store Near You