Winter is SO hard on my car.  From the salt, the dirty kids boots on the back of the seat, to the layers of grime, coffee and yuck layered throughout my car.  The fresh air, the birds chirping and the windows rolled down = a deep desire to clean my vehicle from top to bottom.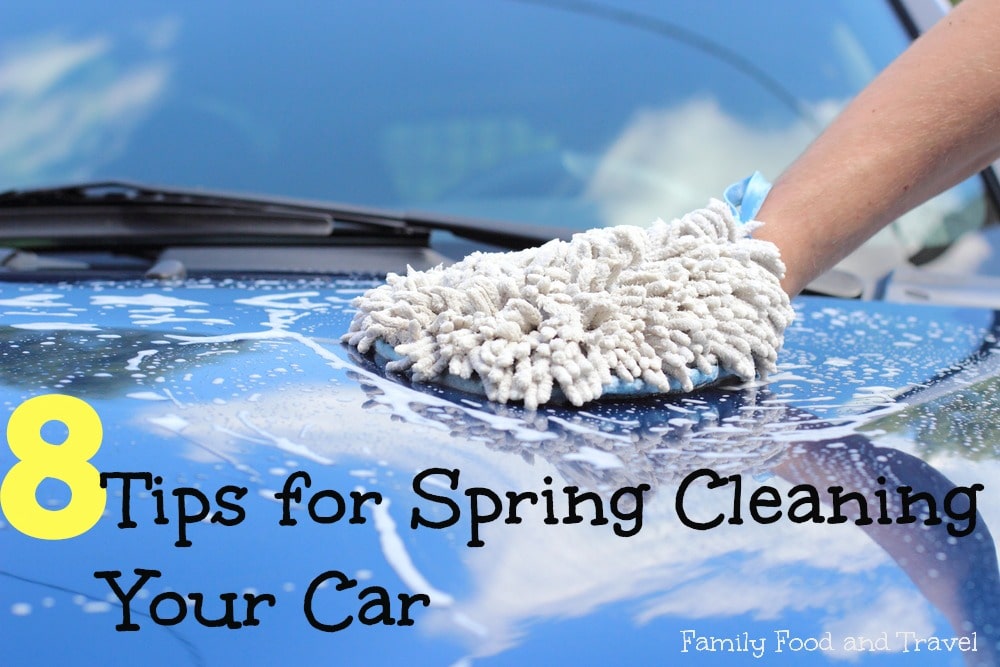 8 Tips for Spring Cleaning Your Car
1)     Get rid of salt-stained carpets: After all of that Winter salt and sand, your car's carpets are likely to have white stains from road salt.  Remove them by using water mixed with vinegar (white) and scrub the tough stains until they are removed.
2)     Wax Often: During the Winter, your car's paint colour is dulled by the elements and picks up scratches, so keep it looking fresh and clean with a liquid spray wax.
3)     Suck Up The Dirt: Get out your vacuum and clean the mats, but also pay special attention to the small corners of your vehicle.  Remember to put your seats down to get between the cracks and also vacuum cup holders, door pockets and seat backs to get rid of dirt that lingers throughout your car.
4)     You're washing your car, not your dishes: Never use dish soap to clean your vehicle as it will dull the finish and scratch the protective clear coat off your car. Try using Meguiar's Gold Class Car Wash Shampoo and Conditioner or a similar product.
5)     Shine Up Those Wheels: Get rid of that red-brown coloured powder on your wheels caused by normal brake wear.  Wipe down your wheels with a specially formulated cleaning solution safe for alloy wheels (available at your local hardware store) and address the hard-to-reach places in the wheel's spokes with a brush or rag.
6)    Clean the Clutter :  Do you use your car as a storage unit? Be sure to empty out your trunk, back seats, seat backs and glove compartment of all your winter build up. Removing unnecessary weight also improves fuel efficiency and your car's handling!
7)     What's happening under the hood? Every season you should take your vehicle in for a quick inspection and get an oil change, filter replacement and tire rotation.
8)     Freshen up: After you are finished cleaning your car, add your favourite smelling air freshener to keep your car smelling clean and fresh all spring and summer!
To help you spring clean your car we are offering a giveaway (valued at over $50) including:
Scrub brushes
Turtle Wax ICE Synthetic Spray Wax
Meguiar's Hot Rims Wheel Cleaner
Meguiar's Gold Class Car Wash
Air Fresheners
Contest is open to Canadian residents and ends May 19, 2014.
Be sure to share your Spring Cleaning Tips and tweet @HyundaiCanada 
Disclosure:  I am participating in the Hyundai Canada Drive Squad program and receive special perks as part of my affiliation.