Cereal is one of my favourite ways to start the day, so it's no surprise that it's my boys' favourite as well. As they get older I love to see them show their independence by pouring their own cereal and attempting to pour their own milk.  Then, off their chairs again to get spoons from the drawer.  It's so hard to believe that only a few short years ago cereal was just a finger food snack!
Now, when we take the boys to the grocery store/health food store they love to pick out cereal and granola bars and while they are drawn to the boxes with animals on it I am thrilled that they have chosen these cute animals as their favourites! Envirokidz Cereal has everything I am looking for, a complete breakfast without the additives, chemicals and GMO foods that can be found in other varieties.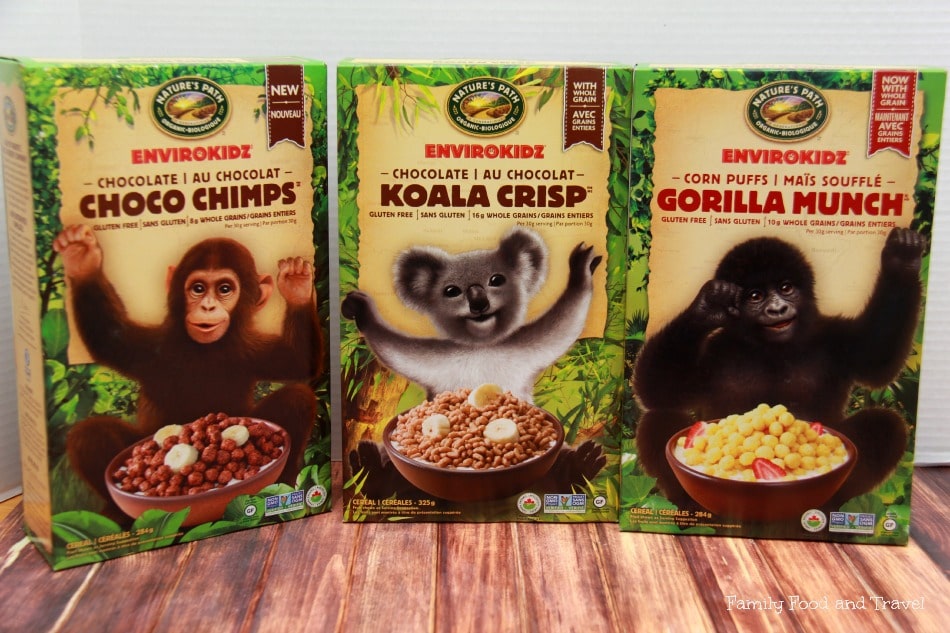 In addition to their fabulous cereals, Envirokidz also has fantastic cereal bars.  My boys favourite is the Chocolate Crispy Rice or "koala bar" at our house.  I love these for a quick snack in the car – they are perfect for road trips or any day you have hungry kids (or moms) in the car.  Just as delicious as the cereal, Envirokidz bars are the perfect snack to have on hand.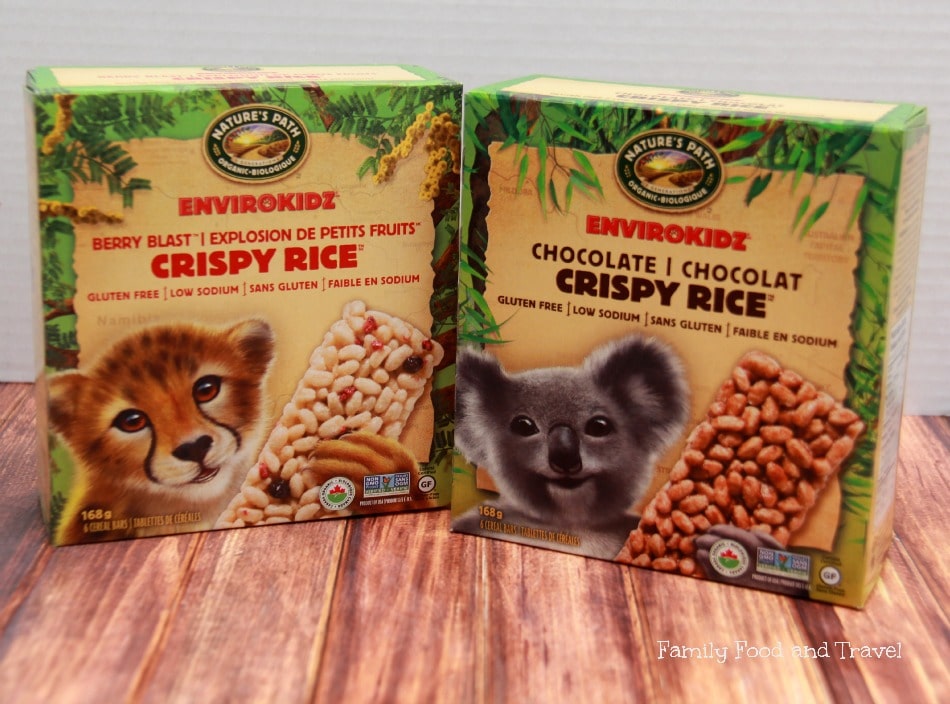 What I loved about Envirokidz cereal:
Whole Grain
USDA Certified Organic
Non GMO Verified
Low sodium
Sweetened with cane juice
Great price – only $4.99 a box
What my boys loved:
The packaging – they now ask for the "elephant cereal" or the "gorilla cereal"
The taste, so delicious they love every bite.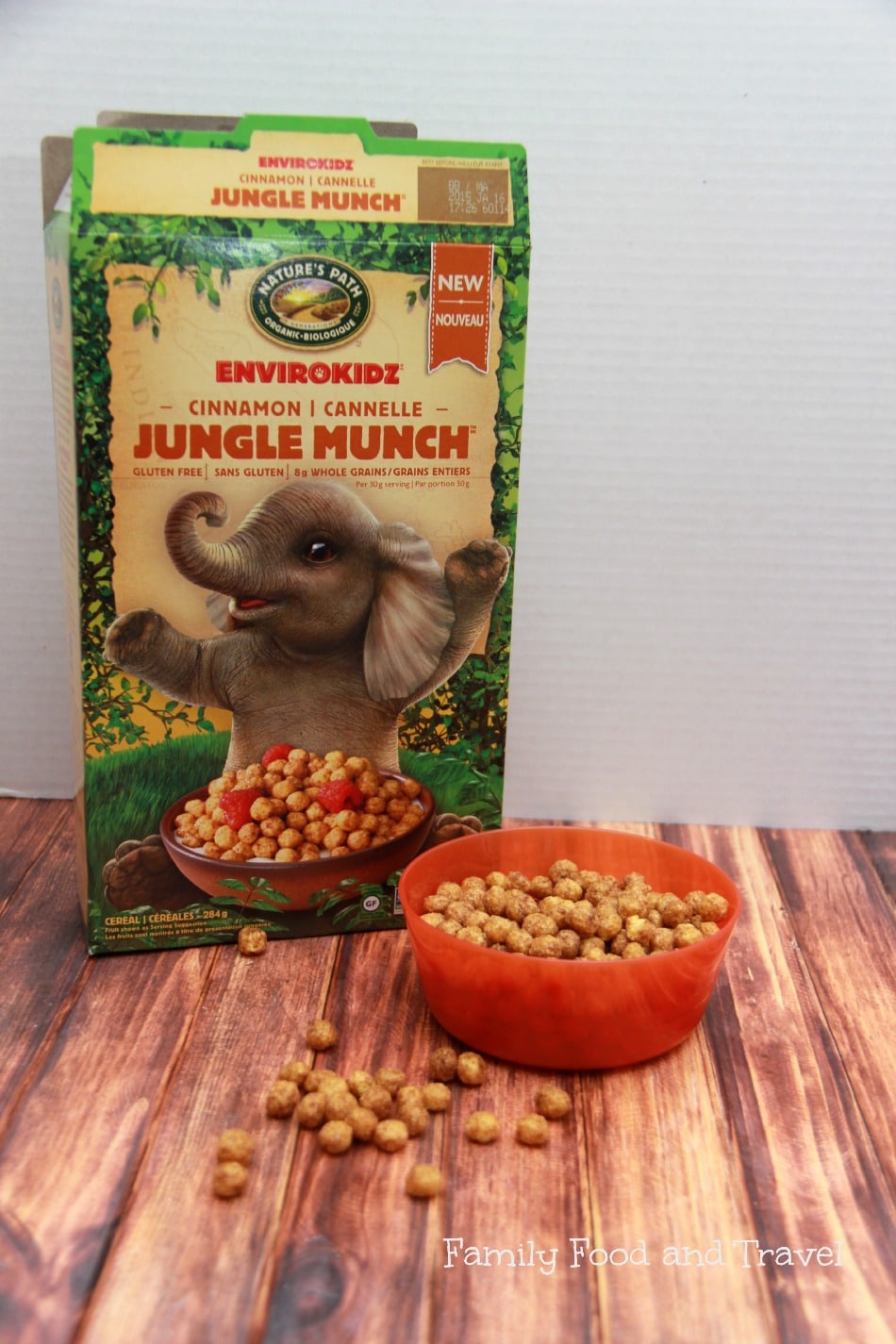 What makes Envirokidz cereal even better?  It gives back.
Nature's Path EnviroKidz is a 1% For the Planet member, every time you buy an EnviroKidz product, 1% of the sales are donated to support endangered species, habitat conservation and environmental education for kids worldwide.

Specifically, Nature's Path EnviroKidz Choco Chimps Cereal supports The Jane Goodall Institute, global leaders in chimpanzee protection, andEnviroKidz Jungle Munch Cereal supports Fauna & Flora International, acclaimed heroes in Sumatra elephant conservation.
Enter to win an Envirokidz Cereal Prize Pack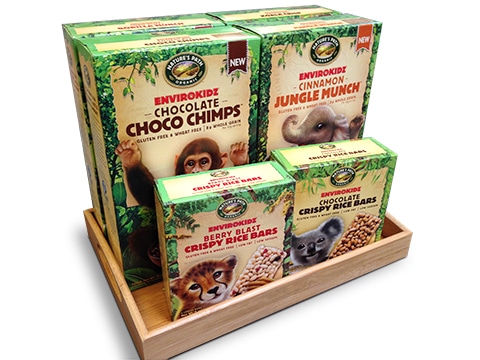 Contest is open to residents of Canada and the U.S. and ends.  Prize includes a month's worth of Envirokidz cereal and cereal bars ($50 approximate value)
Disclosure:  Products were sent for sampling.  All opinions are 100% my own.