I have a love/hate relationship with holidays.
I LOVE them, truly – I love the family time and the fun and the extra sleep-in days :) but I don't love the buying of stuff and the goody bags of candy from my daughters classmates (for easter. really??) and the idea that we have to create huge events surrounding these holidays instead of simply enjoying the time together.
This all gets more complicated when I throw in that I'm an elementary school art teacher… I basically craft for a living!
I was thinking about a project that I could do with 9 & 10-year-olds that could be simplified to also do with my 5-year-old over the long weekend. This is what I came up with.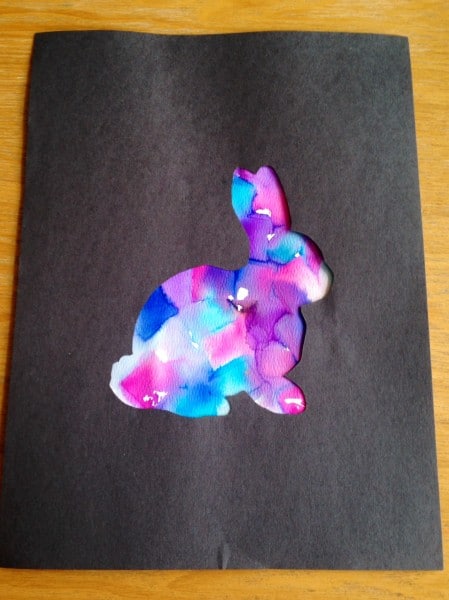 Animal Silhouette Craft
What you'll need:
– silhouettes printed (I did a google images search for bunnies and the word spring)
– watercolor paper (or sturdy cardstock type paper)
– paint brushes
– black construction paper
– pencil, scissors & tape
How to:
– transfer the silhouette to the center of the construction paper. Trace it onto the construction paper then cut out the image without cutting in from the side (I used an Exacto knife to begin my cut)
– paint watercolor paper in a loose abstract way. There aren't any rules here other than don't over mix your colors or you'll end up with a brown muddy mess. Make sure that your painting covers most of the watercolor paper. Let dry
– center the watercolor paper behind the black construction paper so that no white paper is visible from the front. Use tape to fasten the two papers together. My watercolor paper was a bit bigger than my construction paper so that I could be a bit choosy as to what part of the paint was centered in the silhouette. Trim any excess white paper.
– You might need to press the finished silhouette under a few heavy books for a few hours to flatten out the watercolor paper.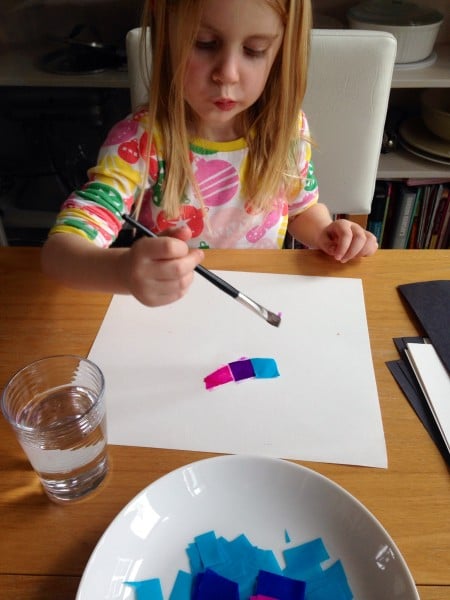 A few thoughts on modifying this craft for younger or older children:
– while doing this craft with my students (9-10-year-olds) they did all the painting, tracing, cutting, taping, cropping, etc. This craft is perfectly suited for them to complete it mostly independently with a bit of help (Exacto knife!)
– with my daughter who's 5 years old, she chose the silhouette and centered it on the black paper and then I traced it out and cut it. She did all the painting and helped decide how to center the watercolor behind the construction paper.
– both age groups were entirely engaged in the project for at least a 60-minute block of time.