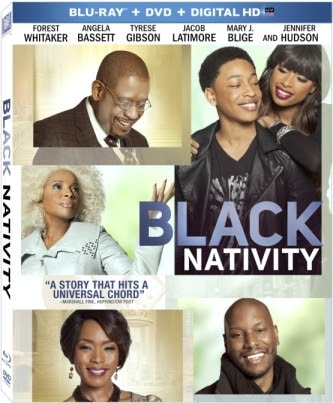 Black Nativity

Struggling to pay the bills, single mom Naima (Jennifer Hudson) sends her teenage son Langston (Jacob Latimore) to live with his estranged grandparents, Reverend Cornell and Aretha Cobbs (Forest Whitaker and Angela Bassett) in New York City. At first Langston resents their strict household, but with the help of new friends — and a little divine intervention — he embarks on an inspirational journey of self-discovery that brings the whole family together.

Special Features

deleted scenes
promotional featurettes
My Review:
With an all star cast and a gospel feel I knew that Black Nativity would be a movie I'd enjoy.  I loved that the movie was set in Harlem and the story of a single mom and her boy.  It was a movie that really got to the heart of family set within the story of Christ's birth. The stunning musical numbers and great acting make this a great family movie about family, growth, choices and community.  Strong values and religious messages are seen throughout the movie but it does not feel preachy or overdone.  Instead you are left rooting for this family and hoping that they will make it through their differences.  A great movie for those who love a family story, musicals and believe that miracles can happen.
Black Nativity is available in BluRay Combo Pack and DVD from 20th  Century Fox.