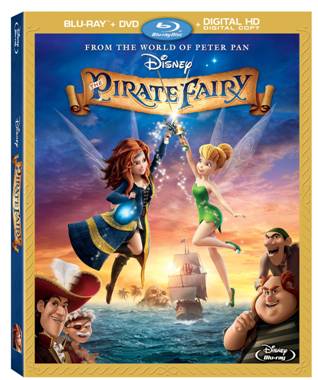 From the world of "Peter Pan" comes "The Pirate Fairy," a swashbuckling new adventure about Zarina (voice of Christina Hendricks), a smart and ambitious dust-keeper fairy who's captivated by Blue Pixie Dust and its endless possibilities. When Zarina's wild ideas get her into trouble, she flees Pixie Hollow and joins forces with the scheming pirates of Skull Rock, who make her captain of their ship. Tinker Bell (voice of Mae Whitman) and her friends must embark on an epic adventure to find Zarina, and together they go sword-to-sword with the band of pirates led by a cabin boy named James (voice of Tom Hiddleston), who'll soon be known as Captain Hook himself. With laughter, heart, magic and thrills, "The Pirate Fairy" sets sail April 1, 2014.

So do you want to know how to get your 5 year old daughter to hover 6 inches off the ground for the better part of the day? Well, invite her and her BFF to go to a special screening of Tinkerbell and the Pirate Fairy – and then slip in that there will also be fairy makeovers, complete with fairy dust hairspray. Can you almost hear the squeals of delight? So great!

We were so excited to be invited to the Pirate Fairy screening and it was such a fun morning! After their complete fairy makeover the girls had their pics taken and then settled in for the movie. The Fairy Pirate is the most exciting Tinkerbell movie we've seen (spoiler alert: we've seen the all!).

This movie is a winner from start to finish. Tink and her pals are on the hunt for the blue fairy dust which was taken by Zarina, the Fairy Pirate. It's filled with great laughs and enough adventure to keep the whole family entertained. My favourite part of the movie might have been the references to a future Peter Pan thanks to the introduction of a young Captain Hook and the cutest clock eating crocodile!

I'm so glad we got to see the Pirate Fairy on the big screen! I know you're little Fairy Princess will love the Pirate Fairy as much as mine did!