Bacon and steak are two words that go perfectly together.  From Filet Mignon to Bacon Wrapped Steak Bites there are a variety of ways in which you can enjoy salty bacon wrapped around a perfectly cooked steak.  This recipe allows you to cook the dish inside but can also be grilled if you would prefer.  Follow the tips to keep the skewers moist to prevent burning and you will have a main dish or appetizer sure to wow your family/guests.
I modelled these bacon wrapped steak morsels after a restaurant that serves these as an appetizer. It's such a delicious appetizer, party food or as a topper for a great salad. Each piece of steak is perfectly cooked to medium rare and when it's wrapped in bacon you can guarantee it will be moist and delicious. We found the salt in the bacon was plenty of seasoning but you can definitely add salt and pepper as a finisher prior to serving. Your friends and family will be asking you to bring these Bacon Wrapped Steak Skewers to every party and gathering.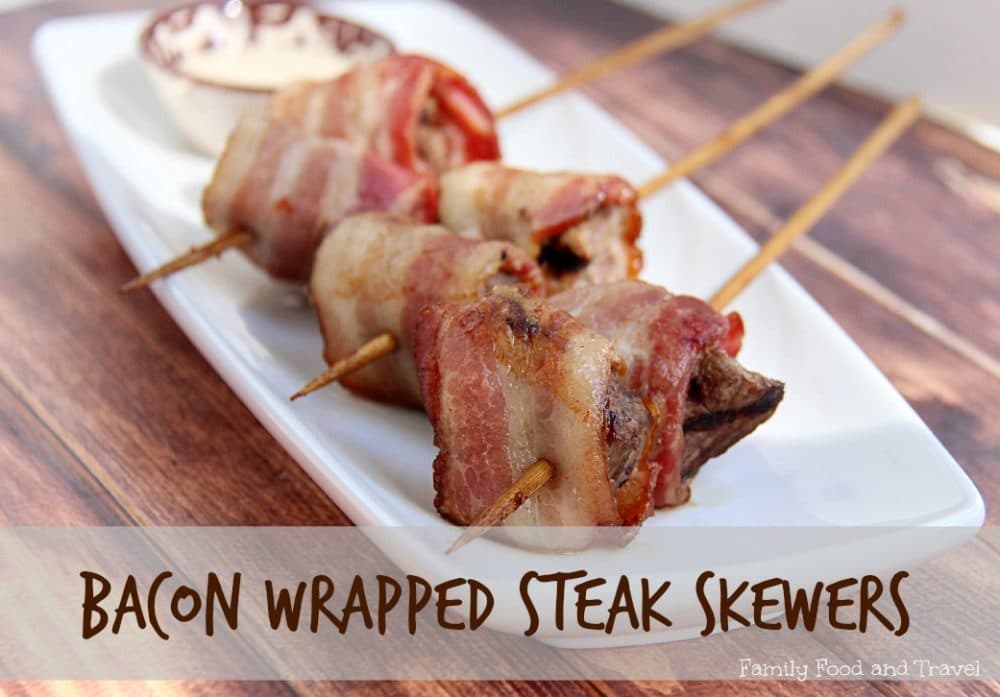 For this recipe, you can use any bamboo skewers. Order some from Amazon and have them delivered right to your door. They have a great selection of BBQ Bamboo Skewers
 as well as fancier Bamboo Knot Skewers
. Fire up your grill or preheat your oven to create fantastic bit sized pieces of bacon wrapped steak.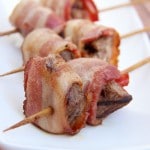 Bacon Wrapped Steak Skewers
The perfect steak compliment - bacon. This bacon wrapped steak skewer recipe is easy, delicious and great party food.
Ingredients
12

slices

of thick bacon

½

lb

grilling steak

1

tbsp

Worcestershire sauce

1

tbsp

steak spice

6

Bamboo skewers
Instructions
Preheat oven to 350F.

Soak bamboo skewers (just the bottom half) for 20 mins in warm water.

Cut bacon slices in half and cook through but not crispy.

Season steak with Worcestershire sauce and steak spice.

Cut the steak into 12 cubes (about 1 inch square)

Grill steak to rare (outsides should be seared but steak not cooked through).

Wrap steak pieces in bacon and insert on skewer, two pieces per skewer.

On a foil lined baking sheet put skewers into the oven for 5 mins then turn over and cook for another 3-5 mins depending on how well done you like your meat.

Serve with salsa, ranch dip or on top of salad.

*note: to prevent burning of skewers while in the oven wrap the ends with tinfoil.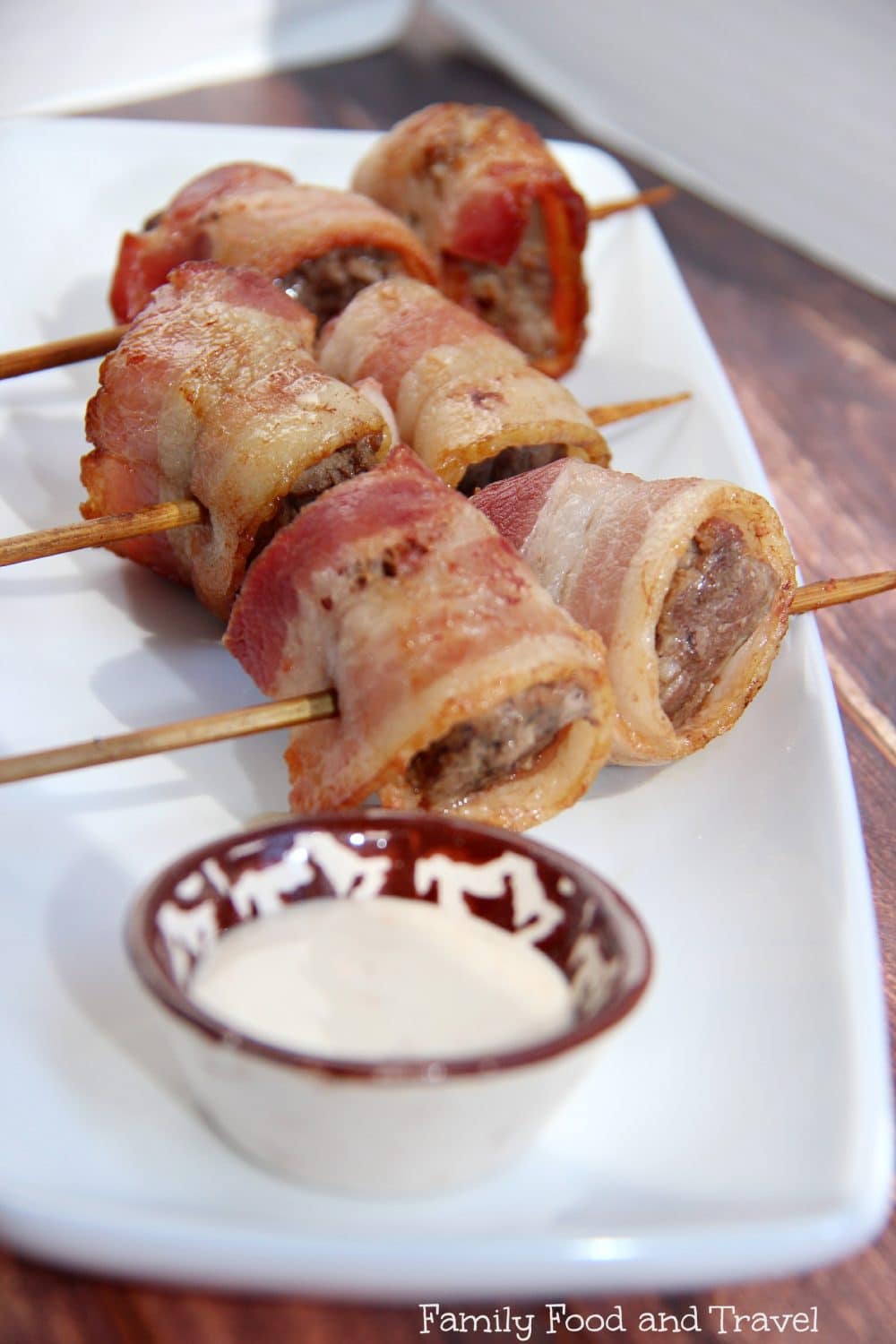 My boys are all about "dip" so we served our Bacon Wrapped Steak Skewers alongside a small bowl of ranch dressing.  Just make sure that you remove the skewers and cut the steak into bite sized pieces for little mouths.  Anyway you serve it, the meat lovers in your family will love this recipe.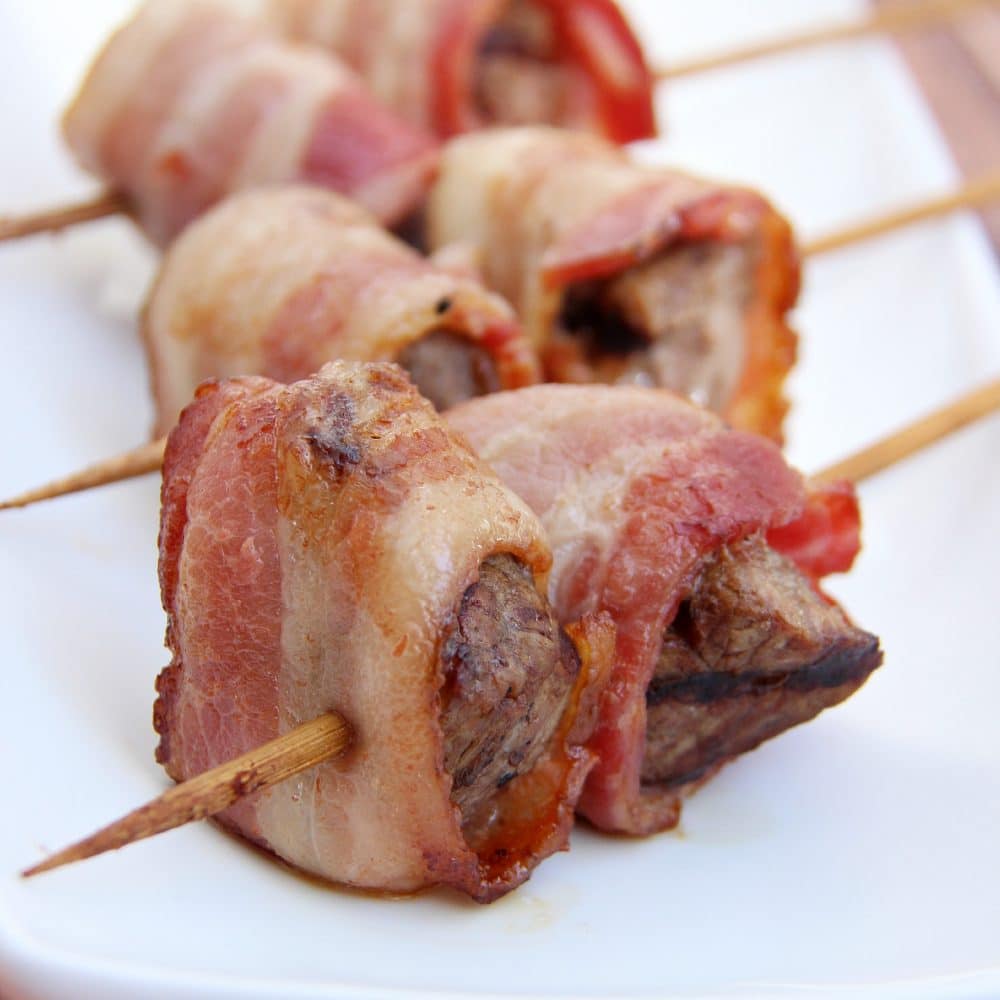 Whether you are serving a few hungry mouths or a large party you will love the ease of these steak skewers. With a wide range of dip options, we'd love to hear which one is your favourite for these skewers. Spicy? Creamy? Steak spice based or no dip at all? Let us know in the comments below.

Love this recipe? Check out some of our other appetizer favourites and our party food ideas.