When people ask about our family I usual reply with a funny response "Twin Boys, A Mexican, A Canadian, A Poodle and a Cat" that pretty much describes my family's 'titles' but not really who we are and what we are made from.  The real answer is that our family is made from fresh, local whole food, love, respect, laughter, adventure and commitment.  We are a mix of cultures, experiences, and languages. We love our local farmers, our CSA farm share and purchase almost everything we can in our local community.  We love to travel and try to celebrate all the little things in life.
In the spirit of all the things we love I've created a recipe using local beef (the cows graze 2 kms from my home) and a simple salad with a sour cream dressing.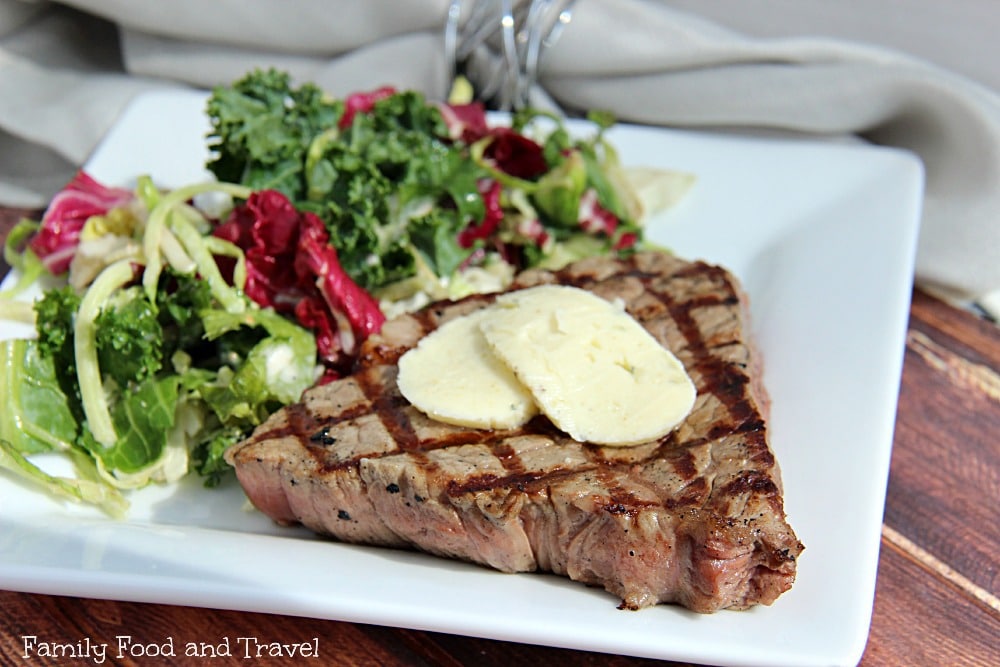 Blue Cheese Butter
A delicious Blue Cheese Butter for topping your favourite steak
Ingredients
1

tsp

garlic powder

1

oz

crumbled blue cheese

1/2

cup

Gay Lea salted butter

1/8

tsp

fresh ground pepper
Instructions
Cream butter in stand mixer, then add other ingredients and mix until smooth.

Place butter in a piece of plastic wrap and roll into a cylinder.

Wrap in plastic wrap and place in the fridge for 30 mins or until firm.

Unwrap butter and slice into medallions.

Serve on top of your favourite grilled steak.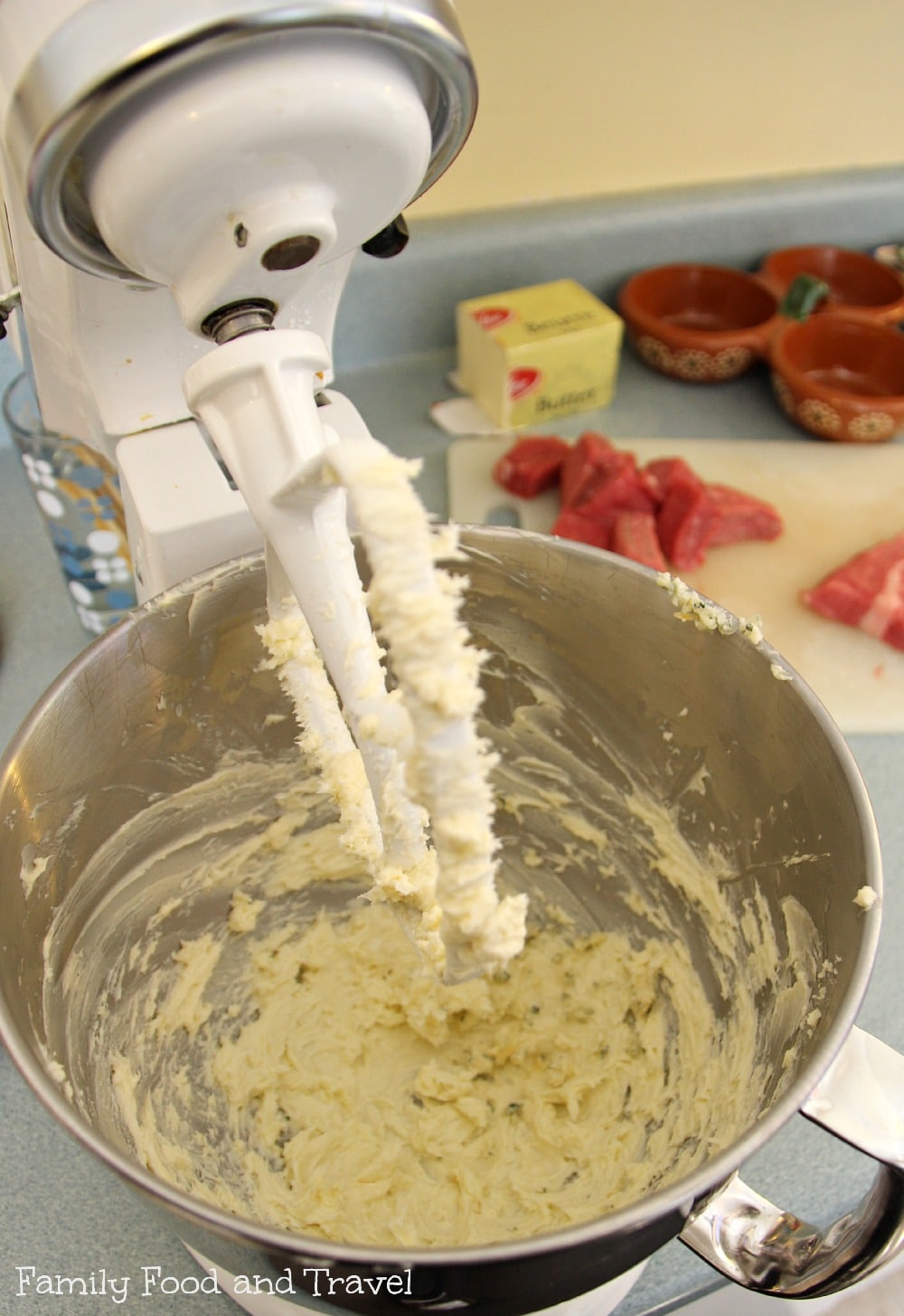 What I love most about this recipe is that it is simple, quick and can be made a few days ahead.  It stores well and adds great flavour to steak.  The creaminess of the Gay Lea Butter makes it perfect to slice and serve once ready.  If you like a really strong blue cheese flavour try using stilton.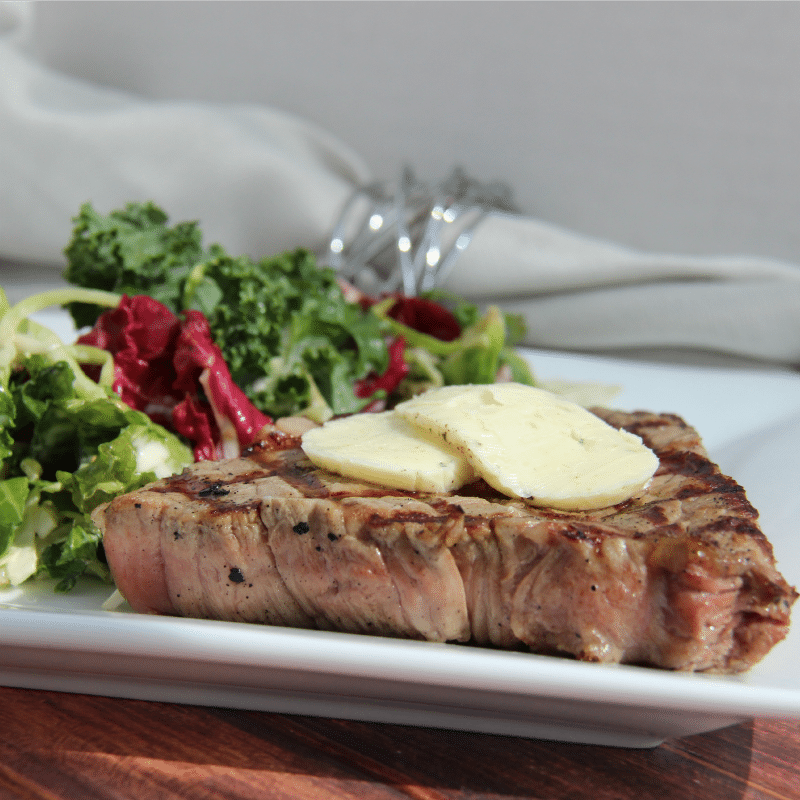 Sour Cream Dressing
Author:
Kerrie @ Family Food and Travel
A delicious salad dressing made from Gay Lea Sour Cream
Ingredients
½ cup olive oil
3 tbsp white wine vinegar
¼ cup Gay Lea sour cream
½ tsp salt
½ tsp dry mustard
¼ sugar
1 tsp garlic powder
1 tsp fresh chopped parsley or cilantro
Instructions
Whisk together all ingredients in a large bowl.
Transfer to an airtight container and refrigerate for at least 6 hours.
Whisk prior to serving.
Working with Gay Lea Foods I have learned so much about their values, their story and what they are made of.  Like my family, the Gay Lea Foods family is made from commitment, hard work and pride in what we do.  Here is the story of what Gay Lea Foods is made of:
Our story began in 1958, when a group of Ontario farmers came together with a common vision — to create  a dairy co-operative. And with that, Gay Lea Foods was
born. The farmers believed they could build a better future for themselves and their communities by supporting one another, by working collaboratively and living according
to their co-operative principles. While it's true we've grown along the way, embracing innovative new products, and responding to evolving tastes, we haven't really changed. After all, our values are born on the farm.

Today, we remain a dairy owned by dairy farmers, and they are at the very root of our organization. We embrace and act with co-operative-inspired values – they inform
everything we do. From farmers to production facilities to distribution, every member, employee and partner shares a keen understanding that there is no shortcut to quality. It takes commitment, passion and collaboration.

Those are the things we're made of, and we believe it's time we share our story. We're not only proud of what makes us different, but we know that today's consumer,more than ever, wants real products they can trust.

Our values and our products, just like the milk and our farmers, are born on the farm.
If you haven't had a chance to see the new ads showcase what Gay Lea Foods is Made From you must take a moment to look.  Each one portrays exactly what they as a company and as a collection of farmers believes and works to achieve.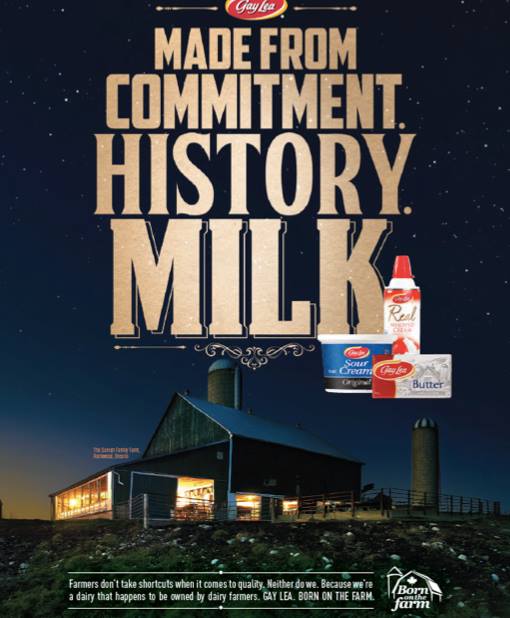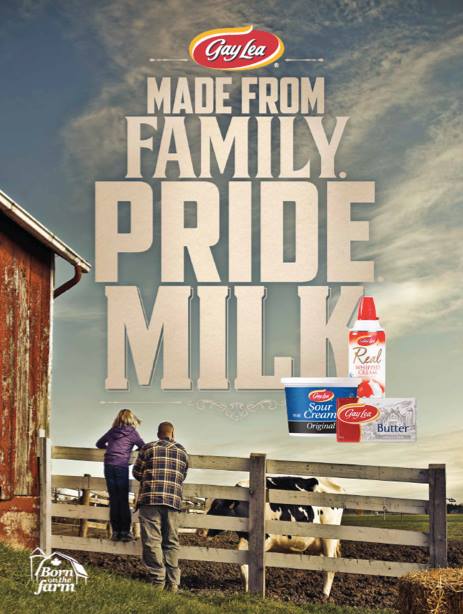 What is your family Made From?