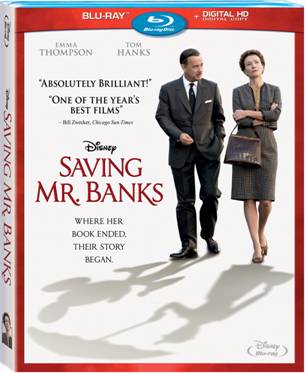 Tom Hanks and Emma Thompson bring to life the untold true story about the origins of one of the most treasured Disney classics of all time.  John Lee Hancock (The Blind Side) directs this acclaimed film, which reveals the surprising backstory behind the making of Mary Poppins.  Determined to fulfill a promise to his daughters, Walt Disney (Hanks) tries for twenty years to obtain the rights to author P.L. Travers' (Thompson) beloved book.  Armed with his iconic creative vision, Walt pulls out all the stops, but the uncompromising Travers won't budge.  Only when he reaches into his own complicated childhood does Walt discover the truth about the ghosts that haunt Travers, and together, the set Mary Poppins free.

On Blu-ray and Digital HD, Saving Mr. Banks sweeps viewers away with enchanting high definition picture and sound, plus delightful, never-before-seen bonus features, including "The Walt Disney Studios: From Poppins to Present," in which director John Lee Hancock takes viewers on an insider's tour of Disney Studios today and reflects on studio life during the creation of Mary Poppins.  Additional bonus materials include "Let's Go Fly a Kite," in which the film's cast and crew sing an impromptu version of the iconic song on set during the last day of shooting, and deleted Scenes.
My Saving Mr Banks Review
I watched Saving Mr Banks with my mom.  We thought it would be a feel good movie about the making of Mary Poppins with it's headstrong writer.  It was that and SO much more.  The story's complexities and challenges were highlighted by the fantastic portrayal of both P.L. Travers and Walt Disney.  The reason they held the story so dear and the reason they were fighting to make it into the vision they each had for Mary Poppins and the conflict to bring those two visions together.  We both loved the movie.  We cried, we laughed, and we talked for a long time after the movie finished.  It was captivating and so very touching. It is a movie that any Mary Poppins fan should see.