Award season is one of my favourite times of years to gather friends and watch the red carpet of our favourite awards shows. The dresses, the tuxedos, the gossip, the drama is so much more fun to watch with friends. This year we will be celebrating and chatting over our own signature Red Carpet Chex Mix.  A wonderful mix of sweet, salty and nutty, this Chex Mix is loaded with protein, crunch and all the flavours you want in a snack food.  I hope you'll love my Nuts About the Red Carpet Chex Mix.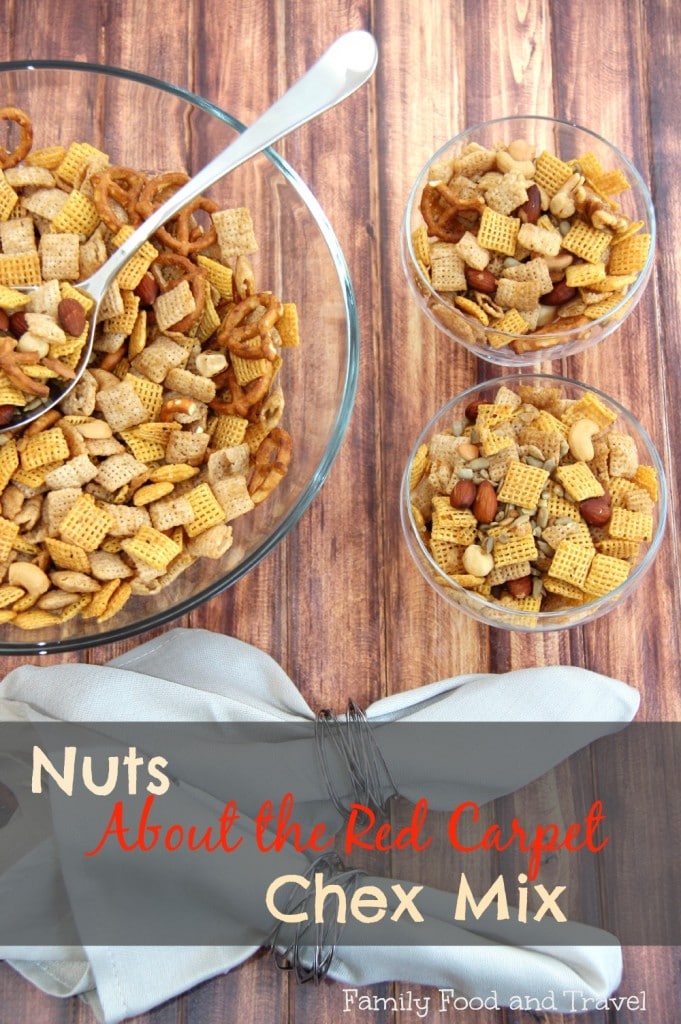 My traditions for watching the awards shows have changed over the years.  When I was in University all of my friends and I would gather in our best dresses, high heels and makeup for cocktails and appetizers revelling in the excitement of the event.  Now it is more subdued but just as fun.  I gather with some of my favourite neighbours for an easy going, casual get together which includes more talk about our own lives and less about those hunky Hollywood bachelors but still the same fascination with the gowns, jewels and heels!  I love that my tradition has changed, but my love of red carpet hasn't.  Even after watching the shows I am excited to pick up the latest copies of celebrity magazines to read about the best and worst dressed.
What You'll Need to Make Nuts About the Red Carpet Chex Mix

Nuts About the Red Carpet Chex Mix
Author: Kerrie @ Family Food and Travel
Recipe type: Appetizer
A twist on traditional Chex Mix perfect for snacking on while watching your favourite Red Carpet moments.
Ingredients
5 cups Original Chex
4 cups Honey Nut Chex
1 cup bite sized pretzels
1 cup salted mixed nuts
½ salted sunflower seeds
6 tbsp butter
2 tbsp Worcestershire Sauce
½ tsp lemon juice
1.5 tsp seasoned salt
¾ tsp garlic powder
½ tsp Herbamare (herb seasoned salt)
⅛ tsp Tabasco
Instructions
In large microwave safe bowl, mix chex nuts, pretzels and sunflower seeds; set aside.
In small microwave safe bowl, microwave butter uncovered for 30 sec or until melted.
Stir in seasonings Worcestershire Sauce, lemon juice, seasoned salt, garlic powder, Herbamare, and Tabasco.
Pour over cereal mixture; stir until evenly coated.
Microwave uncovered for 5 minutes stirring every 1.5 mins.
Spread parchment paper on a cookie sheet or counter top and cover with hot Chex mix spreading out to cool evenly.
Allow to cool for 5-10 minutes, transfer to serving bowls or seal in ziploc bags until serving.
We love Chex Mix in it's many shapes and flavours – check out our Halloween Chex Mix and Sweet and Salty Muddy Buddies for more Chex Mix ideas for your next party or road trip. Want more ideas?  Head over to Life Made Delicious and view a whole host of Hollywood inspired recipes for your Red Carpet Event.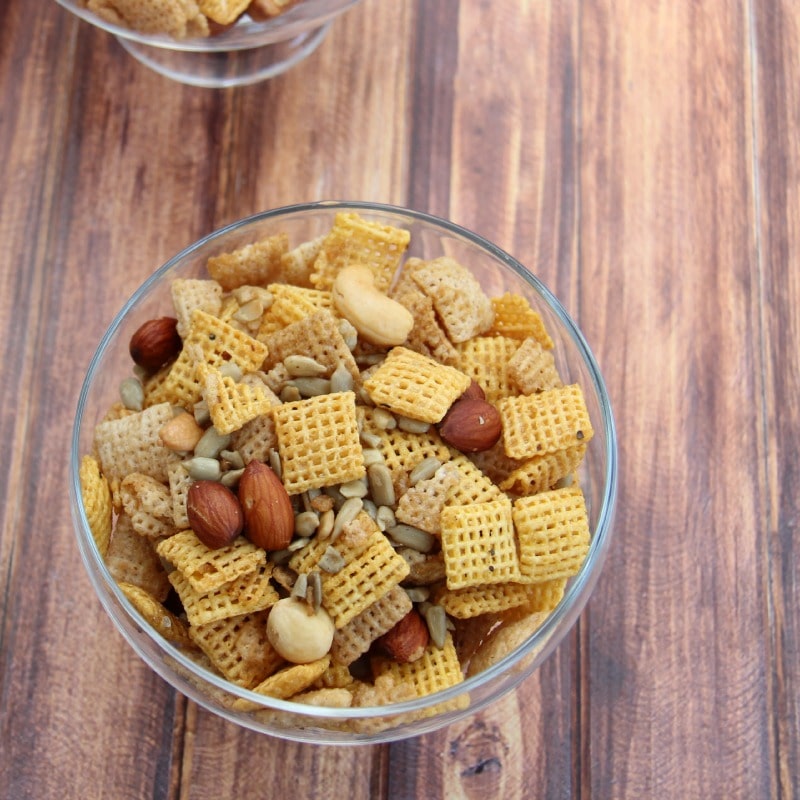 Wishing you, your family and friends a wonderful awards season filled with lots of Red Carpet fun!