The Jungle Book holds a special place in our family's heart.  For me, it is memories of watching it with my Dad not long after my parents divorced.  One one of my first weekends with my Dad we watched The Jungle Book.  For weeks I called my Dad Baloo and danced around to the "Bear Necessities."  You can imagine my excitement when I received this copy of The Jungle Book Diamond Edition – my favourite story remastered. However, I couldn't prepare myself for my husband's reaction when the package came.   I showed him the movie and said I was excited to watch it. He got all teary and couldn't really speak.  Seeing the movie brought back his memories of going to see The Jungle Book with his beloved Uncle that he hasn't seen for years.  The voice of Baloo in Spanish is the voice of a famous Comedian that he loved.  With all those memories flooding back we decided to watch the movie with our boys right away.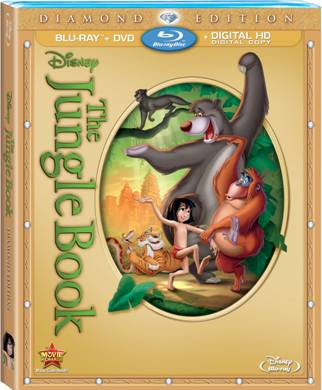 From the Studio:
Now for the first time ever on Blu-ray with glorious digital high definition, Disney's Jumpin' Jungle Classic has never looked so lush or sounded so good! Beloved characters, swinging music and new behind-the-scenes bonus features make this Diamond Edition Blu-ray a must-have for every family's classic collection!

Meet the most unforgettable characters and embark on a thrilling adventure with Mowgli as he journeys deep into the jungle and learns "The Bare Necessities" of life from happy-go-lucky Baloo the bear. Meet Bagheera, the wise old panther, and crazy King Louie, the orangutan. But watch out for the cunning tiger Shere Khan and Kaa, the ssssneakiest snake in the jungle!

Explore your family's wild side as you venture into The Jungle Book for extraordinary adventures and a heartwarming tale that celebrates the true meaning of friendship.
My Review:
The Jungle Book Diamond Edition is better than I remembered.  The colours, the animation and the sound are fantastic and the story really comes alive.  My boys were captivated and loved Kaa and his crazy eyes! With lots of giggles my boys gave their own approval that The Jungle Book would be a new family favourite. Plus, we loved all the new extras are fabulous – especially the Bear-E-Oke!