I've been thinking a lot about my heart health and the health of my family in the past few weeks.  One of my family members found out that they had to get some heart tests done as a result of a regular check up.  Today was the day of the appointment with the cardiologist.  When we got there and sat in the waiting room I was surprised to see people of every age waiting to be seen.  From young children to the elderly the waiting room was like a cross section of society, every age group was represented.  I must admit, I was surprised.  I thought that heart health issues were confined to more specific groups, but today's appointment taught me that anyone can be affected by heart health.  I immediately began to take stock of my own heart and what I was doing to take care of it.
When I got home, I was excited to see that I'd been asked to take the Heart Age Calculator Test featured on the Shoppers Drug Mart website.  What was my heart age?  Was it older than I am?  Was it younger?  What did it mean?
I quickly ran through the test filling in all of the information and taking some measurements.  It was quick, easy and told me what I wanted to know.  While I felt great that my heart was a bit younger than my actual age, I knew that there were some numbers I needed to pay more careful attention to.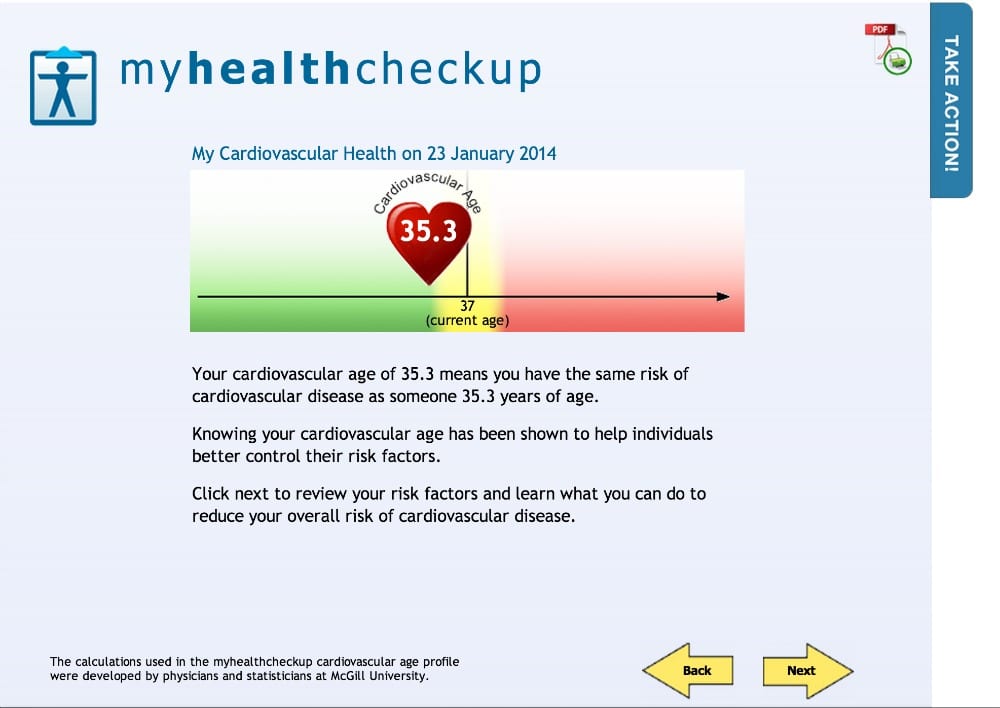 Being the helpful wife that I am, I immediately asked my husband to join me at the computer so we could see what his heart age was.  While my husband is in good health, he has gained weight over the last few years and has a family history of diabetes.  I was very curious to see what his results were!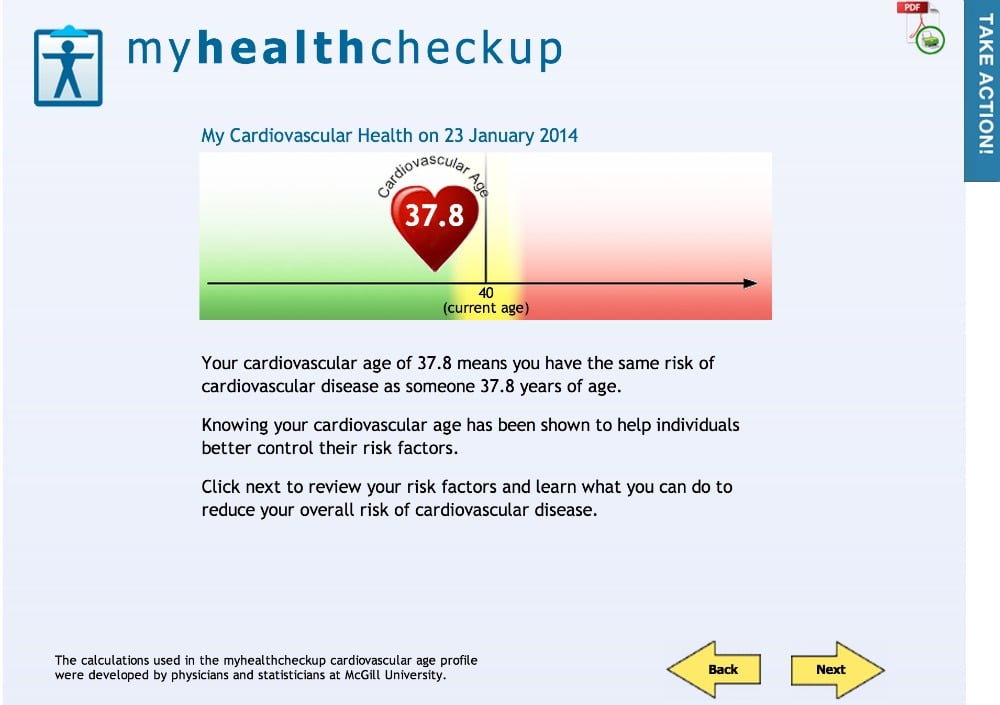 Like me, my husband's results showed a heart slightly younger but as both of our results demonstrate we are in the "caution" area.  We need to make some changes to ensure that we stay healthy for our boys.  My husband and I started talking right away.  What does this test mean?  What was it telling us?  What changes did we need to make right away?  What research did we need to do?  So many questions!
Why is Heart Health Important?
Like most things, having knowledge is power when it comes to heart health. Heart Disease remains one of the leading causes of death in Canada. Since your heart may be aging faster than the rest of your body it is important to know to ensure that you know the cardiovascular age of your heart.  Understanding how your heart is aging will lead to better heart health management. The Canadian Cardiovascular Society recommends calculating your cardiovascular age and knowing your cardiovascular risk profile to improve management of blood pressure and blood lipids.   The key factors that affect your heart's age, include blood pressure levels, cholesterol, and the presence of risk factors like smoking and a high BMI (body-mass-index).
Tips for a Healthy Heart
 Stop Smoking
Monitor your blood pressure
Apply an active lifestyle
Regulate your Cholesterol Levels
Take Control
Why You Should Take the Heart Age Calculator Test
The Heart Age Calculator is an online tool that helps Canadians calculate their cardiovascular age and assess their risk of heart attack, stroke or cardiovascular disease within the next 10 years by answering simple lifestyle questions (i.e. height, age, weight, cholesterol levels, blood pressure, personal and family history, exercise habits and more).  The Heart Age Calculator is the only scientifically validated online tool available that provides a personalized heart age and cardiovascular risk profile as recommended by the Canadian Cardiovascular Society guidelines.
Take the Test!
It's time to take control of your health and take the test.  It's time for Canadians to start taking care of their hearts by taking the Heart Age Calculator test.  I've done it, my husband's taken it and now it's your turn.
Disclosure – Although this post has been sponsored by Shoppers Drug Mart Inc., the opinions and language are all my own, and in no way do they reflect the views, opinions or positions of Shoppers Drug Mart Inc. or its affiliates or licensees. Shoppers Drug Mart Inc. makes no representation as to accuracy, completeness, suitability or validity of any information within this blog post and will not be liable for any errors or omissions in this information or for any losses, injuries or damages arising from its display or use