One of my first memories of Black Forest Cake was having it at a 'fancy' restaurant in my hometown.  My Dad took me there for Valentine's Day.  His only daughter, a special Valentine's outing to a steakhouse.  I had escargot, steak and black forest cake.  I felt like a princess and I marvelled at being treated as something so special to my Dad.  I thought the Black Forest Cake was divine.  It had everything I loved – fruit, chocolate cake and whipped cream.
Valentine's Day now is a lot less 'fancy' and a lot more comfy.  It is spent at home with my husband and my two boys enjoying a lovely meal, a movie and some wine.  Valentine's Day is much like it was when I was a kid.  Less about romance, and more about love, all different types of love.  The love of friends, of families, of partners.  It is a day to remind those we love just how much they mean to us.  A day to pass out Valentine's cards, to give lots of hugs and be together.
In honour of Valentine's Day I created a combination of my Valentine's Day from past and present.  A bite sized black forest cake that is simple enough to make on any day.  Filled with love and topped with whipped cream, this cupcake will be a favourite of any black forest cake lover.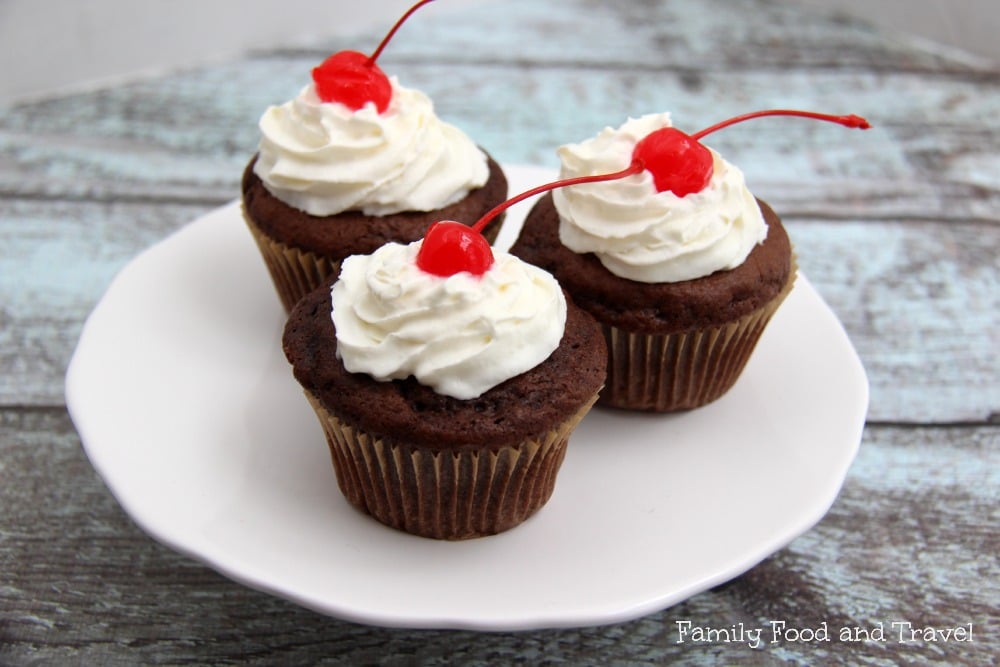 What You'll Need:
Chocolate cupcakes
[easyazon_link identifier="B0057FSX8O" locale="US" tag="famfooandtr00-20″]Cherry Pie Filling[/easyazon_link]
Whipped Cream
[easyazon_link identifier="B0063QEHZY" locale="US" tag="famfooandtr00-20″]Cupcake corer[/easyazon_link]
Maraschino Cherries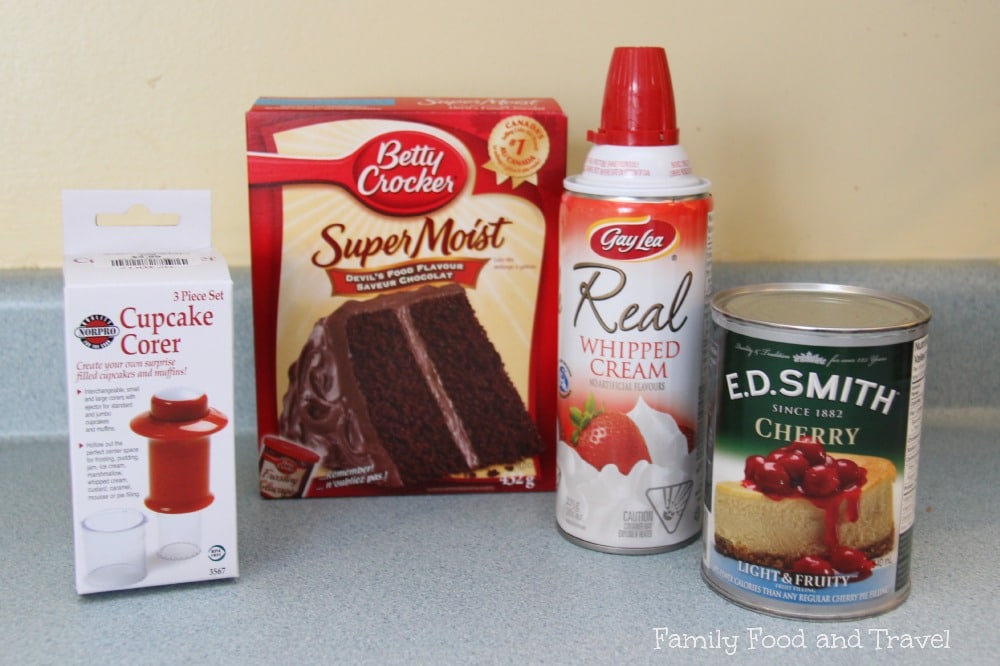 Directions:
Bake cupcakes as per packaging or recipe
Once cooled, use cupcake corer to extract the middle from the cupcakes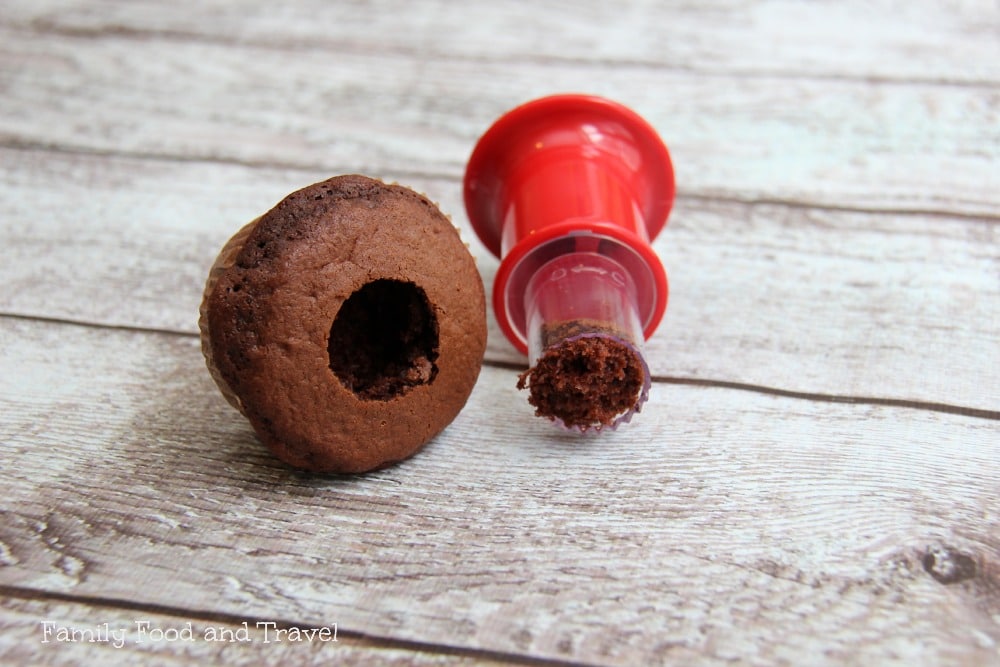 Fill the middle of the cupcakes with cherry pie filling
Top with Whipped Cream and a Maraschino cherry.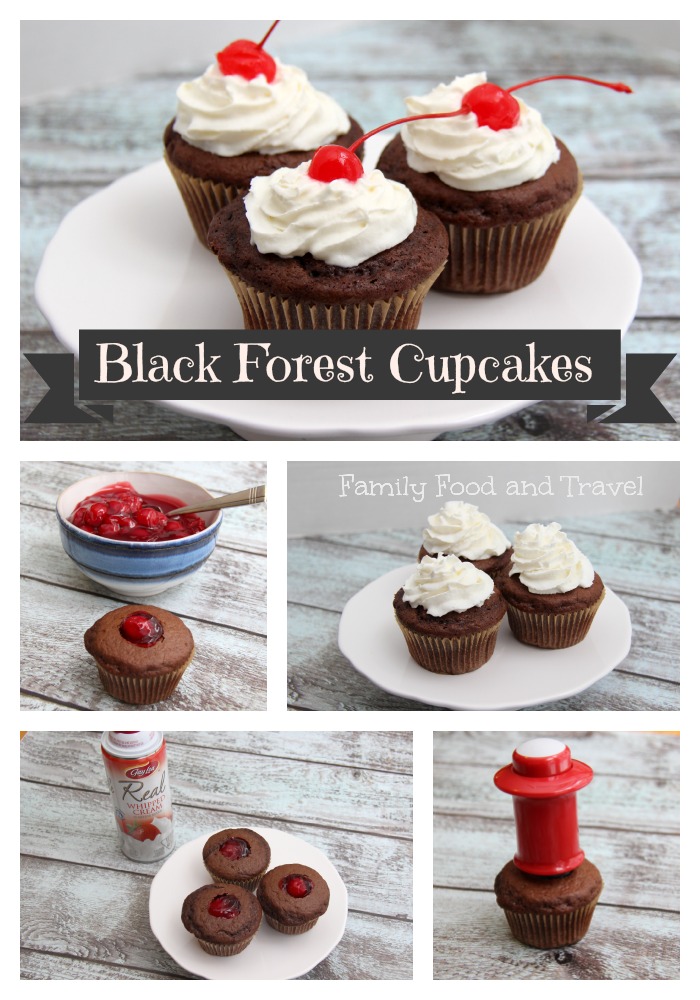 Easy right?  So easy!  My family loved our trial run of these cupcakes so much that you can guarantee they will be served for dessert on February 14th and many more special occasions.
Looking for more black forest recipes? Check out this one for a delicious 5 Ingredient Black Forest Trifle from Happy Hooligans.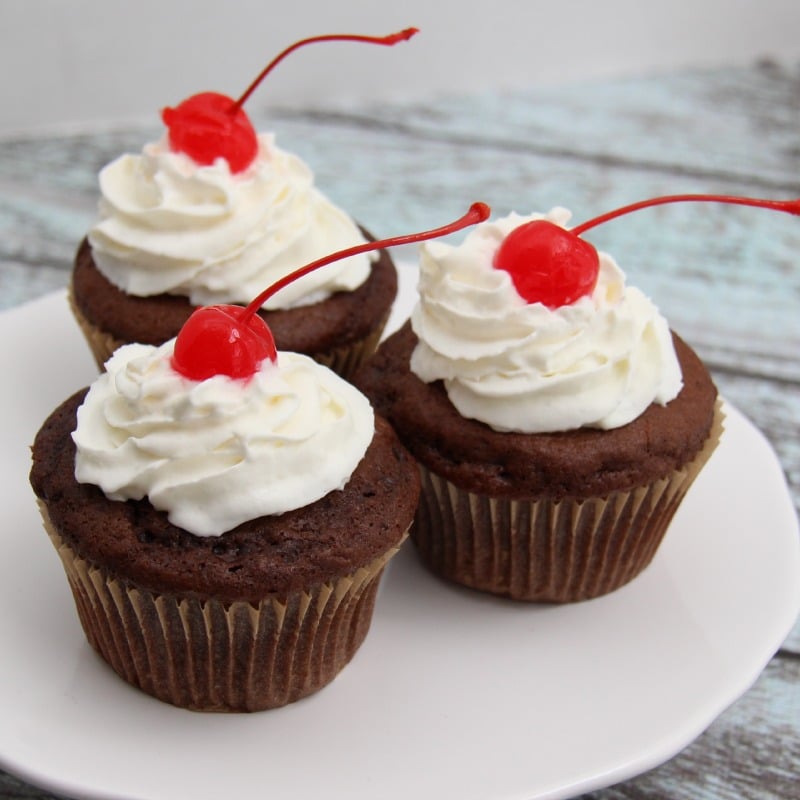 Check out our favourite cupcake recipes:
Chocolate Covered Bacon Cupcakes
Pumpkin Chai Cupcakes with Buttercream Icing
St. Patrick's Day Hidden Treasure Cupcakes
Whether it's a traditional cupcake with a unique twist or a filled cupcake these recipes will quickly become family favourites because they are easy, delicious and most of all, fun!