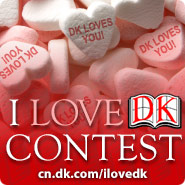 Our fabulous friends at DK books are holding a contest where you get to vote for your favourite title by them.  The best part?  Every person that votes gets an entry to win a $250 DK Shopping Spree!  Just imagine all of the fantastic books you could get for yourself, your family or as gifts to give.  From travel to children's books, they really have it all.  Your votes will be tallied to choose the February titles that will be offered at 30% off!
Contest ends January 30 – enter at I Love DK Contest
Here are some of my favourite DK books:
Craft Books – from knitting to photography and everything else in between, DK has my favourite craft books.
Educational Children's Books – I love the My First Atlas, Encyclopedia and Dictionary books.  They are favourites of my boys and we love reading them over and over again.
Family Travel Guides – love these!  Perfect for travelling families looking for all the info on a specific location.  We used the Eyewitness Travel Family Travel: Florida last year.
And so many more – look for my upcoming posts on travel planning with Eyewitness Travel Guides and learning something new!