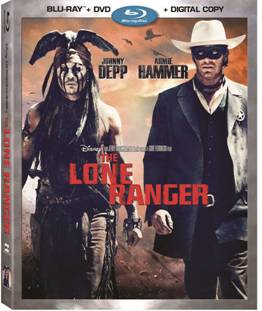 From the Studio:
Johnny Depp and Armie Hammer star in The Lone Ranger, from Jerry Bruckheimer Films and Director Gore Verbinski. It's a wild ride of high velocity action, explosions and gunfights that brings the famed masked legend to life through brand-new eyes. The Lone Ranger (Hammer), the last of his kind, teams with Tonto (Depp), a dark and mysterious vigilante, to seek vengeance after justice has failed them. It's a runaway train of epic surprises, as these two unlikely heroes must learn to work together before the ultimate showdown between good and evil explodes.
The Lone Ranger Blu Ray /DVD Review:
I loved the Blu Ray/DVD version of the film. Not only does it come with the Digital Copy, but the extra content is fabulous.  The Bloopers were hilarious and the Riding the Rails of The Lone Ranger was fascinating. The train scenes in the movie were fantastic and finding out how they were made was really interesting.  While I know that not everyone enjoyed this remake of a classic TV show, I thought it was a fun, quirky way to bring back two intriguing characters perfect for a new generation to enjoy.  And, for any fan of special effects, there are some truly awe inspiring train scenes!
To read my full review of the movie, visit 5 Reasons Why I Loved Disney's The Lone Ranger