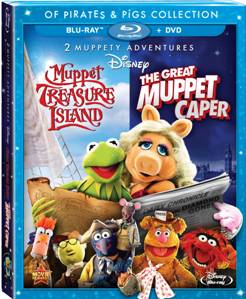 Disney releases two of our favourites ,The Muppets onto a DVD/Blu-Ray collection: Muppet Treasure Island + The Great Muppet Caper together = 197 minutes of fantastic family fun!
From the Studio:
A treasure trove of hearty laughs is yours when two of the funniest, most action-packed Muppet movies of all time make their Disney Blu-ray debut in a 2-Movie Collection. From the special star-studded lunacy in Muppet Treasure Island to the jewel-heist hilarity of The Great MuppetCaper, these two classic comedy-adventures are packed with mirth, mayhem and, of course, Kermit, Miss Piggy, Animal, Fozzie, Gonzo and all your Muppet favorites.

Jim Henson's whodunit heist-movie The Great Muppet Caper and the silly and swashbuckling high-seas adventure, Muppet Treasure Island, both restored and remastered, are loaded with unforgettable music and sparkling special effects. Two great movies plus a treasure trove of bonus features make the Collection the perfect holiday gift for Muppet fans and the entire family.
Our Review:
My husband may be the biggest Muppets fan in the world!  He is absolutely in love with watching the old Muppet Show Dvds we have and was really excited to watch these movies with our boys.  They all snuggled into the couch, laughed, and loved it!  The boys's favourite is Muppet Treasure Island and we've watched it many times since.  Plus, the Frog-e-oke Sing Along is fantastic!  Perfect for kids and adults who love The Muppets. And I love that Disney put the 'Fast Play' feature on ensuring that the movie plays automatically without a remote.  Perfect for when the boys want to turn it on themselves.
What is your favourite movie featuring The Muppets?