If you've never driven a truck then you are seriously missing out.  There is something so powerful and exhilarating about driving a truck, when I do I feel like I could accomplish anything.  After getting the chance to drive the new 2014 Chevy Silverado off road in the summer I jumped at the chance to try it out as a family vehicle.  Could I, a working mom of twin boys drive a truck for two weeks and do all of my regular activities? Absolutely!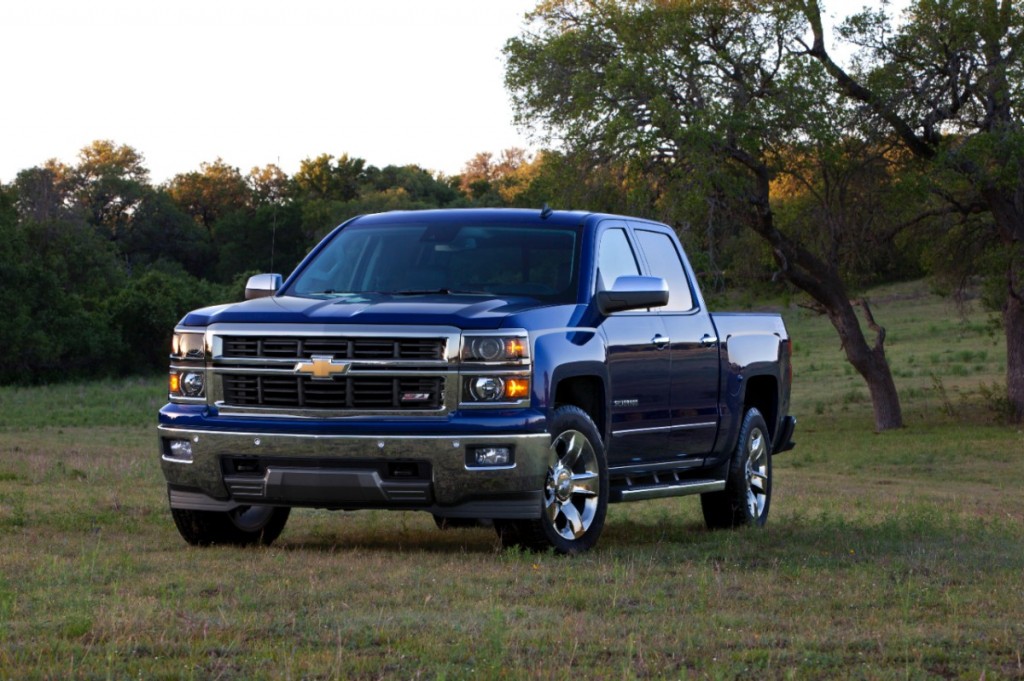 The 2014 Chevy Silverado is quite a truck.  It has all the trappings of a high end vehicle – comfortable seats, plenty jacks, USB ports, and electrical outlets + state of the art My Link technology to pair your phone, manage your XM radio and guide your way with its GPS.
2014 Chevy Silverado Review
What I loved:
Beautiful, polished interior.  It felt like a luxury vehicle while still having all of the functionality needed for a family car.
Fully motorized seat and mirror adjustment
Motorized pedal that moves the gas and break pedals closer to you rather than you having to sit closer to the wheel (genius!)
My Link technology was easy to use, easy to follow and the sound system was superb
OnStar service was very helpful when I needed an open gas station while driving back from a concert
Lots of room in the cab allowing for easy installation of car seats, lots of room to move around and plenty of storage space inside the vehicle even with two large car seats
Fantastic on the highway, sits high but does not feel like it is being blown around by other traffic
Great manoeuvrability for a large vehicle, and great visibility when parking from mirrors, windows and rear camera
Tailgate lowers slowly – no need to hold it to prevent a fast drop
Great control in water, wind and icy conditions
Heated steering wheel and seats
Beautiful moon roof
Forward collision alert system and driver alert system let me know when there was potential danger. Features unlike anything I have seen in a vehicle before.
Downsides:
Parking it in an underground garage in Toronto – it's was bigger than the spot, but I got it in
Difficult to parallel park as well – but I'm sure with practice it would get easier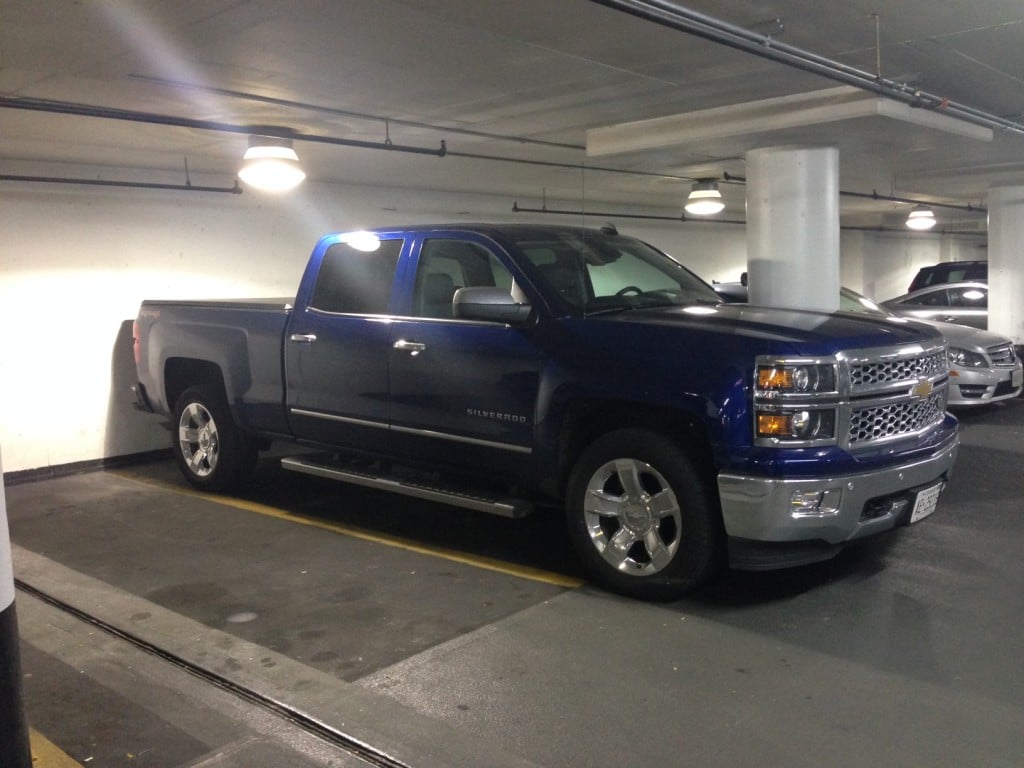 My Favorite Features
#1 – Heated steering wheel :)
#2 – enough room to plug in every kind of device and gadget you own – I've never seen this many in one vehicle before!
#3 – Lots of space in the cab ensures that when my twins were sick of each other they had their own space – great for long road trips!
#4 – My Link technology – genius way to manage your technology on a convenient and easy to read touch screen.  Gps, XM Radio, phone connection etc.
#5 – Plenty of truck bed room – with two large suitcases we could have fit more than a dozen more!
#6 – Lots of room for two car seats, bags, snacks drinks etc – perfect for a family on the move!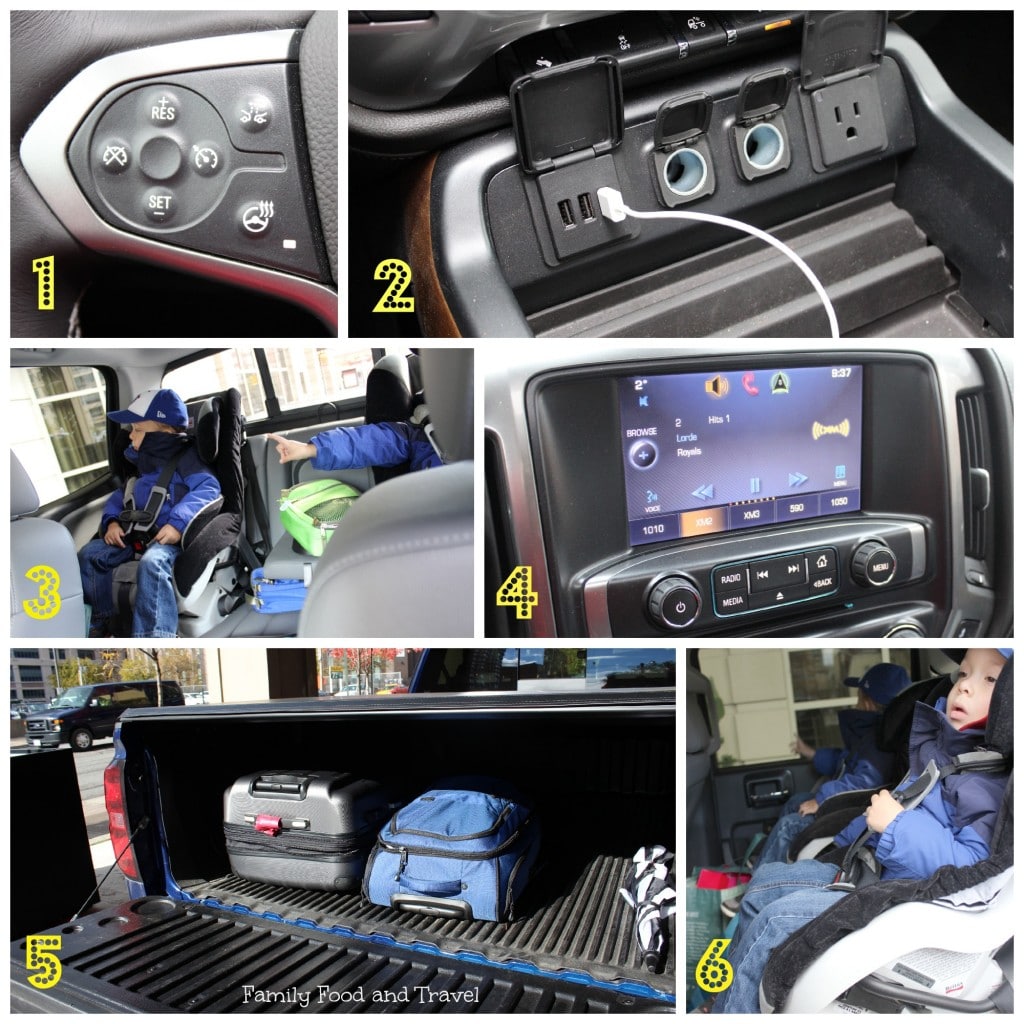 Disclosure: GM Canada leant our family the Chevy Silverado for a two week review. No compensation was provided for this post, and all costs incurred while driving the vehicle were covered by myself. Opinions are 100% my own.