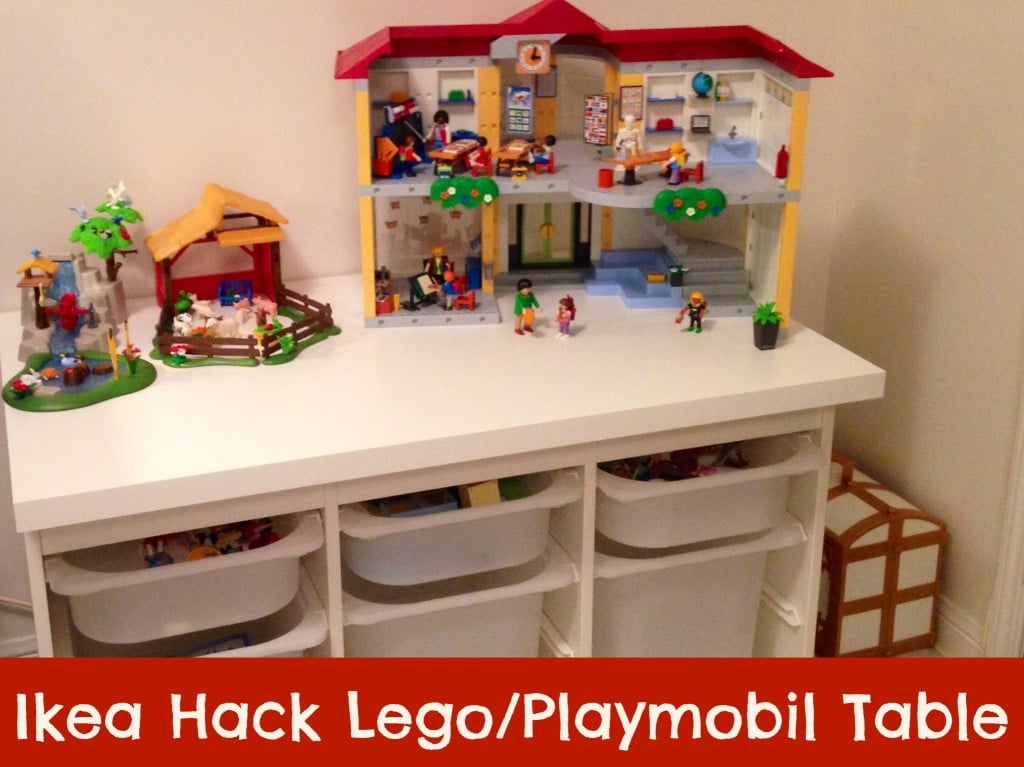 This table was born out of necessity. The necessity to reclaim the family room in our tiny little house. My daughter is a huge fan of Playmobil and we wanted to create a dedicated space for all the tiny little foot-torturing pieces. As I looked around for ideas, I realized that there were loads of tutorials for Lego specific tables but not many for more general multi-use tables. My Kidlet is an equal opportunity make-believer and as I type, my she has her My Little Ponies chatting with her Playmobil people while building a Lego picnic table for them all to have lunch together. I'd say that a win for all involved.
Oh, and did I mention that this table requires no power tools and we constructed the entire thing in our family room while the Kidlet slept? Yup – basically the best thing I've ever MacGyvered.
Supplies:
From Ikea:
From Home Depot:
Construction Instructions
– construct Trofast storage unit according to instructions
– decide how you want your play surface (the Linnmon table top) to overhang and use a ruler or eyeball it to check either side. We decided that at some point we might want the table to be usable from both sides (the back side of the storage unit is finished and the bins are accessible from either side) so we centered the table on the storage unit
– mark where the corners of the Trofast meet the table top with pencil on the underside of the table top
– add the PL Premium adhesive to the top of the storage unit. I went with a big oval and then a bunch of squiggles inside of the oval. Make sure not to run the adhesive too close to the edge of the storage unit because it will squish out a bit when the table top is added. As a reference, I used most of the tube.
– put the table top on top of the storage unit and wiggle it just a tiny bit (this will help connect the table top to the storage unit)
– check to make sure that the pencil marks on the underside of the table top are lined up with the corners of the storage unit.
– take something heavy (in my case the giant bin of toys I was planning on re-homing into the storage unit) and place it on top while the glue cures.
– let the glue cure at least a few hours or overnight.
We have 'weight' tested the table top by putting our weight on it to stand up, etc. and the top hasn't budged. I wouldn't suggest using it as a seat but I am confident our top won't budge.
I think it's good to have a sense of how much a DIY is going to cost me before I jump in. I did a lot of looking around before and I couldn't find anything pre-made through Costco, Pottery Barn Kids, etc. for less than $300!!
Cost Breakdown
Trofast unit: $66
Linnmon: $9
Trofast Bins: $4×3 & $6×3 = $30
PL Adhesive: $7
TOTAL COST: $112. Whoa!
I hope that if you're looking for a simple storage/play solution for your little ones you'll give this a shot. It's easy, functional and a fraction of the cost of similar tables at high end stores.  Plus, it's versatile to be used for a variety of storage needs.  It is absolutely a hit in our house!