Eating healthier is important to my family all through the year, but there is something about the ringing of the New Year that forces us to reflect on our past habits and things we'd like to change. This year we are focusing on menu planning so that we always have fresh, homemade food for dinner. Like many families dinnertime can be hectic and it is sometimes difficult to make the meals we hope to. No matter how busy I am, I want my boys to have plenty of nutrients packed into every meal.
I created this recipe to have for dinner when friends were visiting. It is fast, easy, nutritious, delicious and looks more complicated than it is. A recipe win for me :)
Even if you think you don't like spinach, or kale, or cottage cheese you will find this recipe for Mixed Greens and Cottage Cheese Stuffed Chicken packed with flavour you will be sure to make it again and again. Plus, with a simple tomato sauce you could pre-cook the stuffed chicken, reheat and serve topped with sauce – great for leftovers!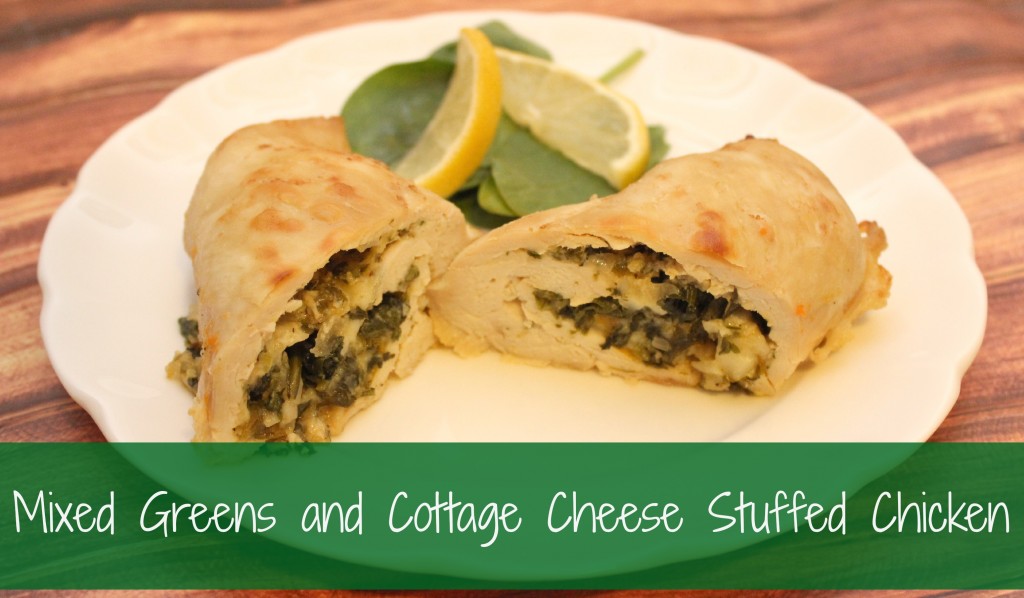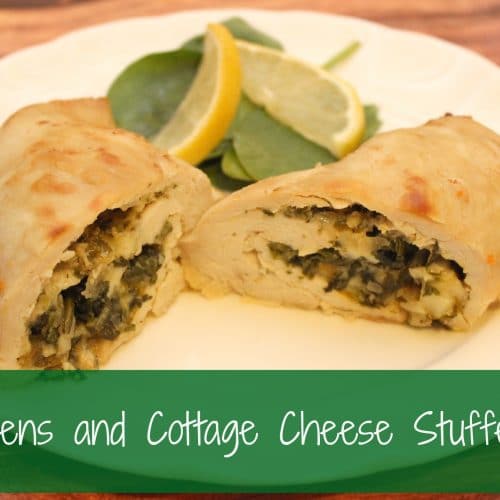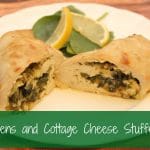 Mixed Greens and Cottage Cheese Stuffed Chicken
An easy and delicious recipe for stuffed chicken that your family will love and and dinner guests will rave about.
Ingredients
6

Boneless Chicken breasts

2

tbsp

Gay Lea Butter

1

small onion chopped

1

cup

baby spinach

1

cup

baby kale

2

tbsp

chopped parsley

2

tbsp

garlic plus

or 1 tbsp garlic powder, 1 tsp garlic salt

1/2

cup

Gay Lea Cottage Cheese

1/2

cup

aged cheddar cheese

grated

4

tbsp

Parmesan cheese

grated

1

egg yolk

Pinch

salt

Pinch

pepper
Instructions
Preheat the oven to 375F

In a frying pan, heat butter and cook onion until softened.

Add greens and garlic plus cooking until greens are wilted. Set aside and let cool.

In a medium sized mixing bowl, add cheeses, egg yolk, salt and pepper.

Add greens mixture stirring to combine.

Place chicken breasts on a cutting board and hit with a meat tenderizer until flattened.

Place stuffing in the edge of the breast and roll until closed. Place in a shallow baking dish.

Brush chicken breasts with butter, basting at least once more while cooking.

Bake in the oven for 35 minutes or until chicken is slightly browned and cooked through.

*Can be served with a simple tomato or cream sauce.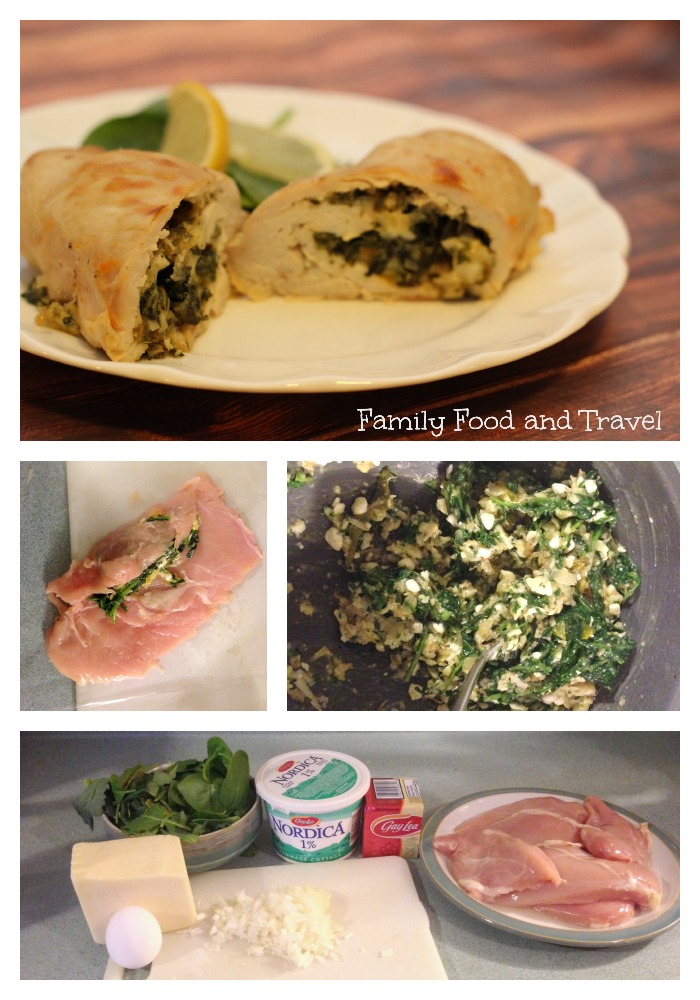 I love that this recipe is full of real ingredients, whole foods that are easy to keep in one's kitchen. Plus, the added cottage cheese makes the stuffing creamy and packs and added protein punch. Looking forward to hearing what your family thinks of this recipe, it was a big hit with ours!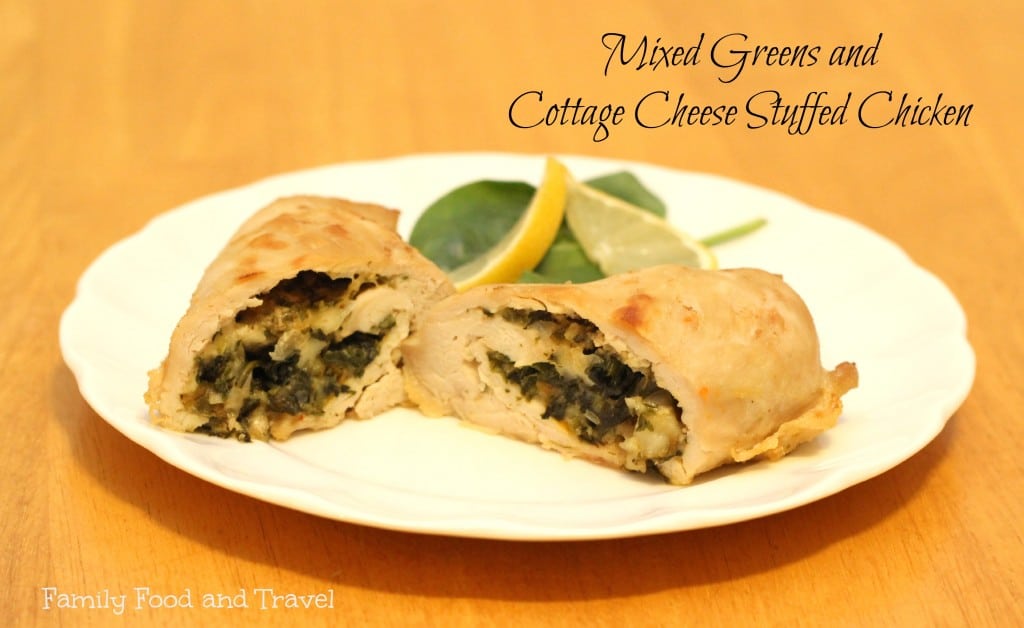 Disclosure: I am part of the Gay Lea Blogger Campaign with Mom Central Canada and I receive special perks as part of my affiliation with this group. The opinions on this blog are my own.

Two Great Giveaways!
#1 Breville Die-Cast Hemisphere Blender – $329.99
Gay Lea Foods is giving away a grand prize to celebrate all of the amazing things we can make with cottage cheese. From smoothies to waffles to delicious cream sauces, there are so many ways you can infuse cottage cheese into your recipes. Made even easier with an amazing Breville Die-Cast Hemisphere Blender! This giveaway is open to residents of Canada excluding the Province of Quebec ends January 23.
a Rafflecopter giveaway

#2 Win a Year of Free Gay Lea Cottage Cheese
What's better than free Gay Lea Cottage Cheese? A year full of free Gay Lea Cottage Cheese! The winner of this giveaway will receive 12 FPCs from Gay Lea. Contest is open to residents of Canada excluding the Province of Quebec and ends on January 18.