There are few pieces of mail that excite me more than my Snackbox!  I love it so much that I sent some to friends as Christmas presents.  What's better than healthy, yummy snacks for you and your family?
My December Snackbox did not disappoint with a fantastic selection of salty and savoury.  There were some products I had heard of and tried but others that were completely new.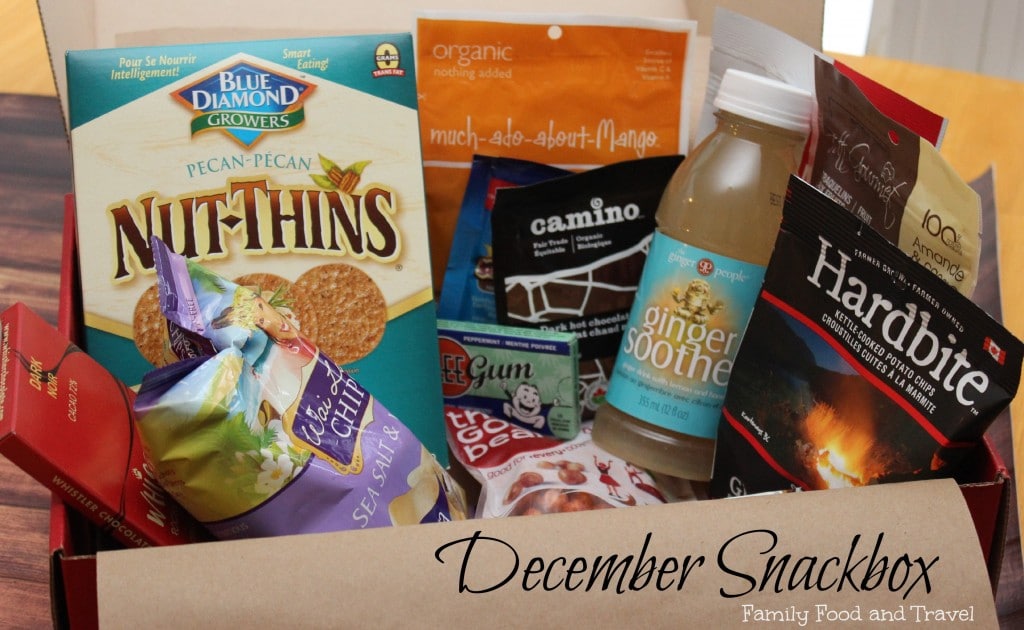 Here is what was inside:
Pamela's Product – Whenever Bars – $5.99 (box of 5)  – Made with gluten-free oats, chia seeds and lightly sweetened with agave and coconut sugar these are a great snack whenever you need one.
Tutti Gourmet – Bana Krisp – $5.49 – A rich blend of organic cacao, finely sliced almonds and a splash of rum, these crunchy crisps will satisfy any craving.
Sun Butter – $1.05 – Made from roasted sunflower seeds this butter is completely peanut, tree-nut and gluten-free – a great source of protein, iron, fibre and vitamin E.
The Good Bean – $5.99 – Crunchy roasted chickpeas packed with protein, fibre and delicious flavour.  Gluten-free, nut-free, non-GMO and vegan.
Hardbite Chips – $1.25 – Made without artificial ingredients, GMO's, trans fat, gluten or cholesterol – these are chips you can feel good about consuming.
Glee Gum – $2.00 – This gum has no artificial flavours, colours, sweeteners, preservatives or GMO ingredients.  It is sweetened with Fair Trade sugars and packaged in recycled materials.
Wai Lana Cassava Chips – $2.99 – Made from nutrient rich cassava, these gluten-free, soy-free, non-GMO chips contain no artificial colours or flavours.
Whistler Chocolate – $4.99 – A 100% certified organic chocolate bar with eco friendly packaging.  Made with only 4 simple ingredients from Whistler, B.C.
Peeled Snacks – $2.99 – Each package contains a full serving of fruit with no added sugar – packed with vitamins, minerals and natural sweetness.
A Good Portion – $4.99 – Freshly roasted in small batches, these Pistachios are a great source of protein, vitamins and fibre.
The Ginger People – $3.29 – Made from fresh pressed Peruvian ginger, lemon juice & pure honey – a great pick me up that keeps your ailments at bay.
Blue Diamond Nut Thins – $4.27 – Crunchy wheat & gluten-free crackers loaded with nutritious almonds.  Each serving has 3 grams of protein and are great with cheese, as a snack by themselves or dunked in a favourite dip.
Camino Hot Chocolate – $1.50 – All natural, organic, Fairtrade and non-GMO hot chocolate from a great Canadian company brings a delicious richness to hot chocolate.
My Review:
Once again my Snackbox was full to the brim with yummy goodness! I have had the Nut Thins, Hot Chocolate and Peeled Snacks before but the rest were a wonderful treat.  My husband loved the dark chocolate bar and said it was one of the best he's ever had, and my favourites were the HardBite Chips, pistachios and the sun butter.
I loved the offers for the new subscription services included in this month's box and the guide to all of the products included.  While not all stores are included in this list, you have the company website and the larger stores that carry their products.  I love the combination of full sized products and sample size.  There is enough variety that everyone in my family enjoyed it, and we're looking forward to the next one!