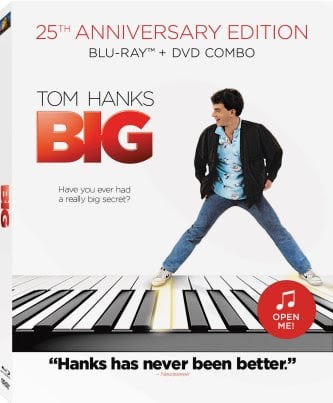 Tom Hanks Shines in his First Oscar®-nominated Performance When the BIG: 25TH ANNIVERSARY EDITION Arrives on Blu-ray + DVD Combo Pack December 10
Featuring Collectible Sound Chip Packaging That Plays "Heart & Soul"
From the Studio:
Two-time Oscar® Winner Tom Hanks* received his first Best Actor Nomination for his disarming turn as a 12-year-old man-child in Penny Marshall's timeless, "hilarious" (Newsweek) delight. Tired of being a kid, Josh Baskin wishes he was big. When he wakes up the next day, he's an adult! Now, Josh must hold down a job – and please a new boss (Robert Loggia). Tougher still, he must convince his best friend that he's still himself, and explain to a beautiful woman (Elizabeth Perkins) who falls for him, that he's not. Soon, Josh just wants to be a kid again, but can he? As exhilarating as it was during its acclaimed debut, the "warmhearted" (The Washington Post) Big is available as a Blu-ray + DVD combo pack!
*Actor: 1993, Philadelphia; 1994, Forrest Gump
Special Features
| | | |
| --- | --- | --- |
| | ● | Big Extended Cut |
| | ● | Big Brainstorming Audio Documentary by Writers/Co-Producers Gary Ross and Anne Spielberg |
| | ● | Deleted Scenes, Including 5 with Intros by Director Penny Marshall |
| | ● | Big Beginnings |
| | ● | Chemistry of a Classic |
| | ● | The Work of Play |
| | ● | Hollywood Backstories: Big |
| | ● | Carnival Party Newswrap |
 My Review:
I can still remember going to the theatres to see Big on the big screen.  I had never heard of Tom Hanks or F.A.O. Schwartz but I was almost the same age as the main character Josh and I too wanted to be big.  What pre-teen doesn't?  I was swept up with the story, loved every moment and dreamed of one day playing on that very piano.  Big was a movie about putting yourself in another's shoes, and most importantly, how much fun it is to be a kid.
The new Blu-Ray Combo pack brought the movie back in great quality and reminded me just how much I loved the story, the characters and the experience.  The 25th Anniversary edition will bring Big back for all those who saw it years before, and introduced it to a whole new generation of people who will fall in love with it.