As a kid, my mom made mini cheesecakes every Christmas and by special request.  I can remember the rich creamy taste and the dollop of cherry pie filling on top.  They were heavenly.  This year, as I began to prepare for Christmas I made a list of desserts I would make to share with our family and friends.  I always pick some favourites and try out some new recipes I've seen.  This year I decided to do a remake of my mom's mini cheesecakes.
My version comes with a fudge cookie bottom, a cranberry cheesecake and is topped with a homemade cranberry coulis.  Delicious!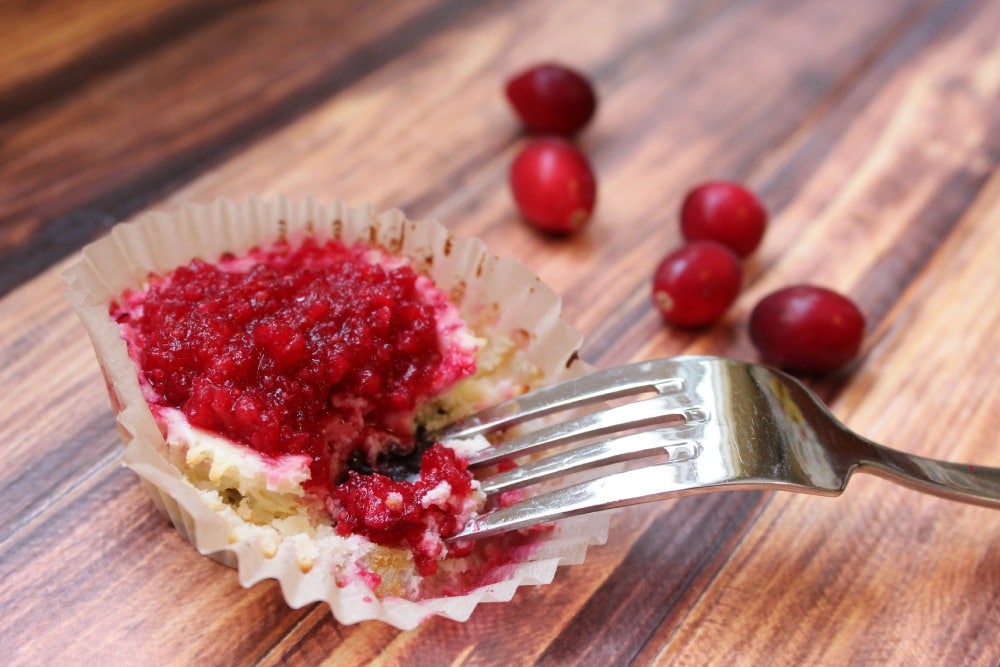 Cranberry Fudge Mini Cheesecakes
This yummy cheesecake is sandwiched between a tart coulis and a fudgy bottom – a perfect holiday treat.
Ingredients
1 package of fudge cookies
1 8oz package of cream cheese (use light for a tart flavour)
½ cup white sugar
⅓ cup light sour cream
⅓ cup whipping cream
1 egg
1 tsp vanilla
For coulis:
2 cups frozen cranberries
1 cup water
3 tbsp white sugar
1 tbsp lemon zest
Instructions
Preheat oven to 325
Place muffin cups/liners into a muffin tin.
Place one fudge cookie at the in each muffin cup.
In a stand mixer cream together cream cheese and sugar.
In a separate cup beat egg and vanilla together, add to cheese mixture.
Once combined add sour cream and whipping cream and mix until combined.
Put mixture into a large freezer ziploc bag and cut the corner.
Fill each tin till approximately ⅔ full.
In blender, blend cranberries.
Once blended, put cranberries, water and lemon zest into a pot and boil.
Allow to cool slightly then mix one tsp of coulis into the cheesecakes.
Place a pan full of water on the bottom rack.
Bake for 20-25 minutes or until cheesecake is soft and almost fully cooked.
Allow to cool in muffin tins.
Before serving top with cranberry coulis.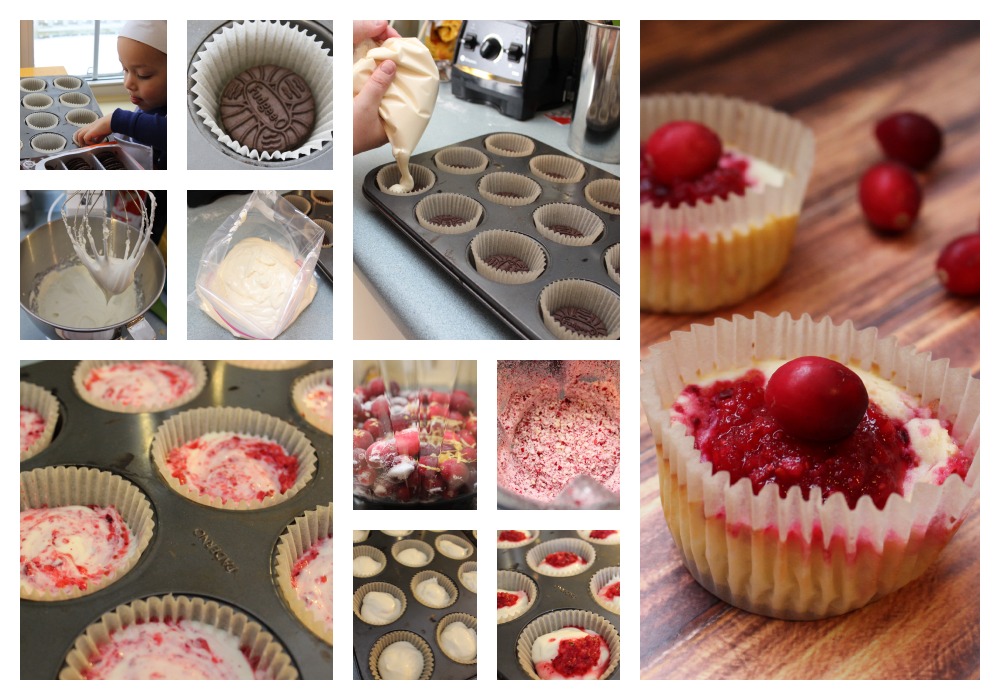 I loved making these cheesecakes and my guests when wild over them.  Do you love mini cheesecakes?  Looking for more?  Check out these ones from Life Made Delicious – Lemon White Chocolate Cheesecake bites, Granola Apple Mini Cheesecakes.
Have you made mini cheesecakes?  What was/is your favourite flavour?